Customer Journey Mapping Case Studies
All around the globe, companies, teams, and individuals leverage our tools to improve experiences, deliver projects, and build products that make an impact. Hear directly from our customers about how and why they rely on UXPressia.
Our customers speak up
Head of CX at Magellan Digital
I needed a web-based journey mapping and persona development tool that was effortless. UXPressia is all that much more. The work flow is super easy. The customer service is solid. And it is helping me get my job done effectively.
Customer Experience & Digital Marketing Strategist at EnlightBulb Marketing Consulting
Where do I start? Great value, great customer support, the amazing people who work for you and lastly, let's be honest, you offer a flawless product with the attention to detail you can expect from Apple! Enough said?
Head of Customer Experience at Qvantel
We love the way that the tool makes us thinking and facilitates how we could use our modular framework better.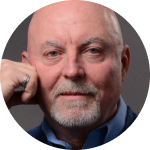 Founder and CEO of HorizonCX
Using UXPressia is just like having GPS where you identify points along the journey, and there you see a map or at least one way to get there. Сustomer needs and desires are changing, and you need a dynamic way of staying current. UXPressia makes maps' validation and continuous refinement easy and accessible across the organization.