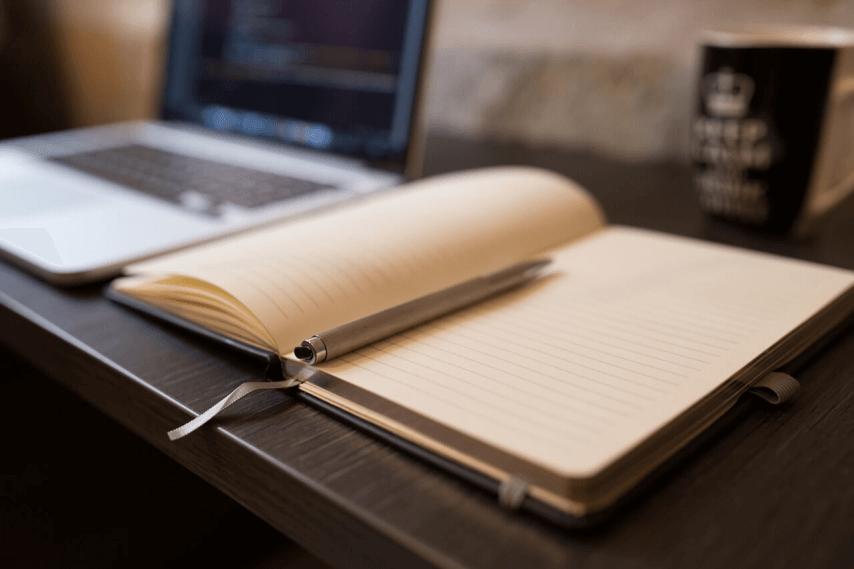 User research is part and parcel of a successful design. Understand people who will use your design, apply this knowledge while creating personas and customer journey maps, put them into use, and you will nail it.
Like any other discipline, user research requires specific knowledge and skills. There is a flood of learning materials on UX both online and offline. But the sources are surprisingly scarce when it comes to user research.
I'm telling you this from my personal experience. When I was transitioning from cultural anthropology into UX, I spent much time figuring out how to apply my knowledge to a new setting.
At that time, I set out to create a list of useful learning assets for those who are new to user research.
Talking to UXPressia users from different countries, I found out that they were looking for something like my list. That's why I decided to write a post to share with you the useful learning resources on user research for beginners I collected.
I'm going to introduce you to the courses, training, and books created by practitioners for practitioners, and even more. Read on the post to find learning sources that will work best for you.
Best online user research courses for novices
Some of the courses found in this section are free, some are paid. They vary in duration, content, and delivery. Dive in and see which one better suits your needs.
User Experience (UX): The Ultimate Guide to Usability and UX

I put this course first deliberately. It provides a great introduction to user experience and its scope is much wider than just user research. The course is a great starting point even for those who have some UX knowledge. This course will help you put user research in context, making it truly worth your time.
The course contains numerous excellent examples. In a nutshell, it tells a story that develops gradually from lesson to lesson and so does the learner's understanding of the subject matter.
The course consists of short, easily digestible videos that give an overview of the most common research methods. It also guides you to additional resources to deepen your knowledge.
Pros
In-depth course
Explains the business value of UX
Lots of examples
Practical exercises
Certificate of completion
Cons
Broad in scope: not all topics cover user research
Paid
 User Research – Methods and Best Practices

User Research – Methods and Best Practices is a part of the six-course series User Researcher Learning Path by Interaction Design Foundation. Whether you're trying to break into user research and change your career or find some useful research techniques to help you in your current role, this course got you covered.
Combining video lectures with text-based learning materials, the course gives a detailed overview of qualitative research methods.
Don't be surprised that quantitative research methods are not covered. Qualitative UX research is usually what a professional researcher does at the beginning of a new project. Applying these methods puts you in direct contact with the user. It also allows you to immerse yourself into the context to see the goals, motivations, and tasks from the user's perspective.
Pay special attention to the lecture on ROI of user research — it may help you convince your boss to invest in UX research.
Tip: if you have zero experience with UX, check out User Experience: The Beginner's Guide and Design Thinking: The Beginner's Guide in the same course series.
Pros:
In-depth course
A great mix of educational materials
Tests with open-ended questions evaluated by the instructor
Practical exercises
Discussion forums
Certificate of completion
Cons:
Requires a basic understanding of UX
Time-consuming
Paid
User Experience: Research & Prototyping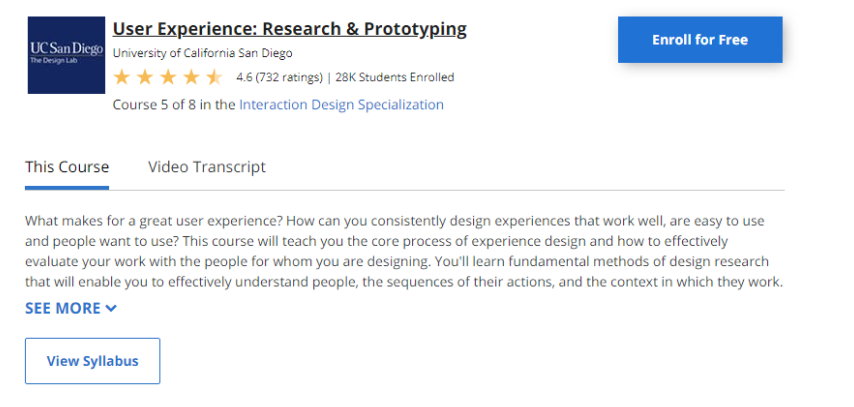 User Experience: Research & Prototyping is a part of the Interaction Design Specialization that covers a broad range of UX topics. Week one of the course is dedicated to qualitative methods and is particularly useful in terms of user research.
The content is video-based, easy to access at any time. One of the perks of this course is that course participants are required to conduct research as a practical exercise. The results of each study are peer-reviewed by other people taking the course. So you get immediate feedback on your work and this helps you learn quickly.
Pros:
Practical peer-reviewed assignment
Evaluated quiz
Discussion forums
Free in the audit mode
Certificate of completion (only in the full version)
Cons:
Partially devoted to research
Full version is paid
Beyond Usability: Learn the User Research Toolkit

Beyond Usability: Learn the User Research Toolkit presents a high-level overview of both qualitative and quantitative user research methods. It will take you less than an hour to watch the course lectures.
There's a very brief introduction to user research techniques. But the suggestions for applying different methods to specific problem areas provided at the end of the course are certainly valuable.
Another perk is that the course is divided into bite-sized videos. The course is free.
Pros:
Introduction to qualitative and a glimpse of quantitative methods
Only takes 1 hour
Free
Cons:
High-level overview
Theory-based
No practical exercises
Books on User Research for Beginners
Reading books on user research may take more time than watching video lectures. But systematic learning is a long-term investment in your project and your career in UX. Here are the best user research books for beginners that I read.
The User Experience Team of One: A Research and Design Survival Guide

The book by Leah Buley is not limited to user research, it's much broader than that. If you're the only person in your company who cares about UX, it's a must-read for you.
Leah Buley provided an accurate summary of each chapter. If you don't have time to read the whole thing, examine the summaries to choose the chapters to read in full.
As for user research beginners, I find two book chapters particularly relevant:
Chapter 3, "Building Support for Your Work" gives you some tips and tricks for overcoming common objections to conducting user research.
The goal of Chapter 6, "Research Methods" is not to give you a profound understanding of user research methods. Its goal is to give you a set of efficient techniques that will work for almost any project. The author provides an estimated timeline for each method and gives tips on when to use them.
Pros:
A comprehensive introduction to UX
Helpful summaries
Tips on getting support for UX initiatives and building a career
Reads easily
Cons:
Quite long
Only research basics are covered
Just Enough Research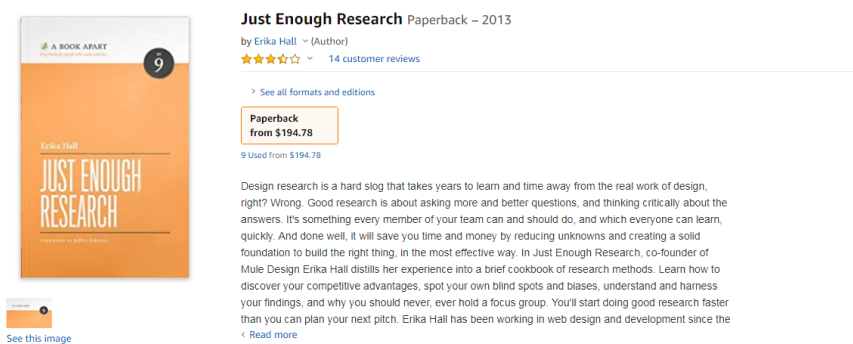 In the book Just Enough Research, Erika Hall explains what design research is and what it is not. She demonstrates how to introduce different types of research to your organization when resources are scarce and how to promote the research agenda.
This book is very practical and explains complex concepts in simple language understood by user research beginners. It's quite short and meant to be read in full. While reading, I recommend that you pay special attention to three chapters:
In Chapter 3, "The Process", you will read how to establish a systematic approach to research, no matter the scale of your research initiative. The algorithm described there will help you with all future research endeavors.
In Chapter 4, "Organizational research", the author focuses on the importance of understanding the culture and inner dynamics of the organization you work for or collaborate with as an external consultant for UX activities.
In Chapter 5, "User Research", Erica Hall tells the reader to go beyond usability testing. She advises the reader to leverage elements of ethnography to develop empathy with users. What for? With this method, you will deeply learn the behavior of the people you're designing for and understand why they act the way they do. If you're completely new to user research, understanding the users' context is the place to start.
Pros:
Introduction to qualitative and quantitative methods
Tips on promoting research in your company
Reads easily
Short
Cons:
No summaries
Chapters make better sense when reading in the original order
Observing the User Experience: A Practitioner's Guide to User Research

Observing the User Experience is a user research classic that is not meant to be read in one sitting. Mike Kuniavsky, Elizabeth Goodman, and Andrea Moed encourage the reader to explore the chapters on an as-needed basis.
The book covers in detail a wide range of user research techniques, qualitative and quantitative. The authors provide examples of applying each technique from their own work experience.
This book is written for more advanced users than the first two. It's on my list because during the discussion of research techniques this book spells out how to analyze research results and present findings to the team.
At the end of the day, the success of your research is not only about doing it right and asking the right questions. It's also about being able to communicate findings and convince stakeholders.
Pros:
In-depth introduction to qualitative and quantitative methods
Real-life examples from the industry
Chapters can be read individually in any order
Cons:
Intended for a more advanced audience
Long read
Finally, I would like to share with you some other sources where you'll find user research materials.
Additional sources on user research for beginners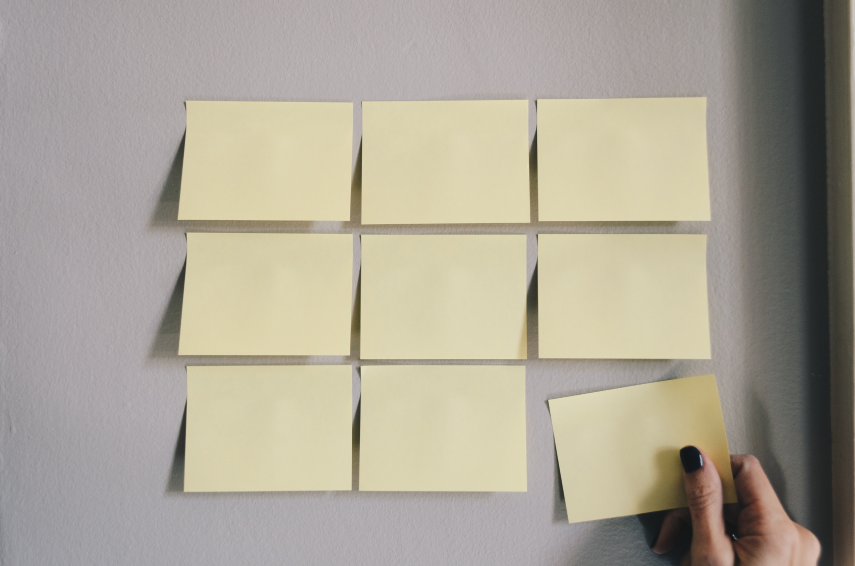 Reading blogs may be the easiest way to learn a thing or two about user research without investing too much time. They are also a place to read about the latest trends in the field.
Norman Nielsen Group
Norman Nielsen Group is an industry leader and one of the most authoritative sources on user research and all things UX. Read this article first — it explains how to choose the right research method.
UX Collective
The User Research and User Testing section of the UX Collective's blog contains different types of articles on the subject matter that are written by practitioners from all over the world.
Usabilityworks
Usabilityworks is a website created by a renowned user researcher Dana Chisnell. In the blog, she writes about research and data analysis techniques. There is also a small library of public talks the author held over the years.
Ethnography Matters
If you want to learn more about ethnography and how it's applied in a broader context, try Ethnography Matters.
Last but not least comes the article on secondary research methods which is useful for the cases when direct interaction with users is not available. Though the techniques mentioned there are complementary and should normally go along with actual user research, if you're having trouble advocating for research in your company, this is a place to start.
Take a step into the unknown
I'm a firm believer that user research doesn't have to be intimidating. Even ad hoc, beginner-level research activities prove to be effective compared to not doing any research at all. Try out learning materials for user research for beginners from the list, take a leap of faith and throw yourself into the unknown world of user research. I promise it will be fun.