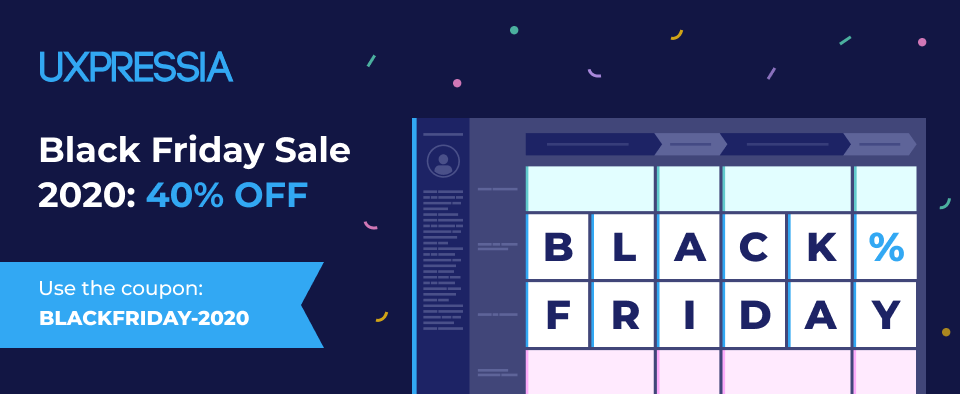 Hey, journey mappers!
The Black Friday sale 2020 is here, which means you can take 40% off the UXPressia Pro subscription and 40% off the Customer Journey Mapping course at UXPressia Academy.
All you need to do is use the code below by January 1, 2021, as it will expire on December 31:
BLACKFRIDAY-2020
How to activate the Black Friday coupon at UXPressia
You can apply the coupon to get a 40% discount on either a monthly or annual subscription. You can use the coupon only once, so please make sure you select the right plan in the Billing tab of your workspace.
If you are on a free plan, here is how you activate your coupon (which will apply to one month only):
Or save more by using the coupon to get one year of UXPressia Pro for $144 instead of $240:
If you are already on a PRO plan, be sure to redeem the coupon by the end of December to use the discount when the next payment comes up.
If you are on the monthly PRO subscription and want to take advantage of the annual one, here is how you do that: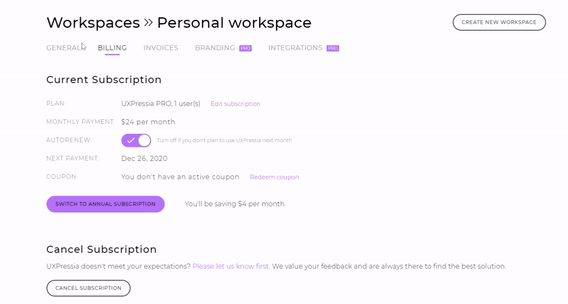 Activate the coupon code at UXPressia now to start saving today! 😉
Want to get more than one license? Read this article.
How to activate the coupon at UXPRessia Academy
To get the CJM course with a 40% discount, either log in to UXPressia Academy or create an account there, and then go to the "Redeem Discount" page.
Please note that the discount can be applied to the CJM course only.
Hurry up — the deal expires on December 31, 2020.