They say practice makes it perfect, and conducting interviews is no exception 🤓 You can read lots of books and articles, but to get actual interviewing skills you've got to practice and receive helpful feedback from others.
Our 2-day Power of Interview workshop on May 19 and May 26 can help you do it all in a fun and engaging way (and in a great company) 😉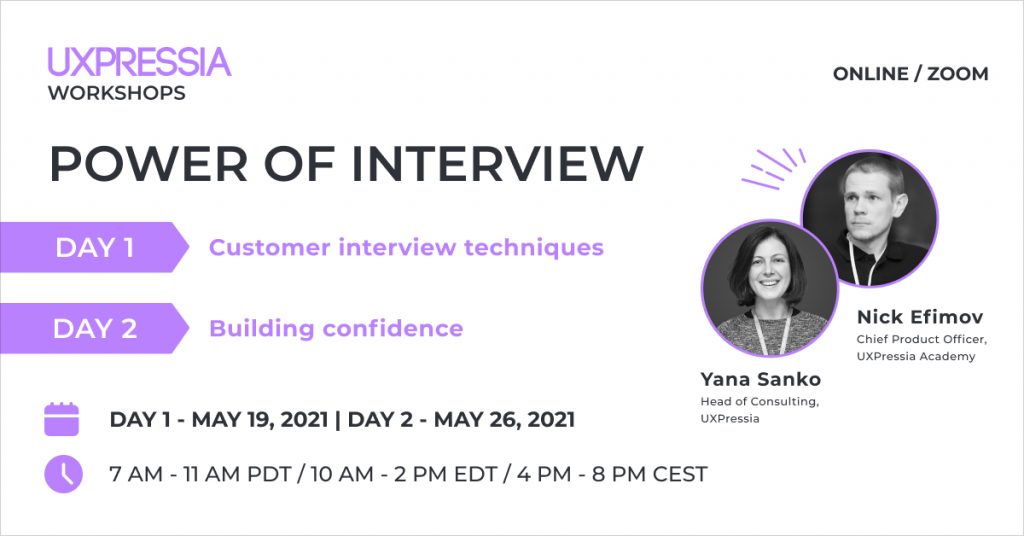 Our interview experts — Yana Sanko, Head of Consulting at UXPressia, and Nick Efimov, CPO at UXPressia Academy — will walk you through various interviewing techniques, show how to approach people with different communication styles, and explain how to deal with common mistakes.
Workshop schedule
The workshop is divided into 2 days, and each workshop lasts 4 hours.
Day 1. Customer interview techniques (May 19, Wednesday)
Explore three interviewing techniques. You'll learn how to invite people to share and talk, explore the context with flexibility and ease, and uncover people's stories and insights.
Day 2. Building confidence (May 26, Wednesday)
After you practiced the basics, it's time to master your interviewing skills. During the second day, you will learn how to:
Find an approach to interviewing people with different communication styles;
Use a problem discovery cheat sheet;
Conduct an unexpected interview successfully even if you have only 5 minutes to prepare;
Deal with common challenges and avoid typical mistakes.
Buy 2 days and get a certificate
You can buy each of the days separately. Participants of 2 workshop days will be given a certificate of completion.
What's inside?
Lots of practical tasks (each of them inspired by real life);
Taking on different roles within the interview to see the process from both sides;
Reflection and feedback from workshop participants;
A cheat sheet to repeat the practice with your team.
Special offers
Want to practice with your friend or a colleague? Or are you a part of the education and non-profit organization? We offer a discount for you and your team!
Got specific questions about customer interviews? Yana and Nick offer a 1-on-1 coaching session. Add it to your ticket and get advice for your next interview.
Ready to bring your customer interviews to the next level? 😉
P.S. Can't make it this time? Register your interest and we will email you the next date.