Calling all journey mappers! Brace yourselves for an exciting leap into the future with our AI-based persona generator 👇
🤖 AI personas generator
We understand that your time is invaluable, and we recognize the significance of delivering exceptional work. That's precisely why we've introduced an AI-powered persona generator — to help you save time and enhance your productivity.
With this feature at your disposal, you can effortlessly transform your research data into a detail-rich persona profile. Imagine rapidly creating multiple personas for your upcoming product launch, designing captivating persona profile illustrations for your presentations or articles, and refining your existing persona profiles to perfectly align with your requirements. The possibilities are endless!

📠 Persona creation with AI
Use our AI button to create a persona profile based on your research data or desired characteristics. Simply add the necessary text sections, rename them to your preference, and let the AI do the rest.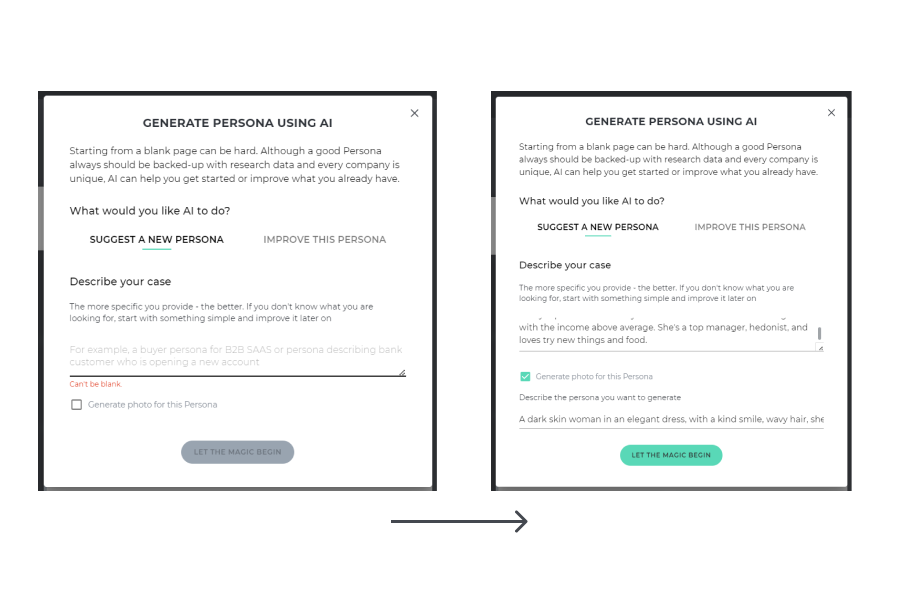 UXPressia Tip: The more specific case you describe, the better results you would get. For example, "B2B customer for a bank" would give you a more generic and vague result than "Small business owner seeking a loan for expansion from a regional bank in the Midwest".
Also, you can generate a custom image representing your persona. Just come up with the specifics, from image style to every little detail you desire, and watch as your persona's unique avatar springs to life.
And if you're not perfectly satisfied with the result, no worries — just open up the Photo section and generate several other options to choose from.
Getting back to the persona profile, here's what AI did based on the prompt from above: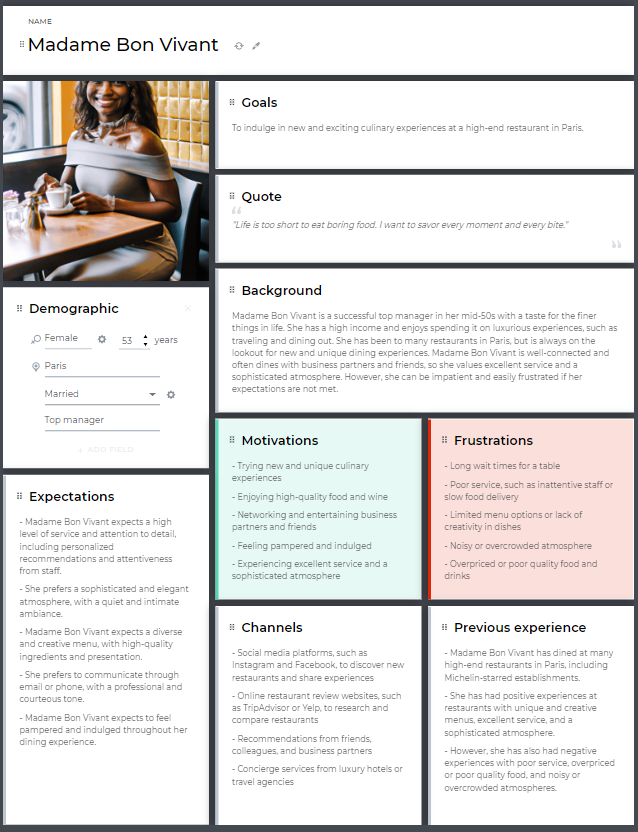 Now completing the profile will be a breeze. You can sprinkle it with eye-catching visuals, informative details and list your persona's channels to really bring their story to life. Or improve what you already have.
📠 Persona improvement with AI
Do you already have a persona but crave a more vibrant and multi-dimensional character? Our AI-based generator will help you with that.
With just a few clicks, you can specify your needs, highlight the sections you want to update and wait for the result.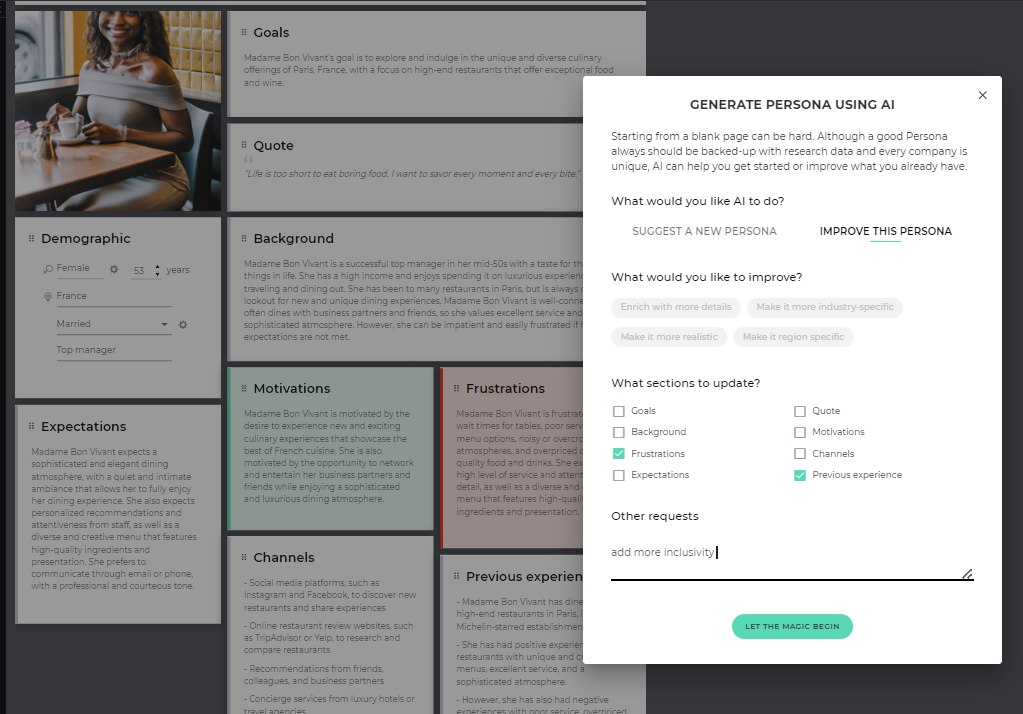 So we asked AI to turn our persona into an inclusive one regarding her previous experience and frustrations. We can also use one of the ready-to-go options, such as making the persona more region specific.
Anyway, the improved persona looks like this: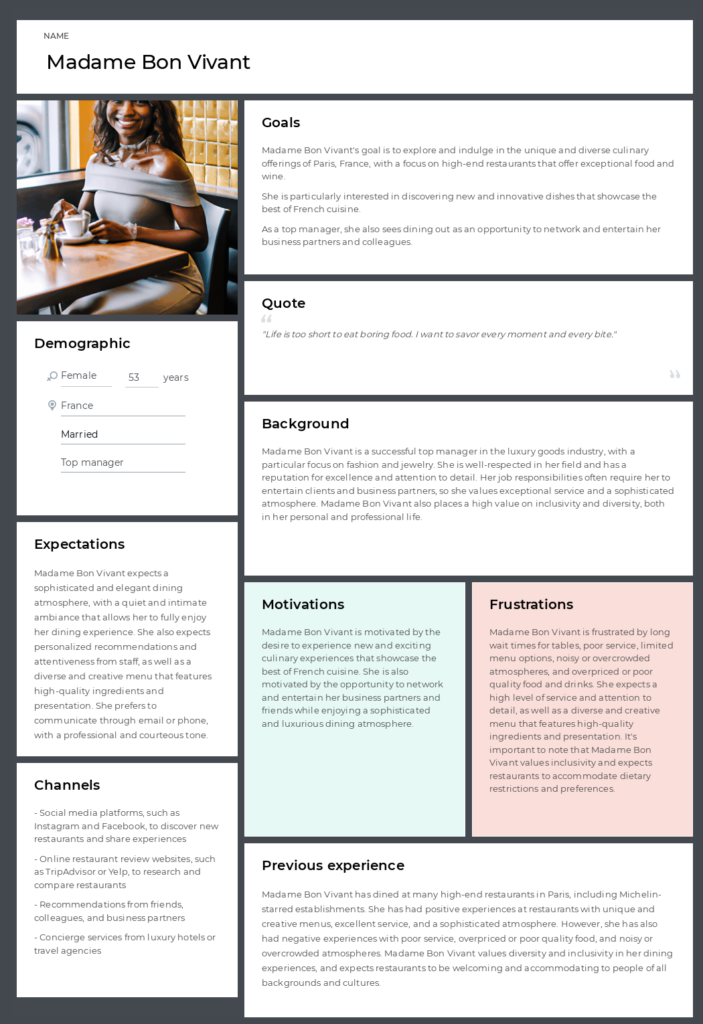 AI image generator
Or maybe you want to have a custom image that fully matches your persona profile?
Our brand-new AI-based image generator has got you covered: it lets you get four alternative persona images based on your description: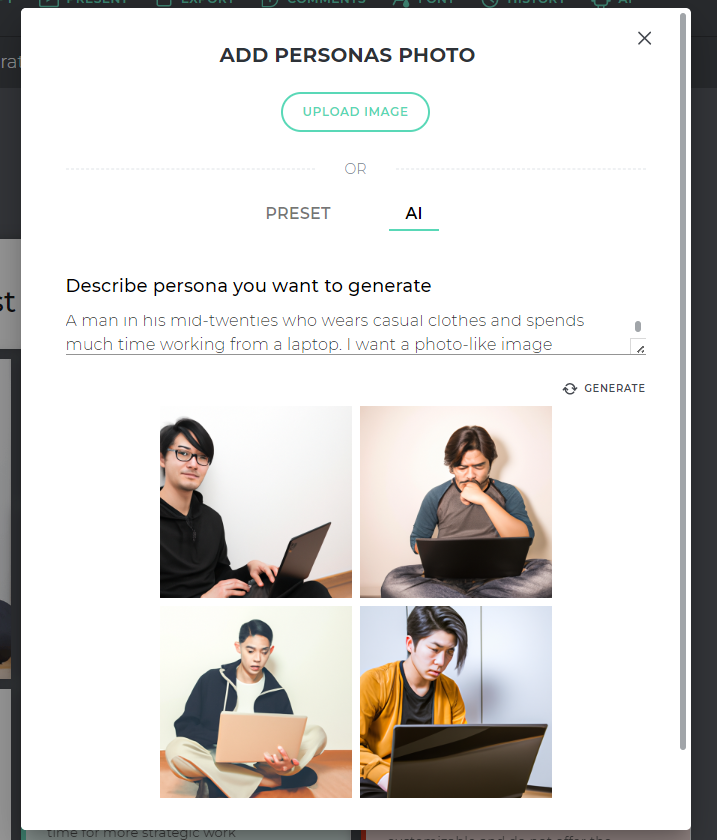 You can generate images again and again until AI creates a perfect image for your persona. Isn't that cool? And no copyright issues.
And from here on out, you can keep going, trying out additional prompts or adding your own personal touches.
Feeling inspired? Try out the new feature right away.
👀 Curious to feast your eyes on our AI-powered persona generator in action? Watch the recording of our online feature presentation with Yulia, UXPressia's Customer Success Agent, where she'll show you some AI tricks and answer related questions:
Curious to try?
Related posts