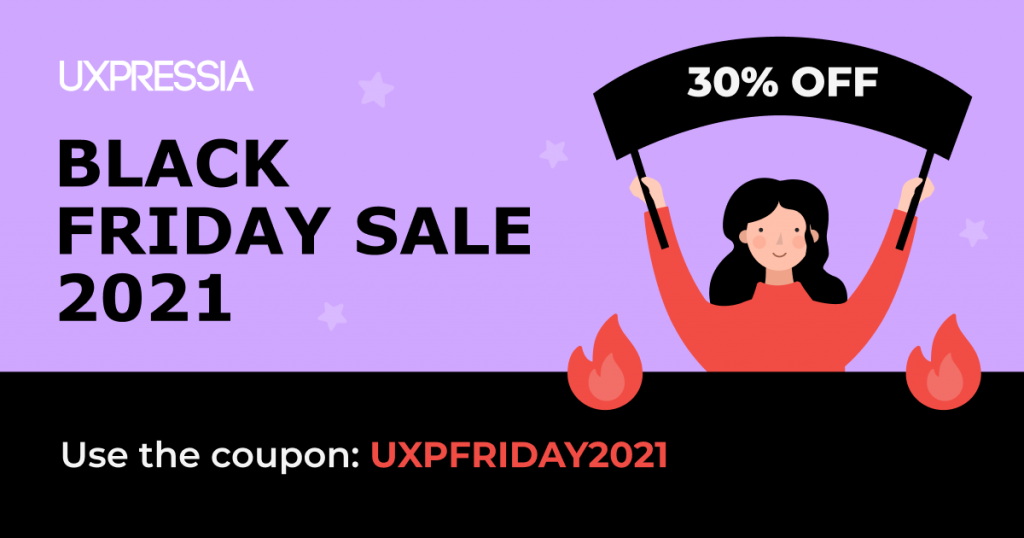 Hey, journey mappers!
Black Friday is almost here, but you won't have to wait until the big day to buy UXPressia's paid subscription or our online Customer Journey Mapping course at a special price.
Here is the one code to rule them all:
UXPFRIDAY2021
Remember to use it before the clock strikes 12 on December 31, 2021 😉
Getting 30% off UXPressia's pricing
Go to the Billing tab of your UXPressia workspace to make the Black Friday magic happen. The code gives you a one-time 30% discount on our Starter and Pro plans.
Never have you ever used our paid plans? Your time has come!
Ready to play big and save big? With the code, our annual Pro plan costs $252 instead of $360 😎
Need two or more paid licenses? Check out this article.
Note: The coupon code gives you a discount for your next payment.
Applying the coupon code at UXPressia Academy
The same 30% discount is valid for the CJM course at the UXPressia Academy. To activate the coupon, log into your UXPressia Academy account or sign up if you don't have it and go to the "Redeem Discount" page.
Use the UXPressia Black Friday code now and see how less can be more! 😉
Related posts