Hi, journey mappers!
Can you hear the rumble? That's the sound of us bulldozing through the old and bringing in the new. Consider us the architects of innovation, as we built you two stunning additions to your journey mapping kingdom:
Redesigned dashboard;
Sharing update.
💻 New Dashboard
Think of our redesigned dashboard as a digital chameleon that seamlessly adapts to your needs and preferences. With its fully responsive layout, you can customize the size, order, and even composition of columns with ease. 
You can filter out the projects that are already finished not to be shown on the Dash: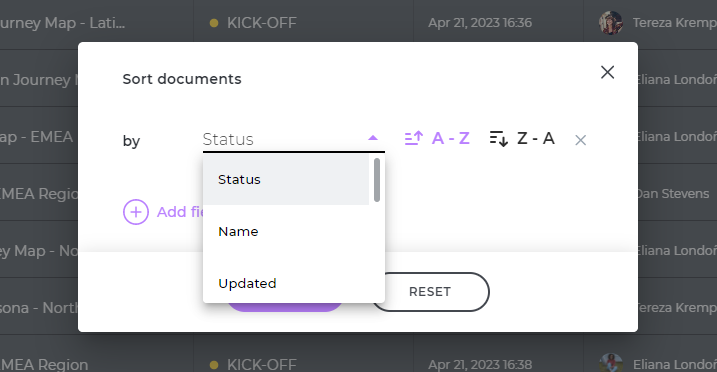 This way, you can focus on what's important, and keep your work humming along like a well-oiled machine.
If you are working in a big team and there are many projects that you are not involved in, you can filter the docs where you are the owner.

Thus, you can easily navigate through your documents and focus on your own projects.
If you need to keep track of the overall progress, it makes sense to group docs by their status and sort them by the Updated column. This way it'll be easier to notice the docs that have no movement.

See how easily you can manipulate the new Dash:
And one of the most exciting features of this upgrade is the ability to save all of your filtering and sorting preferences as unique Views. This means you can effortlessly toggle between your favorite setups in a matter of seconds, saving you time and focusing on what matters most.
When you navigate to the "Shared with me" section or delve into a project, all the aforementioned features remain applicable. You can continue to sort, filter, create views, and perform other actions with ease.
🤝Document sharing
Ever find yourself wanting to share just one document, instead of an entire project? Well, now you can. We've made it easy to share individual documents just like it's been with projects.
Invite people or provide them direct access via a link, decide their role, and add clarifying messages.
Already decided which feature to try first?