Hi there! 🤗
Such a tiny month brought us a big update. It has never been easier to transfer the journey map(s) you have to UXPressia.
📠 UXPressia journey map import is here
Now all your mapping initiatives and their fruits can be stored in one place with more ease. Meaning, even the journey maps that were built somewhere else can be transferred to UXPressia in a few minutes and be at hand.
How the import functionality works
Whether your map is stored in Excel, CSV, Google Sheets, or in any other table format, we've got you covered.
When importing, choose one of the import options that suits your case better: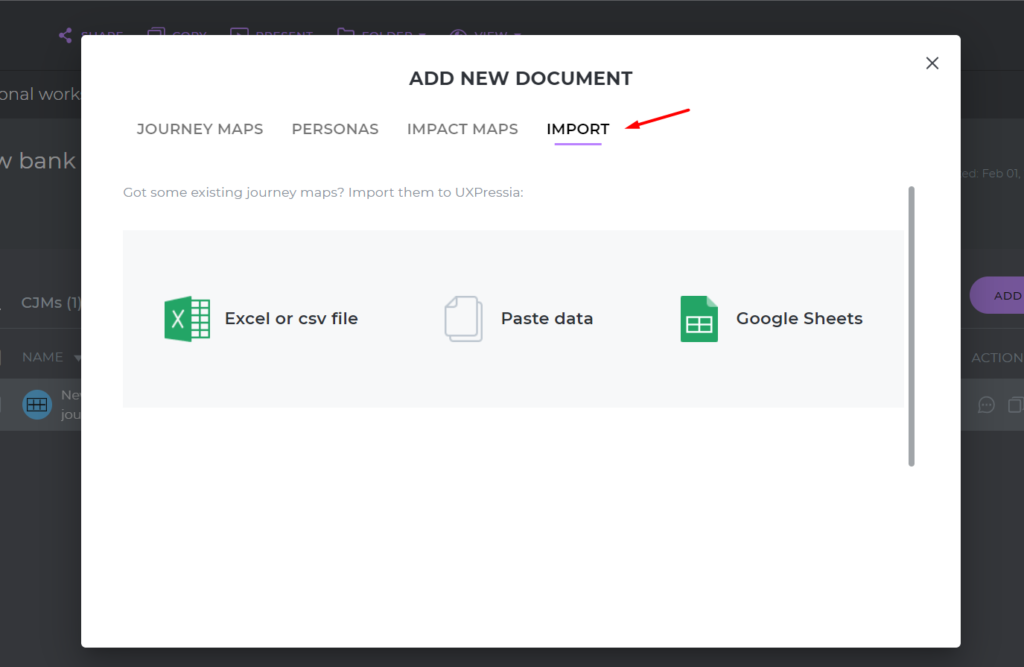 📌 Excel and CSV files
Can't wait to try? Here's an example of a map exported as an Excel file for you to import it to UXPressia. Make sure to structure your file in a similar way.
📌 Table data pasting
If your journey map is organized into a table data, you can import it as well:
📌 Google Sheets
To import your map from a Google Sheet, connect your Google Drive account and select the file:
Now you know how to transfer and store all the journey mapping pieces in UXPressia. Ready to act?

P.S. Fancy to learn more and see how everything works? Watch the recording from our online event, where UXPressia's Customer Success Agent Julia will walk you through the updates:
Related posts