Does your soul cringe at the word map? Have you already got customer personas, journey maps, value propositions, etc. gathering cyber dust in your cloud storage? Unfortunately, that is not uncommon; if we structure customer insights without a plan of action, we waste time.
On the other hand, successful businesses bring their teams together to share customer insights, put their thoughts "on paper" and use them to influence their business strategy. In this article, we explore the purpose and value of empathy maps, their importance in B2B, and how you can wield this powerful tool in five simple steps.
What is an empathy map, why bother?
Empathy maps help us understand customers' thoughts and feelings – in other words, to empathize with them. They work with customer personas and add an extra dimension. When we build empathy maps, we make personas richer and easier to connect with.
We use empathy maps to:
Design products, services, and customer touchpoints;
Complement feedback with a greater understanding of customers;
Build customer journey maps – reflecting today and our ideal;
Improve customer experiences;
Inform our customer relationship management;
Plan communications and design marketing;
Develop up- and cross-selling opportunities.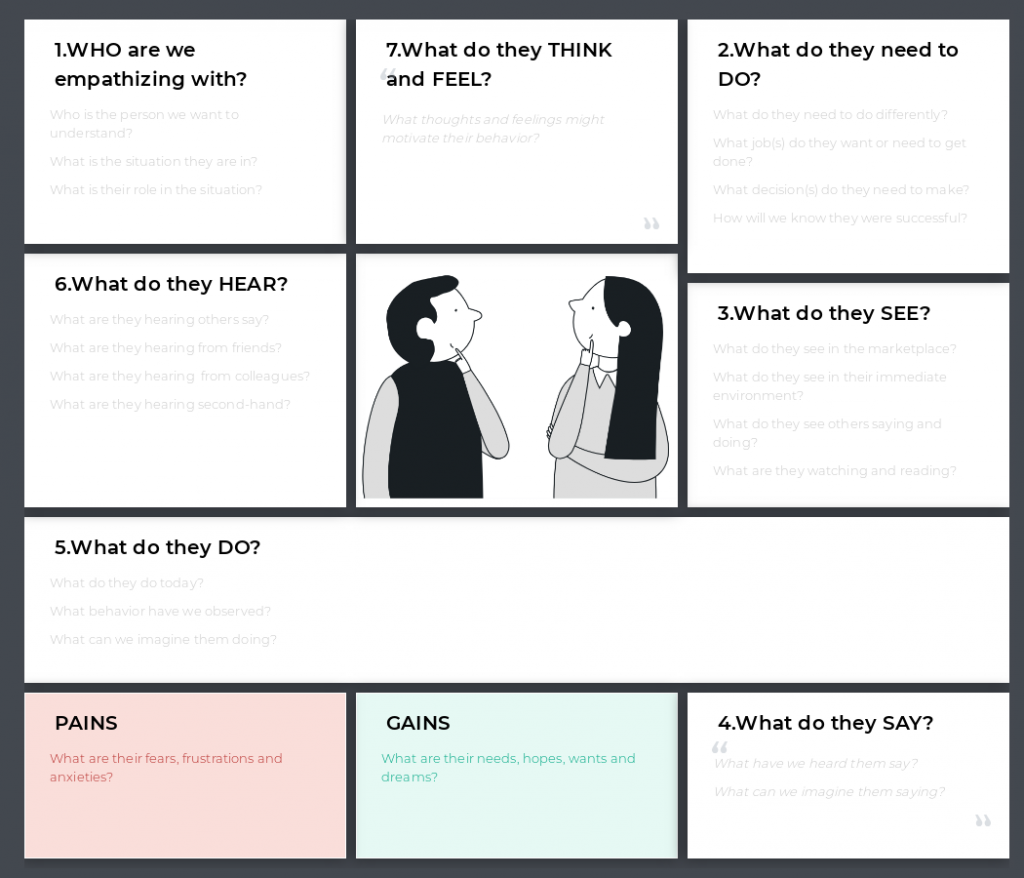 Like any other customer experience tool, empathy map activities help us earn customer loyalty, which leads to business and employee benefits.
As we learn more about our customers, we update our empathy maps and our empathy maps may show us crucial differences within personas, encouraging us to recognize new ones.
How is B2B different?
In B2C, customers have similar goals. For instance, every persona built by a supermarket buys food. However, in B2B, we work with many stakeholders and their experience reaches beyond the service we provide. A catering company, for example, may deal with purchasing, accounts, budget holders, event managers, cleaning staff, maintenance, security, and the people who eat the food. Segmenting their market by size, industry, or location would create personas and empathy maps confused by the number and types of stakeholders.
We don't want to create dozens of personas, so we use empathy maps to understand other stakeholders. Sticking with the catering example, they could build buyer personas in each market segment and then use empathy maps to understand the buyers and other stakeholders.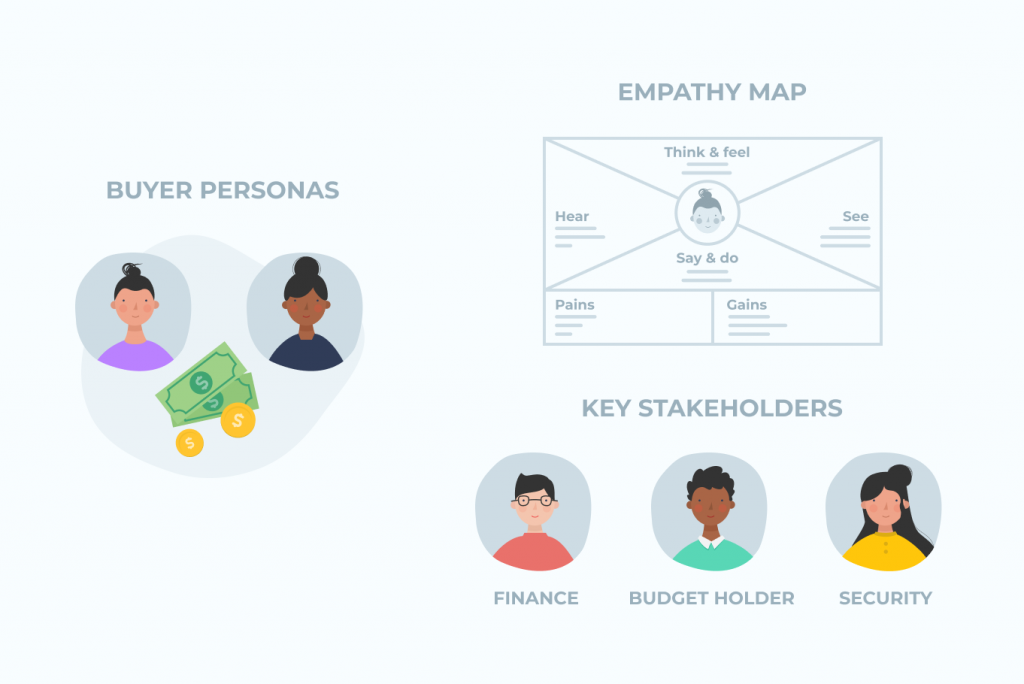 When buying decisions and cross-business relationships are complex, the value and benefits of empathy maps increases. They help us understand how we affect each stakeholder and how each stakeholder influences others. A health warning: while focusing on decision-makers and seniors seems sensible, we ignore internal communications at our peril. In our catering example, the maintenance team, which throws away uneaten food and non-recyclable packaging, may miss environmental targets and complain about the catering company in senior reviews.
Five steps to use empathy maps in B2B
As we know, building an empathy map without taking action has little value. Follow these steps to understand the key stakeholders within your users base and improve customer experience of your company.
Step 1. Identify the stakeholders
Businesses may have thousands of customers with transactional interactions, a smaller customer base where relationships are key to business, or anything in between. In mass markets, you can choose typical roles (e.g., finance director). When you know stakeholders by name, you must exercise caution. You can draw empathy maps for individuals, but you must work within privacy legislation, be respectful and avoid sharing the map with the wrong people. So, you may choose to keep empathy maps at a generic level to minimize risk.
Step 2. Bring together the people who influence each stakeholder's experience
Don't create empathy maps by yourself. Engage the people who rarely get to talk about your customer. Bring together finance, operations, engineering, HR, purchasing, and, of course, marketing, sales, and customer services.
Step 3. Agree your goals
Empathy maps can support many activities. While you are finding your feet, pick one from the list above. Let your goal(s) influence your questions in step 4 and the actions you take in step 5. If you are new to empathy mapping, "improving customer experience" is a good place to start.
Step 4. Create an empathy map for each stakeholder
Get together, either a room or an online meeting, and answer the questions on the empathy map template. Start with your thoughts, but be aware you may not know the customer as well as you think – what questions must you ask to check your understanding? Might you even invite a customer to the session?
As you work, take stock regularly. If the map isn't giving you the information you need to achieve the goal(s) you selected in step 3, change the questions.
Step 5. Agree and take action
Now you can see your business through the eyes of your customers. You may notice several types of opportunity:
Celebrate and embed good practice;
Things you could do better;
Requirements for new or improved products, services, and customer touchpoints;
Ways of adding value to your offer;
Ways of describing the value of your offer.
Whatever your empathy maps present, it is important to agree on the outcome you will achieve, the change you will make, who will make it, by when, and what it will cost. Then support the person making the change and celebrate their success.
Building the customer into decision-making processes is rewarding, it improves loyalty, engages staff, and boosts business performance. On the other hand, it needs focus and can seem intimidating. Empathy maps give us a quick entry to customer experience, they are easy to use and soon reward you for your work, so long as you keep them fresh and take action!
Related posts