When it comes to creating products and services that customers love and keep returning to, building higher levels of empathy is crucial. Yes, you can create a customer persona.
Although sometimes it's better to start with an empathy map.
The empathy map technique was developed by XPLANE and can be considered persona alternative, though I'd say it's more of an additive. While some use empathy maps as a foundation for their personas, others see empathy maps as standalone artifacts.
No matter which category you will fall into, here's what you need to know before starting with empathy mapping.
What's an empathy map? Definition
A typical empathy map is a canvas with a head in the center and is divided into a few sections just like this: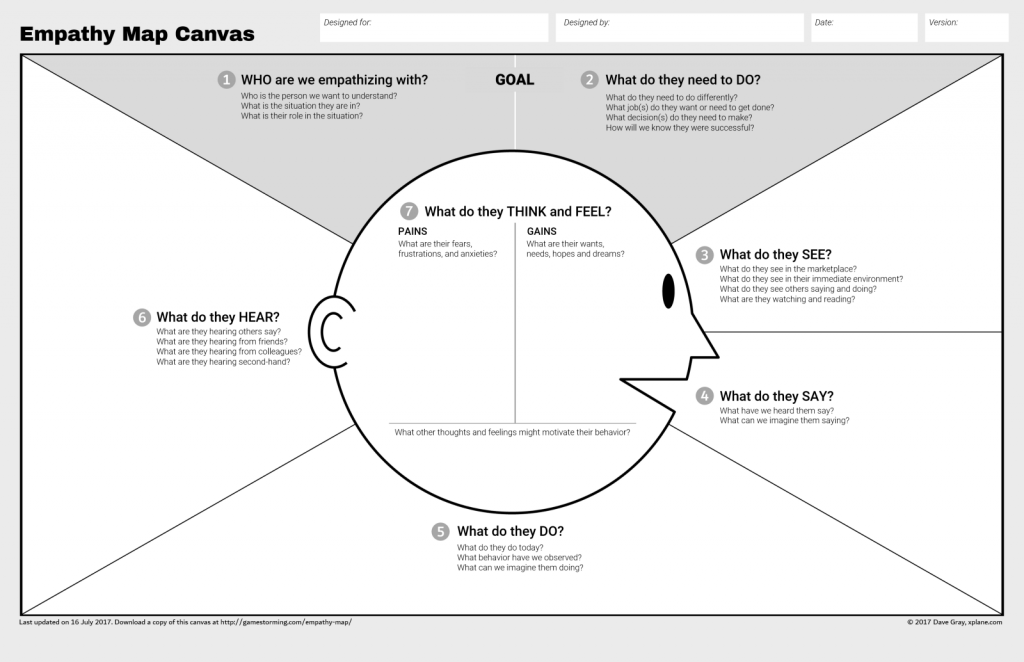 Image by Dave Gray: xplane.com
You can see that sections look a lot like what you would normally put inside of your persona so where's the catch?
Apart from the layout, the difference is that we focus on what happens "inside of their head". In other words, instead of assessing the customer from the outside, we try to see the product the way the customer sees it. And hear what the customer hears. It's a different kind of perspective that produces different kinds of insights.
You may also notice the numbers assigned to each field. The numbers tell you the order in which to fill out the map sections. And it's not just a convention - going step by step in that exact order ensures that you will get a very authentic experience - just like your customer would.
Why empathy mapping? Benefits
Empathy maps let you put together all the bits of knowledge you already have about your customers, which you can sync later with the team. It can also give you some clues on why the existing product does not meet customers' expectations as well as how to fix it.
Besides, insights that go into What they see and What they hear can be a nice input for marketing. You can get a better understanding of what sources influence your customers and then think of potential marketing activities and partnerships.
If you are designing a map in a business domain that is new to you (e.g. drilling rigs), then collaborative brainstorming with a subject matter expert will definitely give you a quick boost of domain-specific knowledge and verbiage. You may not even use the resulting EM, but you'll get a ton of insights that will benefit your further work.
Empathy mapping does exactly what its name promises - helps you build up empathy and it offers a very clear and comprehensive layout. Plus, unlike personas, empathy maps give you a peek into your customers' heads with its inwards approach.
On top of that, empathy maps are a little easier to create than personas. With personas, there are many other things you need to think of (such as demographics and goals). So empathy mapping is sort of a fast-food persona. Unlike fast food, it's actually good for you and your business.
Read also: Good Personas vs. Bad Personas.
You can build an empathy map for any product or service. And it doesn't matter if it is an existing product or just a promising idea. The overall approach is simple:
First, you need to outline your target audience.
Set up a brainstorming session with your team and fill in sections one by one. Fill free to speculate and use your hypothesis for now - you'll validate them later.
Validate your assumptions. For instance, if you are building a Project Management tool, you will want to know how your users already managed projects in the past, what they liked or disliked about their existing solution, what other tools they used, etc. You can pick any research method you like for this purpose.
Empathy map tips
When it comes to filling in each empathy map field, here are some clues for you (feel free to use direct customer quotes):
Who are we empathizing with? Collect facts about your customer. In that example with Project Managing tool - what role do they have on the project? What are their responsibilities? How experienced are they?
What do they need to do? Think about their goals. What do they try to achieve? What metrics can be used to measure if the goal is achieved?
What are they seeing? What do their surroundings look like? What other options do they have for solving their issues? What interfaces are they used to? How do your competitors look to them, what ads do they see? Feel free to add imagery here.
What are they saying? What opinions do they express about the subject? What do they post on Linkedin and other social media?
What do they do? How do they act in public? What conferences/events do they attend? What skills do they have?
What do they hear? How the surroundings affect users? What do their colleagues and influencers say? What media sources affect their behavior?
Think and feel. That one is split into three:
Pains: what worries them? What are they afraid of? What can be a reason for them to turn you down?
Gains: what can help to solve their problems? What can convince them you are the right choice? What pros of using your product or service are there? What smooths their experience with you?
Other thoughts: anything that didn't fit into the previous two. What verbiage do they use in regards to the problem you are solving? These kinds of things can be hand-picked wherever people share their feedback: on forums, support logs, Facebook reviews, etc.
Looking for more expert tips? Check out our blog post about building empathy maps in the B2B domain.
Empathy Maps Builder in UXPressia
And guess what? Despite our Personas Online Tool is called, well, personas, you can still create cool-looking empathy maps with it as well. Have a look: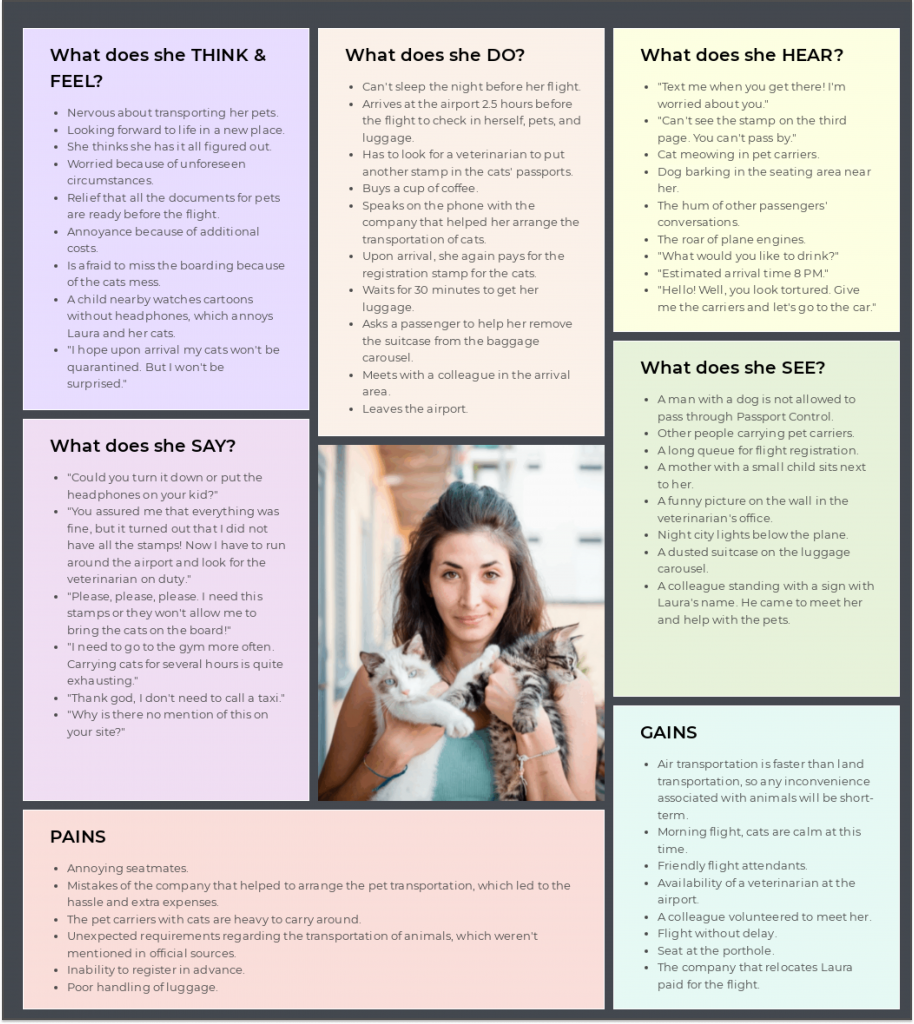 Empathy Map Example
This is Laura. She is an engineer and recently found her dream job. The catch is that for this job, Laura needs to move to another country. And everything seems to be fine. She sold some things, sent the most necessary stuff by a transport company, and now she has to move herself and take two cats with her. As we know, international animal transportation can be very stressful. Perhaps you can imagine what Laura will go through, but just in case, we listed her experiences and adventures in this Air passenger empathy map template.
And you can build such an empathy map for your persona, playing with colors, fonts and sections, or using this one, adjusting to your case. Ready to start?