In this article, we'll go through the entire process of creating a persona. Step-by-step, we'll be adding new sections until we reach our final destination – a production-ready, insightful persona. You'll be able to use it as a reference for making personas of your own in the future!
In our previous articles, we've discussed personas a lot. So if you're not sure what these personas are, why you want to use them, and what pitfalls you should avoid when creating them, definitely check these articles.
We'll be using our UXPressia Personas Online tool for creating our persona. If you've never tried it before, this is a great opportunity for you to learn something new in an easy and fun way. Go ahead, get a free account, and learn how to create personas of your own while reading this guide!
Research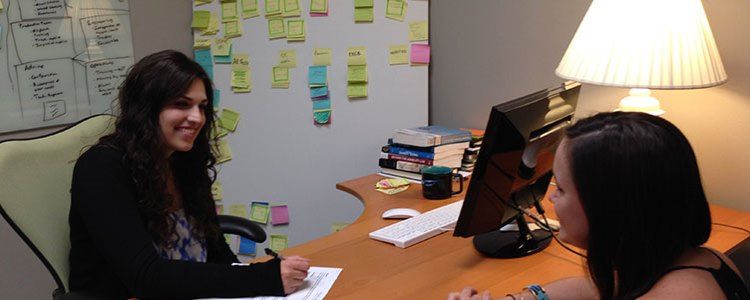 Photo: https://chaione.com/wp-content/uploads/2014/07/user_interview1.jpg
Collecting information about your target audience is the first thing you must take care of when creating a persona. Otherwise, what exactly will you type in those sections?

There are many sources of user data and here are a few to get you started:
Using whatever info that you already got at hand. You might have some ideas about your customers. Whether you have done some research in the past, or you just know something for sure.
Making assumptions. If you've been working on a product for a while, you may have enough knowledge to make quite accurate assumptions about your users.
Web analytics. This one is a goldmine of user data. Take the best of it.
Conducting interviews with users. Nothing beats talking to a real person. Just make sure you use this technique along with other sources.
Surveys
Read this article to learn how to gather user data.
Segment Your Audience
It is important to keep in mind that a persona is a collective image of a segment of your target audience (TA). It cannot be the face of the entire TA. Nor can it be just one person. You need somewhat of a golden middle.
So how many personas do you need for your project? The answer is here.
For our guide, we'll take one hypothetical persona and this persona will be UXPressia potential user.
Set Demographic Info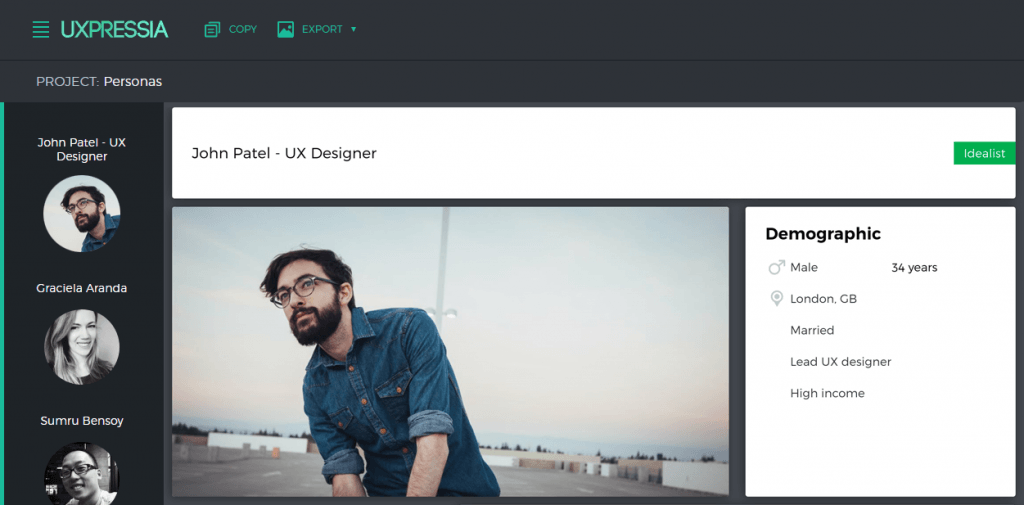 Once you've done with collecting data and segmentation, it is finally time to start creating a persona. It is reasonable to start with the most basic info – demographics.
Authentic demographic data is critical to developing true empathy. Lucky us, UXPressia lets you generate names and photos for personas so you don't have to rack your brain for a unique name or photo.
Inside this section, you should include the most basic things like name, photo, age, marital status, job, income, residence, and so on. You may have noticed a green stripe on the name tile that says "Idealist". In UXPressia we have this section to describe the type of personality and it's a great way to know your personas.
Describe Persona Background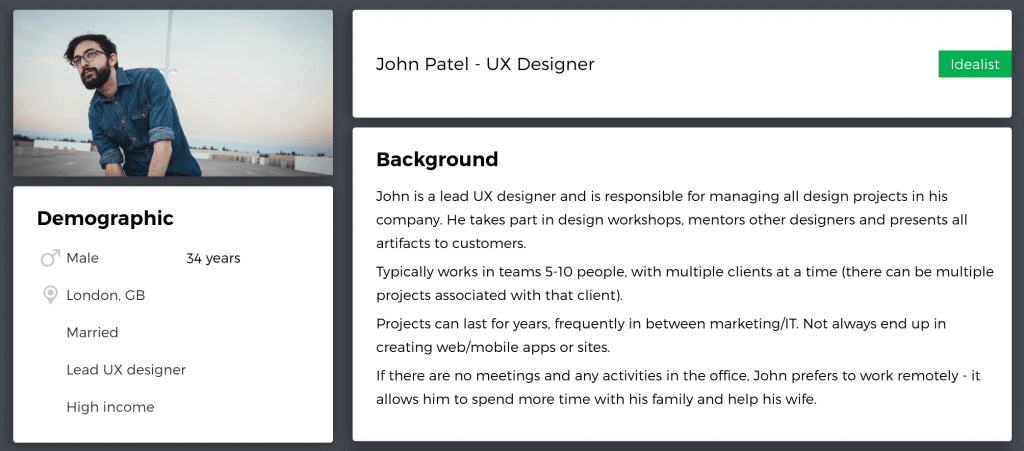 Describing the background is our next stop. Here, the more is better is the rule of thumb. Write down everything you know about your personas background.
Remember that any tiny detail may lead you to a wonderful insight. On the other hand, avoid unnecessary information that may cause cluttering and confusion.
Define Persona Goals
Defining persona goals is extremely important because it allows you to see how your goals align with the goals of your customers. Not to mention that if you can meet customers' needs better.
We'll say that John is looking for a tool that allows him to present his ideas to his clients and management easy and without hours wasted on drawing everything from the ground up.
Motivations & Pain points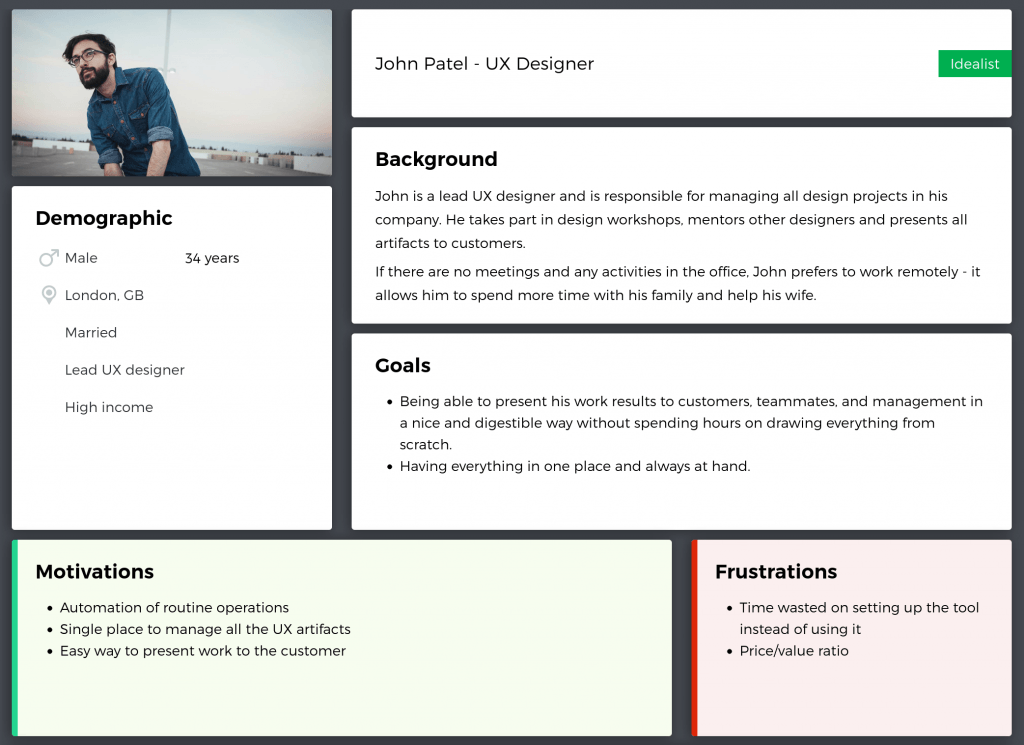 Finding what motivates and frustrates your customers is something you must include in personas. Once done, it will illuminate what you can do to win their hearts and loyalty.
In John's case, his pain points may be that he doesn't want to spend too much time learning the ropes of a tool. He also wants a balanced price/value ratio.
Speaking of his motivations, John is looking for some automation of his routine operations. Also, he'd love if he could store his works in one place so he can access them from any computer.
Add Other Ingredients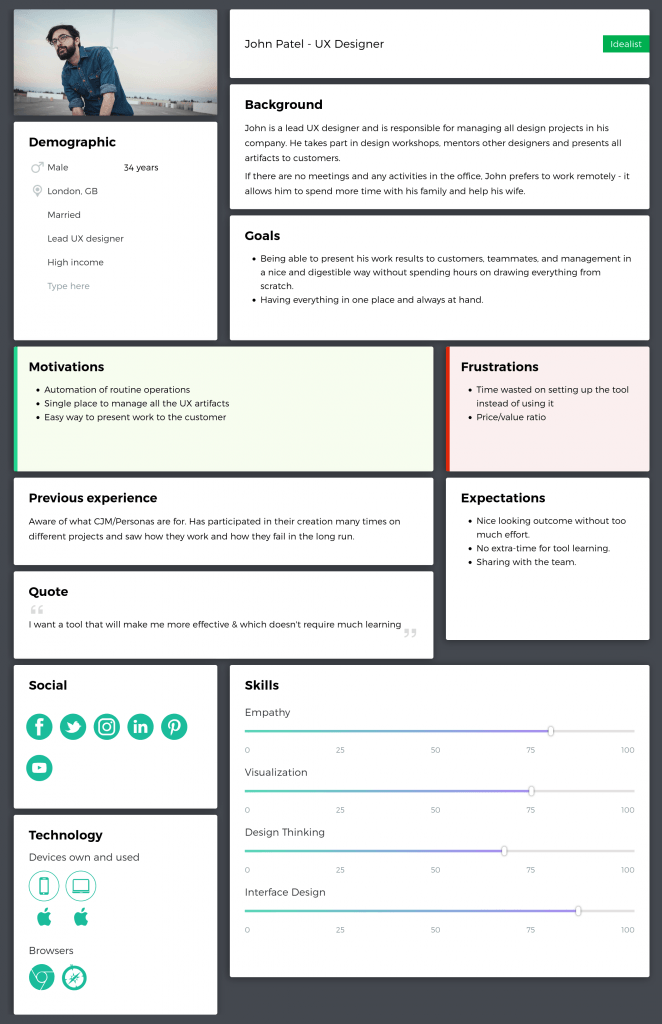 At this point, we are pretty much done with creating a persona. But there's still a lot of room for improvement. In UXPressia Personas Online Tool you can add loads of other sections to describe your persona in the most detailed way possible. Add skills, brands and influences, social networks and tech that your persona uses.
There's so much fun your team can have when creating a persona. And the benefits are endless. Start creating your own persona with UXPressia. For free.
By the way, you can use a PDF version of our Persona cheat cards that contain a list of tips and insight-generating questions for you to learn how to create a user persona. Download them free now and use them for creating your top-notch customer personas!
And for slide lovers we got a summary of this post on slideshare: