Up until this moment, we've talked CJM through: what it is, why and when to use it, how not to mess it up, and so on and so forth. There's one thing we saved for later though. And that is a detailed step-by-step guide on how to create a customer journey map. Let's fix this here and now, shall we?

Photo: https://www.truettspizzacafe.com
Although there is no golden standard as for creating a customer journey map, we'll try to create somewhat a generalized map. So that you can use it as a reference when making maps of your own.
We'll be using our Customer Journey Map Online tool along the way for two reasons. Because it's easy to use and it lets you create CJM fairly quickly without wasting time on setting up the environment. Oh, and there's a persona building tool that comes with it 😉

Let's take a pizza restaurant as an example of business for which we'll be creating a customer journey.
Step I: Define Your Persona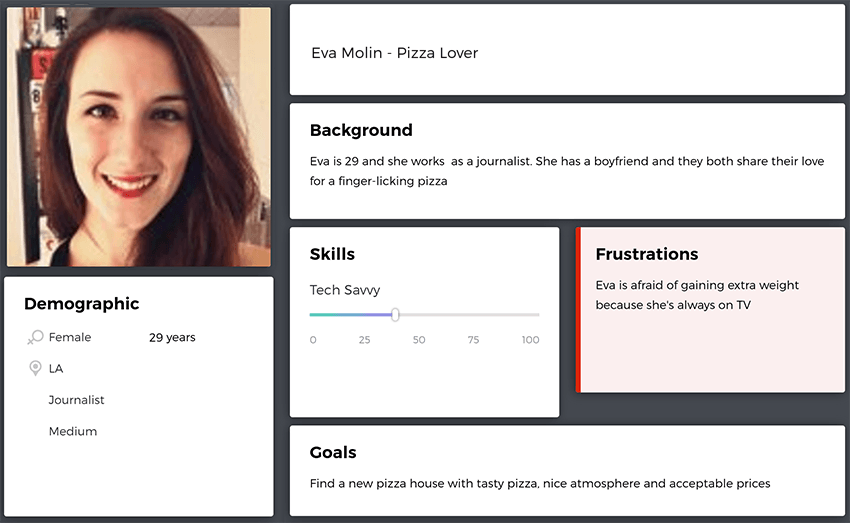 Defining personas is a crucial part in customer experience service and journey mapping in particular. We won't go into details of creating personas – we'll leave it for another post. Let's just say that our persona's name will be Eva Moline – 29, works as a journalist and loves pizza. Eva is not really tech-savvy and her main fear is gaining extra weight.
Step II: Set Customer Journey Stages
The number of stages varies from business to business, but we'll take 9 for this example:
Aware
Research
Arrive at the cafe
Order pizza
Wait for the order
Eat pizza
Leave the cafe
Leave feedback
Return
Step III: Set Customer Goals

Setting customer goals at each stage is great for multiple reasons:
It helps you understand how your business goals align with goals of your customers
You can meet your customers' needs better gaining their loyalty
On the picture above you can see what goals we set for Eva. They are fairly standard, so there's no need for explanations.
Step IV: Define Touchpoints

Touchpoints are encounters that happen between your business and customers. In the pizza restaurant example, touchpoints might be:
At the awareness stage, Eva might find out about our pizza restaurant from a signboard, the internet, friends, or see the ad on a billboard.
When doing research, she might look at the website, check out Yelp reviews, or ask her friends (so old-school, right?)
Upon arriving, Eva will have to find your place by looking for the façade and signboards, park and get a greeting from the staff.
When ordering pizza, she will talk to a waiter and see the menu.
While waiting, it's worth checking out the place, maybe popping into the restrooms.
Time to eat! Again, the touchpoints will be the waiter, the product aka pizza. The cutlery and the tray.
On the leaving stage, Eva will pay for her pizza, talk to the waiter and maybe to some other employees.
When leaving feedback, she may want to go to your website directly or drop a few lines right on Twitter or Facebook.
During the last stage, Eva may get a promo email from you with discounts or other special offers.
Finding all the touchpoints is critical because each touchpoint leaves some impression and your main goal is to keep it up to the mark.
Step V: Processes & Channels


Now you may want to add some processes and channels to the map. Just to see what channels your persona uses and what types of processes are in her journey. Luckily, our tool lets you do it in the most awesome way. Processes can be linear, non-linear, or circular. You can specify up to 5 channels per process.
Step VI: Problems & Ideas

Time to explore problems Eva might have when using our service. It could be a lack of info about our pizza house. Few reviews, ads do not show how our pizza is different from others.
Upon arriving, Eva may struggle with locating the place due to bad signboards or just due to a hard-to-find location.
When making her order, Eva may look for detailed info on how many calories are in our pizza. Descriptions may be not as detailed as she'd want them to be.
While waiting for the pizza, Eva may want to check out the place. Finding a restroom can turn into a nightmare if you don't have clear signs showing what's where in the restaurant.
Once you're done with problems, it's time to find solutions to these problems. Brainstorm for some ideas on how this or that problem can be solved.
Step VII: Emotional Graph

Never underestimate the power of visualization. And UXPressia's Customer Journey tool is all about it. Let's add an emotional graph to see where our service example shines and where it stinks.
Step ?: Be Creative!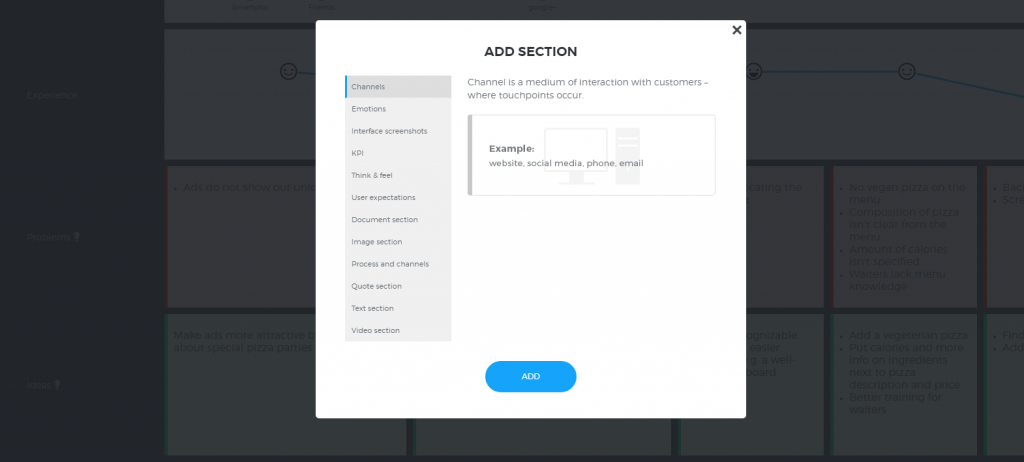 This is a good start, but the map is far from being complete. Keep exploring Eva's journey to find more insights and then add all of them to the map.
If you use our tool (which we highly recommend you to do), check out other CJM sections - user expectations, images, documents, KPI, and even videos! It's all there waiting for you.
Once you've created your customer journey map, you can export it or share with a customer or your teammates. And there's also a whole lot of free templates for all sorts of journeys!
And for slide lovers we got a summary of this post on SlideShare: