The #1 reason why customer journey maps end up collecting dust on a shelf is that they are created by lone rangers and in complete isolation. Sometimes running a customer journey mapping workshop involving stakeholders seems like an overkill and a waste of time. It doesn't have to be like that. At UXPressia, we prepared a comprehensive how-to guide along with awesome freebies for you and your team.
Step 1: Set a Goal For Your Customer Journey Mapping Workshop
First, you should clearly define the goal of your workshop. The goal must be specific and achievable. It cannot be trying the CJM framework because you heard you should do it. Nor can it be creating a ton of detailed customer journey maps that cover all aspects of user interactions. This is just not feasible, won't fit into a single workshop, and will probably take you a year to complete.
I'd say it's been a productive customer journey mapping workshop if you came up with the map structure and went over the as-is processes. This along might take you a good couple hours so don't think you'll nail an entire journey map in a day. 😉
Here is a list of sound goals you can set for your kick-off customer journey mapping workshop:
Sharing knowledge across the team
Discovering pain points and problems
Ideating solutions for the pain points you discovered either before or during the workshop
It could be educational too. Though teaching the team to use a new framework would require a slightly different approach and timing than condensed ideas brainstorming.
The important thing is for you to have a goal.
During your first workshop you will want to get your first customer journey map off the ground. Don't think you can make an entire journey map in one sitting.
But even if you can't make it past the backbone phase (where you just come up with the structure) it is okay. What's most important is that you start communicating. Even if the only take out is that the team grasps what the framework is all about - you are off to a great start. That will make the team prepared for further work.
If you want to run the workshop to educate the team though (and given the team doesn't have any experience with customer journey mapping), then prepare to explain the concepts and the context of the CJM technique, what you're introducing it for, and how frequently the workshops will happen, etc. So you will want to set expectations and give projected outcomes.
Step 2: Who you gonna call? Stakeholders!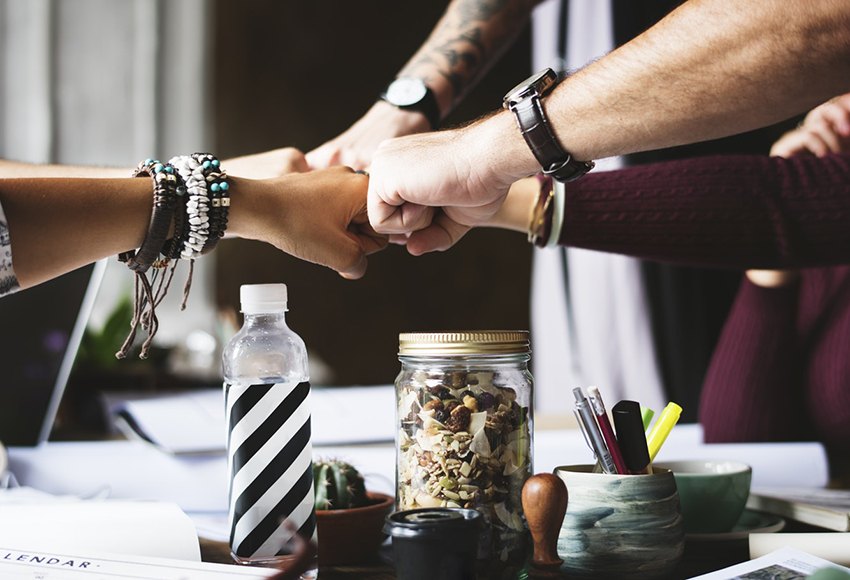 Photo by Unsplash
When it comes to inviting teammates to your customer journey mapping workshop, there are a few rules to follow.
Invite those who can share knowledge about actual customer journeys. These can be:
Customer service and sales reps. They are the ones who talk with your customer face-to-face. There are lots of ideas and insights they can share so they are your VIP guests.
Marketing folks, customer experience specialists, and researchers (including the ones who do usability tests, web analytics reviews, etc.). Even if they don't talk to the customers, they know a lot about how things are with your customer journey now.
Product owners if they communicate with customers and have a more or less clear idea of what the customer journey looks like at the moment.
These people might not take part in the transformation process and implement the changes by themselves but you need their presence to fill in the gaps and share the knowledge they have.
Invite those who will bring CJM to life and implement the changes. They can have little to no knowledge about the as-is customer journey, but it's them whose work will be directly affected by whatever you find during the workshop. In this case, their roles can be pretty much the same as above. Plus, think about inviting the IT folks, office managers and any other internal roles who will take part in the implementation process.
Invite the influencers and decision makers. You need them aboard as long as you want to get time and resources for further service improvement.
Besides, as they do not often communicate with the customers directly. They might have a very vague vision of what their customers are going through and what pain point they face. Showing them the areas of opportunity will be an eye-opener and the first step to a better design process within the organization.
You'll then need to break participants in teams. The teams should have evenly distributed roles with at least 1 person/per team knows what to do. You will also need at least 1 facilitator, i.e. the person who will be guiding and expediting the process.
Step 3: Prep-work for the Customer Journey Mapping Workshop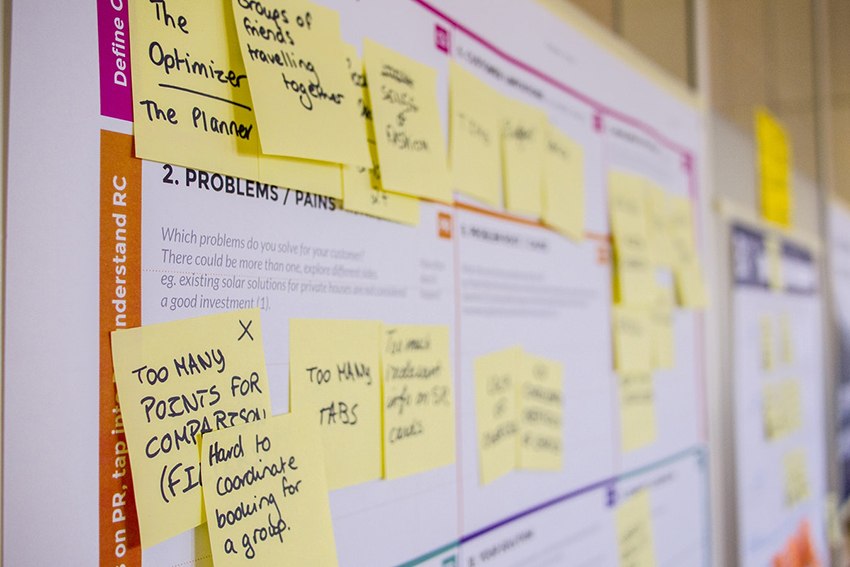 Photo by Unsplash
To run a kick-ass customer journey mapping workshop, you will need to do some homework before. Things you want to have ready for the workshop are:
Place and Time
The first one is obvious and probably the hardest. You need to invite all the people you plan to involve and decide on the time/place that works for everyone. Good luck with that one! 😀
The duration is up to you but 4 hours seem to be the golden middle for 1 session. Go shorter and you won't have time to do anything. The session will end all of a sudden when the team is full of inspiration and ideas. Longer sessions are exhausting and the last thing you want to achieve is having for the whole team to be daydreaming.
Who's your Customer Persona?
Decide on the persona that will be your primary focus and prepare a short intro for all the participants. You need a certain customer segment to map for. You won't have time to cover all possible touchpoints for all the personas within a workshop. Read more on how to create a persona in nine steps.
Make sure you print out your persona (or empathy map, or any customer info you might have) that you can hand out to the participants. Also, prepare a brief speech to get everyone on the same page.
Define the scope
Define the scope of the journey that you will focus on. This might be the most problematic area of the service that needs to be improved in the first place. It can also be the part you know the most about. You can start with on-boarding or purchase process for instance. It really depends on the complexity of your service. Surely, you can take the whole journey if it's short and fairly simple. But for longer B2B cycles it definitely makes more sense to pick just a part.
No matter what scope you pick for mapping, gather as much information as possible up front. If there's any research data that exists for this journey, get a hold of it and take with you to the workshop. This might also give you a clue into who needs to be invited - different influencers might be in charge of different journeys.
Get a room!
Book a room of the right size. It should be big enough to accommodate all the participants but not too roomy. You don't want to run marathons from one table to another.
Speaking of tables, you will need enough tables for the participants. It's best to place tables closer to the walls. Ideally, you should be able to cover the walls with rolls of paper. You'll need as much surface as possible.
A projector or a screen is nice to have - they might come in handy when you'll need to show some research data, for instance.
Grab supplies
You will need to be armed up to the teeth with everything that might come in handy during the workshop. And this is your lucky day as we've prepared some free downloadable goodies to save you hours of time. 😉
Print out a customer journey mapping template. Here's one for ya. Don't print it too small - if the room allows, cover all the walls, you need as much surface as possible.
Print out these instructions for participants and the facilitator cheat sheet.
Grab some transparent tape to hang the templates around the walls.
Sticky notes. Many many many sticky notes. All the sticky notes you can get. We recommend having at least 3 colors: one for the facts, the other one for the problems and the last one for improvement ideas.
Black Sharpies for writing/sketching.
Last but not least: prepare tea/coffee breaks and snacks. Hungry and decaffeinated people are bad allies when it comes to customer journey mapping. 🙂
On the day of the workshop, block some time to set up the room. Arrange the tables, place printed reference materials on each table. Make sure sticky notes and sharpies all are placed within reach as well. Prepare mapping surfaces (aka the walls). You might need an assistant or two to do that.
Step 4: Run the Customer Journey Mapping Workshop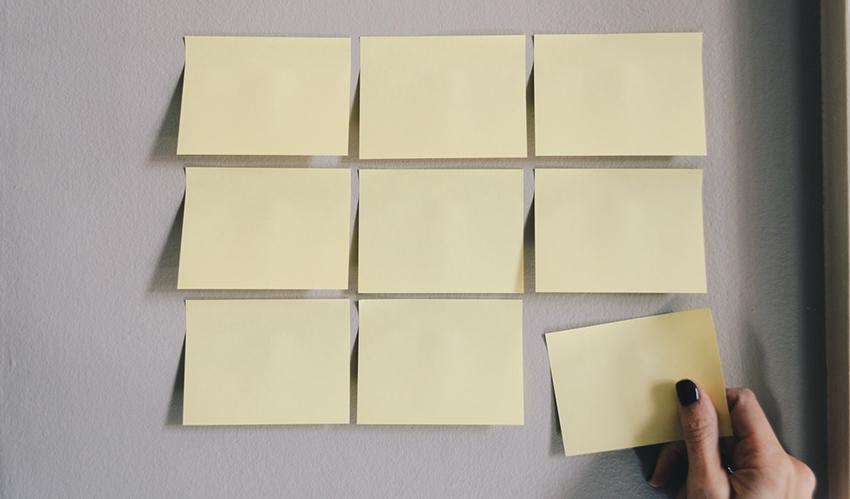 Photo by Unsplash
The first thing to do when the workshop starts is to set up some ground rules, give people context, and explain what you will do. Give them the agenda, an overview of the personas, and the scope of your today's mapping. It might be a good idea to ask people to put their phones or laptops aside.
Once everyone is on the same page, you can start mapping. Come up with the backbone of your journey map first - these are the steps in the journey (or part of the journey).
Then complete the first step together to make sure everyone understands what the process looks like. Start writing information section by section on sticky notes and stick them onto the map.
By the time you finish off with the first step, everyone will have an idea of how to move forward. If you have a complex journey, make sure to split it between the teams (for instance, Team A maps the product research stage, Team B maps the onboarding, etc.) - this will speed up the process and make it more manageable. Remember to have at least one knowledgeable person in each team to help others.
When the teams are done, make sure to get everyone back together and discuss the results. Encourage people to contribute to the stages they didn't map initially.
Finally, when the workshop is over, remember to take photos of resulting the map before you leave, you'll need it later.

Step 5: Digitize & Distribute
Sticky notes are fun and they give enough flexibility when you need to arrange things fast and collaborate. But you will now want to keep the map you created, share it with the team, update and present it. And that's where UXPressia comes up the stage. 🙂
Make sure to keep your map easy to present and read. Check out our tips for making your customer journey maps more visual and digestible.
Of course, there is more than one way to conduct a customer journey mapping workshop. We shared the approach we use in UXPressia team, but feel free to add your own stories and share your know-how in the comments section.
Meanwhile, I welcome you to try our CJM and personas tool to digitize the paper map you end up with after your customer journey mapping workshop. More than that, you can even use it for digital workshops with your distributed (or local for that matter) as we support real-time online collaboration.
Related posts