We've rolled out our new release! This time we updated UXPressia with the ability to set different views for your customer journey maps and a new text formatter. Let's take a closer look at both of the features.
UXPressia Custom Views
The new feature lets you choose which of the stages and sections will be visible or hidden. You can switch among multiple custom views, edit and delete them, and then go back to the default view whenever you need to. What can it be useful for?
Say your journey map turns out to be fairly large. If you present it all at once, it might just be too much to take in. The custom views feature will let you divide your journey map into pieces (e.g.: pre-purchase, purchase and post-purchase) and show them one by one to give your viewers a better understanding of the overall structure of your journey map.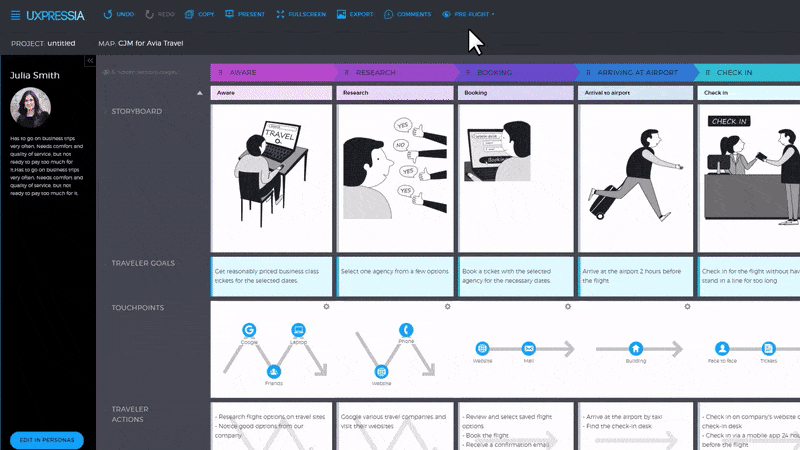 Another case when this feature may come in handy is when you divide the work among your team. Each of the team members will be able to focus on the parts of the journey map they are responsible for and hide and hide away everything else. Besides that, the feature also lets you hide the draft parts of your journey map and the persona panel from your presentation.
New Text Formatter
We have also upgraded the Text Formatter with a number of new features. Here are the key highlights of the new formatter.
Storyboard gallery
A storyboard is a series of images that help you visually communicate to others what exactly your customers go through at each stage of their journey. From now on, you can access the entire storyboard gallery via the Text Formatter with just a couple of clicks! Use them to capture everything that can't be put into words.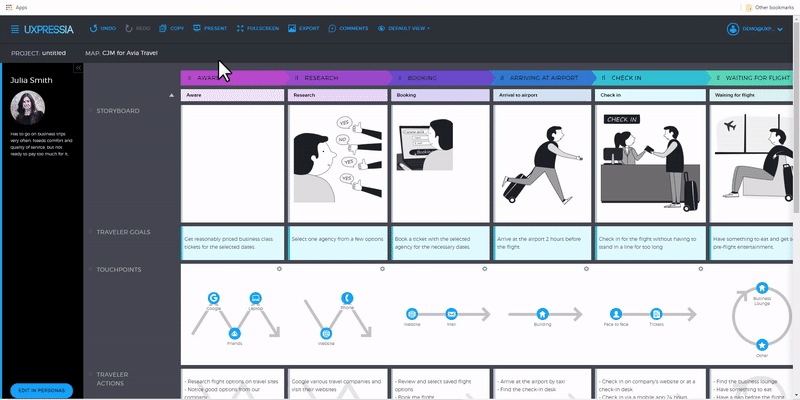 More emojis
Combined with the Experience section, the emojis from the text editor give you a chance to capture your customers' emotion in more detail at each particular stage or section of your journey map.

Previously, you had only a little over 50 emoji faces. Now you have 900+ of them at your fingertips: faces, gestures, animals, signs, devices, flags — you name it!

The awesome "Font Awesome"
And even more visualization power to your journey maps! You can use the symbols under the "Font Awesome" button to graphically communicate all the smallest details of your customer journey.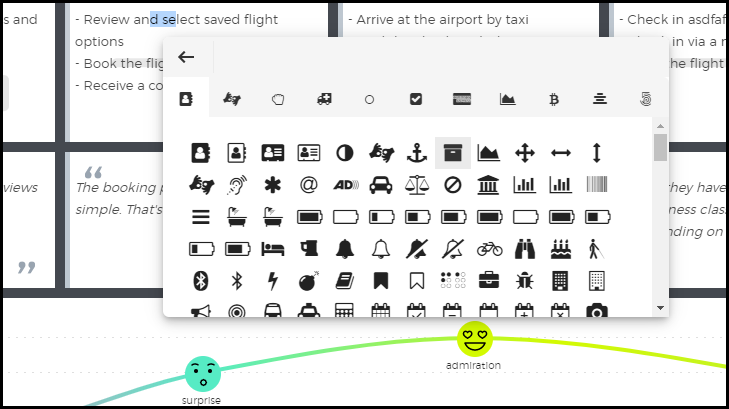 For more details on the new text formatter visit our Help Center.
That is it for the new release. All of the new features are available for all subscription plans, so make sure to check them out and tell us what you think! 😉