There is a lot of talk going on about the importance of using customer personas in journey mapping. Buyers are 48% more likely to consider companies that personalize their marketing to address their customers' issues. Still, only 44% of B2B companies use customer personas. That is something worth thinking about.
Even if the importance of using customer personas is beyond any doubt for you, it may still be unclear how to apply this technique when it comes to creating actual personas. Let's look at a few examples of how you can use the personas you've created.

Customize the experiences
You can use personas to customize the experiences offered within your products and services to make sure each type of customer receives a personalized approach. The data on your persona's background, character, and preferences will let you adjust the copy, user flows, and marketing campaigns accordingly.
Let's say you're a travel agency that sells vacation packages. In this case, one of your main target personas will most likely be the Escapist.
Escapists are generally adventurous and travel-seeking. They may not have a particular destination in mind and could be open to your expert suggestion. That is why you can suggest them listicles highlighting the best destinations for adventure, e.g.: "Top 5 Mountain Climbing Destinations". That is what it will look like once visualized in the Persona creating tool: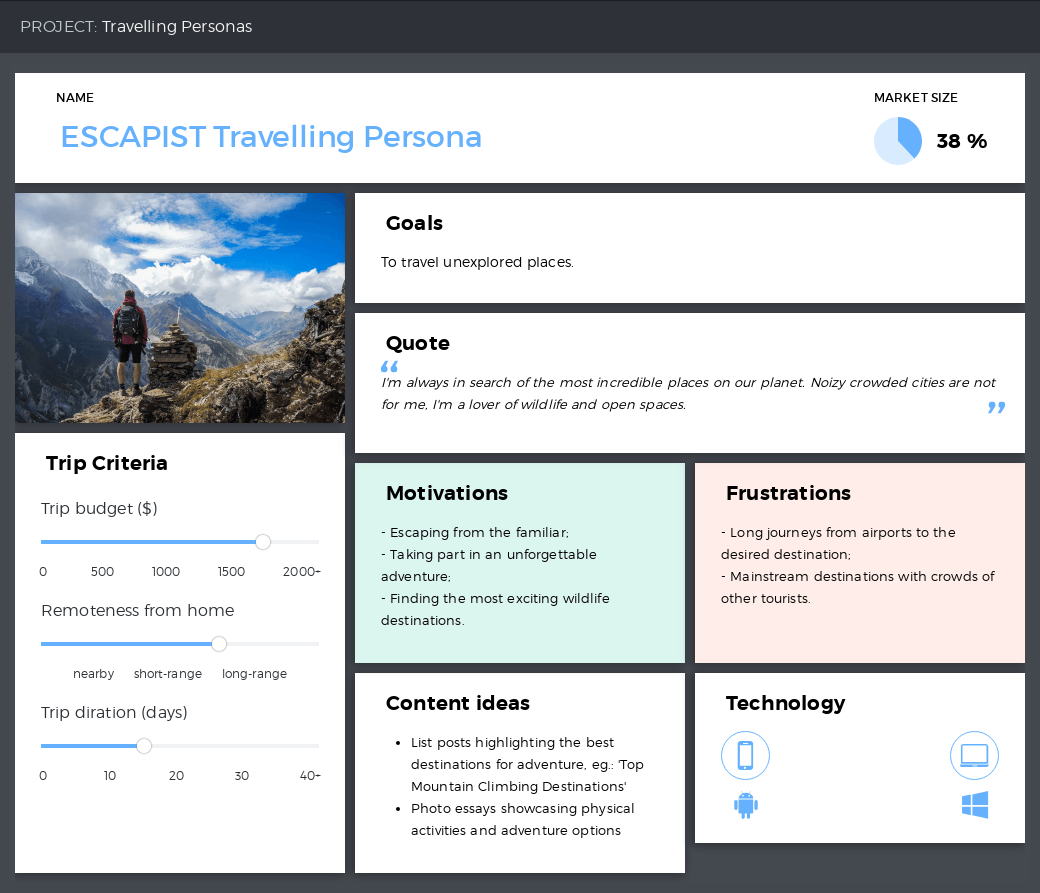 That way you will have a better understanding of this particular type of your customer audience. This, in turn, will give you an idea of how to tailor your offers to their needs.
Identify the outreach
Creating customer personas can also help you understand which channels you should focus on to get better outreach to each type of your customer audience and drive their engagement.
Some personas use Twitter and Facebook, others prefer Slack channels and emails. Some customers may use neither of those and search for the required information on Instagram and YouTube. The information on where your customers spend most of their time can help you plan your advertising and marketing budgets accordingly.
Share understanding of your customers
Using the personas only in one team or department is definitely a bad idea. Sharing it across your company can help you get everyone on the same page regarding what your customers look like and what exactly they expect from your company and product. This, in turn, will ease the process of making customer-related decisions, eliminate organizational silos, and bring efficiency to communication among teammates.
We at UXPressia follow this technique and hung posters with our key personas and their customer journeys around the office. This helps everyone to get a clear picture of our customer types and what each of them wants from our product.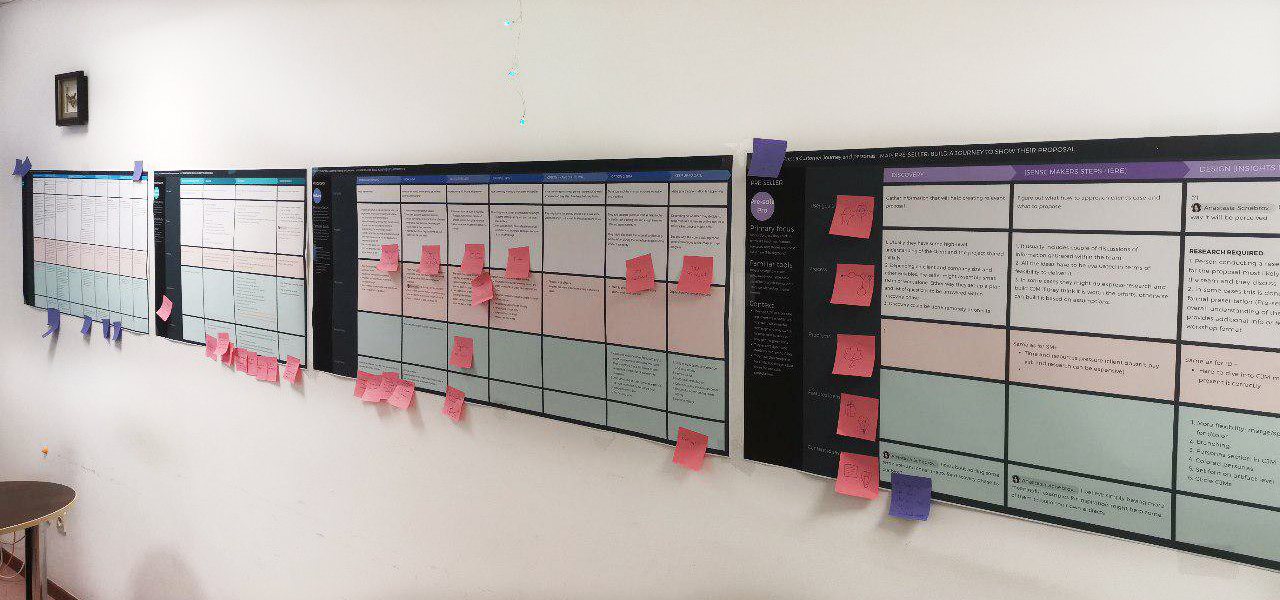 Customize your sales message
In sales, you can use personas to better qualify leads, tweak your sales messages, gain insight into your customers' perception of your company and so much more.
Knowing your customer audience is important when it comes to producing marketing assets for new visitors. If you know which language to use with each persona type, you are more likely to convert them from leads into customers. 34% of Americans say that they stop interacting with a brand when they receive marketing messages that do not match their needs. Tell your leads what they expect you to tell!
You can ask your prospects specific questions that can help you figure out which persona they are. Here are a few examples of such questions:
What goals do you pursue by using our product?
What features of our product do you find particularly useful?
Is there anything that our product lacks?
Guide customers through the customer journey
Personas ultimately help you develop a customer journey map. Using customer personas will give you a better understanding of user behaviors throughout the journey. This helps you create a strategy to guide them throughout all stages of their journey — from the awareness stage through the consideration stage and, ultimately, selecting your company in the decision stage.
How to use customer personas – wrap up
Having effective buyer personas for your product brings you a step closer to the results you have been searching for. Now that you know how to use customer personas, you can develop personas for your own product..