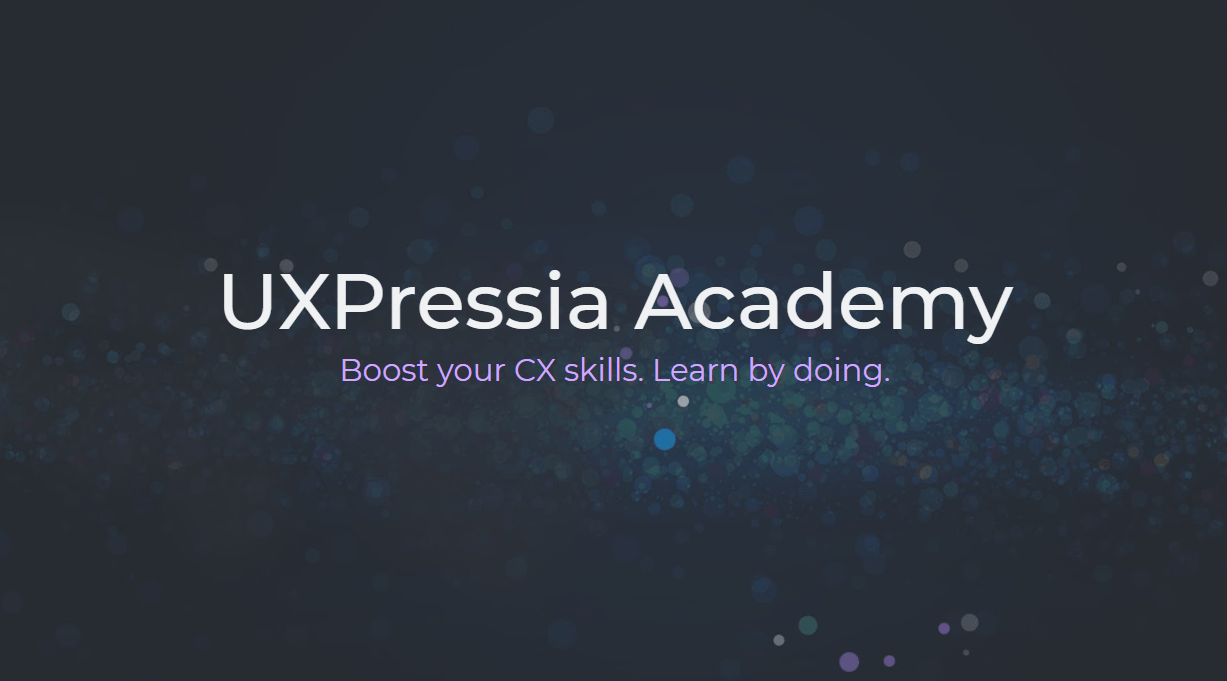 There are many courses on customer journey mapping, but finding the right one for you is often a matter of luck. So if you're on the hunt for an interactive, practical online course on customer journey mapping, UXPressia Academy is what you need.
What is UXPressia Academy?
UXPressia Academy is an online educational platform that says NO to boring theory and YES to interactive learning. Our CJM 101 course will take you from A to Z through all the steps you need to master customer journey mapping.
It's packed with real data samples and practical exercises which is everything you will need to master CJM framework and start creating your own customer journey maps.
So what exactly is inside the course?
Self-paced learning
The course has 7 sections, with each section focusing on a particular aspect of customer journey mapping. As the course is delivered in a consistent, easy-to-digest manner, you can take advantage of self-paced learning. Pause if you need and continue the course whenever you have time.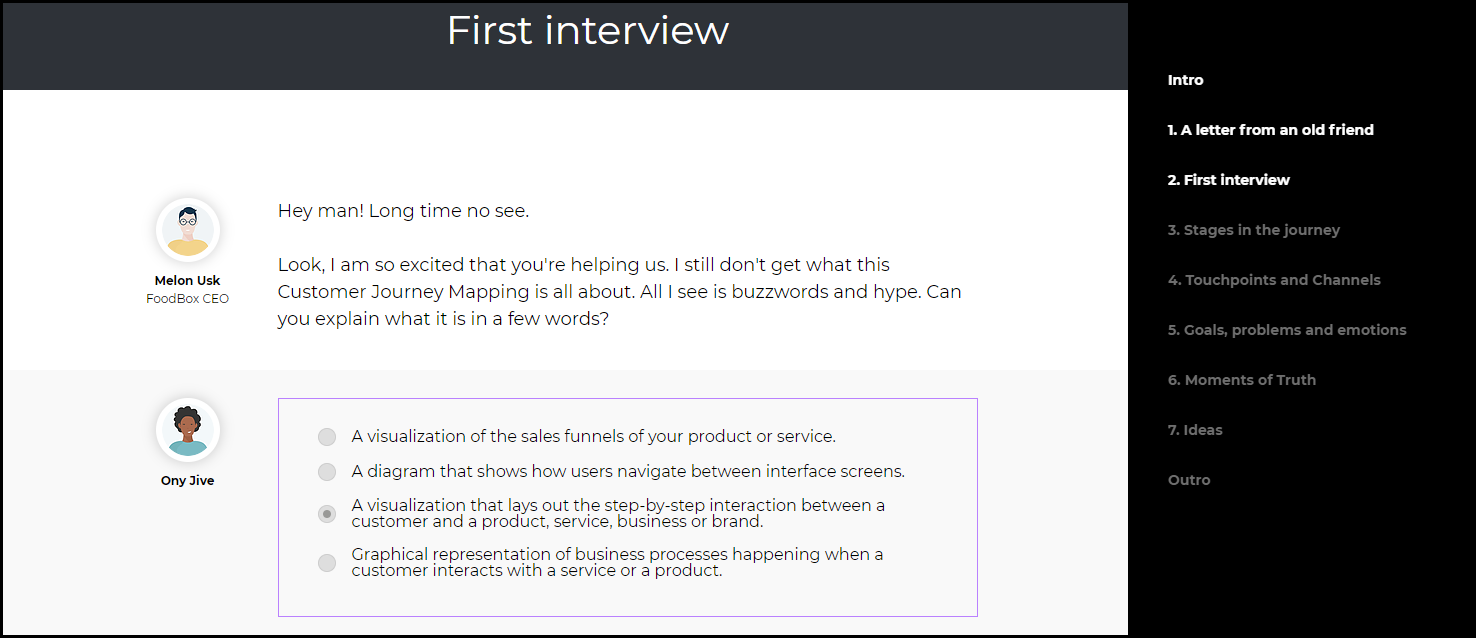 Develop your CJM knowledge and skills
In each section, you will find both real-life examples and practical tasks. This will help you develop practice-based knowledge and the right mindset for customer journey mapping. The course also nudges towards proactive learning, so you will have a chance to extend your knowledge far beyond the bounds of the course.
A story that unfolds around you
You won't find any boring videos or tons of theory in the course. At the Academy, we turned the learning process into a game. Your character who helps a fictional friend get ahead with customer journey mapping is at the center of the on-screen story.
Study in the conversation-based format
We created the course in the form of a dialogue that feels much like as if there was a real human sitting next to you and helping you learn. A mentor and your virtual character will accompany you throughout the course, making the learning experience interactive and fun.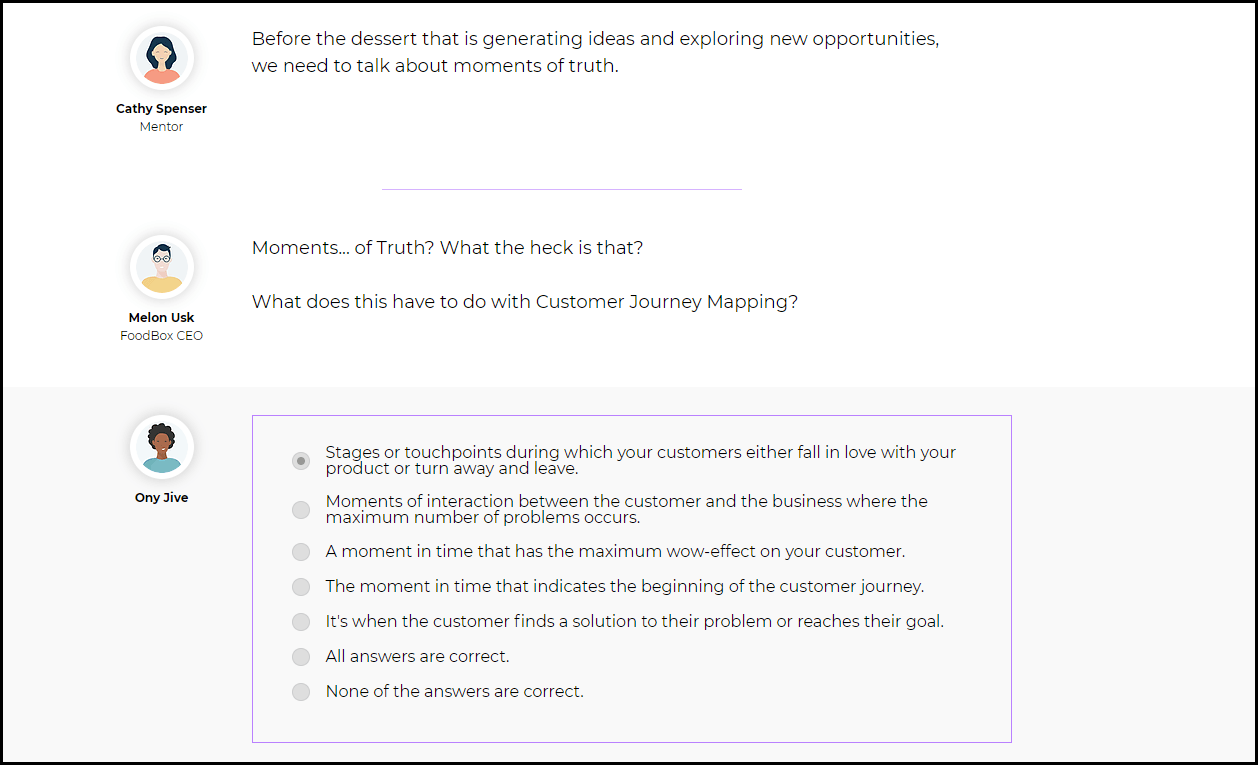 Learn with the best tools
During the entire course, you will be using industry-standard software, which will benefit your journey mapping skills. Besides that, you will also have a set of 100+ journey map templates from a variety of industries. Use them as examples to scoop for insights and get a head start.

Practice with real cases
To provide you with hands-on experience in journey mapping, we built the entire course around solving a real-life business case. Besides that, there's a practical task at the end of each section to reinforce the theory you've just learned. By completing all the practical tasks, you will consolidate your CJM skills and build a ready-to-go map by the end of the course.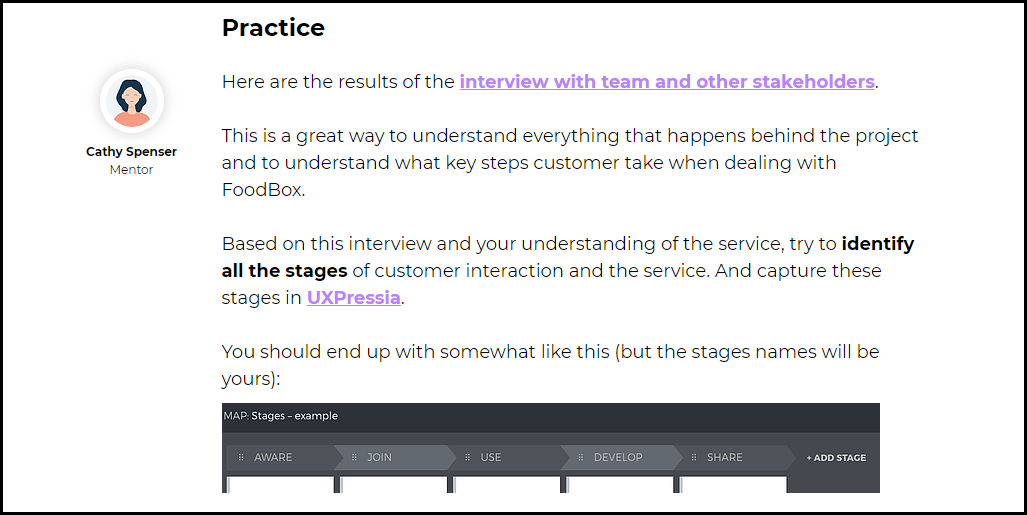 When you are done with a task, you'll see feedback from the Mentor with the correct answer.
UXPressia Academy has all you need to learn how to create customer journey maps from scratch. And more CX courses such as CX Fundamentals, Design Thinking 101, and Personas Advanced are coming soon. So keep an eye out!
Start the CJM 101 course and build your first customer journey map now.