A gym visitor journey is not about body reshaping only. It's also about health, like-minded people, and real-live communication. The things that have become even more valuable during the pandemic. That we try to regain now in their various manifestations.
In our new template, we tried to capture a gym-goer journey within a new reality and answer important questions. What motivates a person to go to the gym nowadays and troubles throughout their journey? What do they expect from it? How to achieve better retention? We hope the result will provide you an idea or two.
The gym visitor journey template
We followed an end-to-end first-time gym visitor journey: from realizing they need to be more active to deciding not to prolong the gym membership. We considered the channels, processes, problems, emotions, and expectations.
We approached our template from a creative angle. See how we merged storytelling and interactions in the Personas section. Consider it as a useful tip for your future mapping. For more helpful insights, be sure to check out the Ideas/Opportunities section.
Persona(s)
Meet Emily. She works from home and spends a lot of time in front of her computer. Therefore, Emily's back isn't happy with that and reminds of itself with pain. Add here the loneliness that comes hand in hand with remote work. You can recognize almost anyone in this persona. 
It's Emily's journey, but she isn't alone. On the map, you will find Doctor, Friend, Receptionist, and Trainer personas as well. These are the key people Emily deals with during her gym adventure and who affect her experience. In your particular case, the set of extra personas can be different. However, no gym goer can pass by a receptionist. Be sure not to delete such an important persona or to add one to your own similar map.
Impact map template
That's not all. The journey map is insightful enough, but you know what can give you a ready-to-use initiative? For instance, when you want to increase your gym retention or attract more clients by a certain date? Of course, the impact map. So, we set a goal and suggested how to achieve it. Use it as-is or as a start to map your case.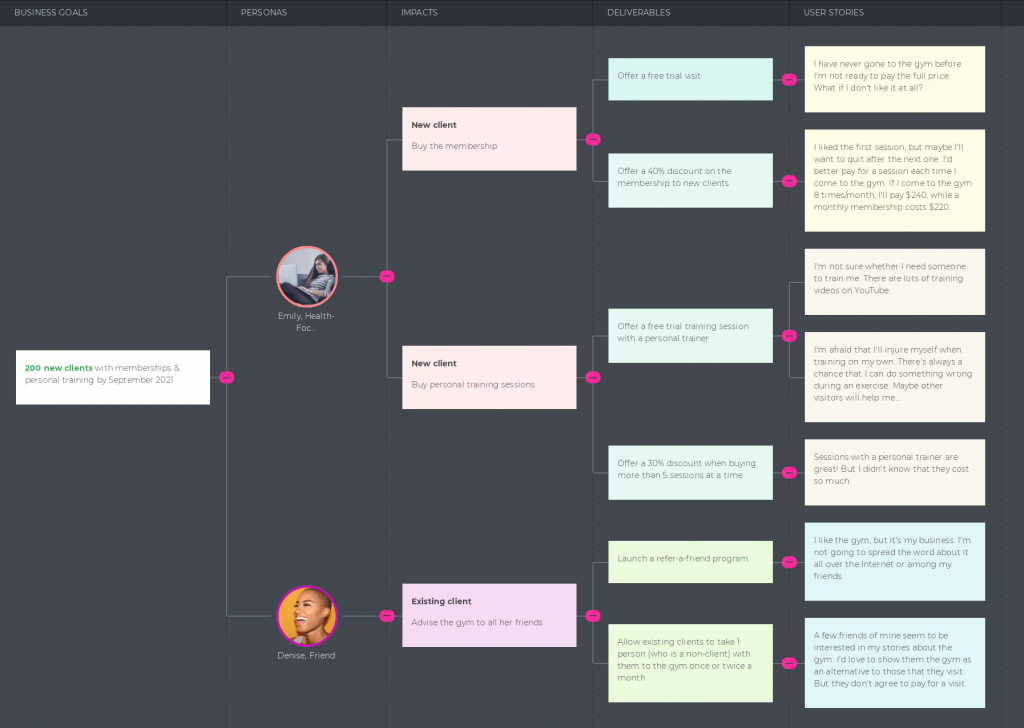 Are you up for mapping a journey?
Related posts