In the cutthroat world of business, it's the customer experience that sets the winners apart from the rest. By adopting journey centricity and providing a seamless and delightful experience to your customers, you'll be able to earn their trust and loyalty, paving the way for long-term profitability. 
But unleashing the true potential of journey centricity is more than just words. To assist you in understanding and applying this concept,we've distilled the insights shared by Christophe Dhaisne, the former Head of Customer Experience at Kindred, at our recent event into this enlightening article.
Kindred, a leading online gambling company, has paved a new path in the field of customer centricity by embracing journey centricity at scale. By prioritizing customer journeys and pivoting their entire approach towards them, they redefined customers' experience and set a new benchmark for their competitors.
Buckle up and join us on this journey towards transformation, where we'll delve into the secrets behind Kindred's success and discover how to revolutionize your business with a genuine focus on customer journeys.
Meet Kindred and their customer obsession
Kindred is a major player in the online sports betting and gaming industry. It's among the top five companies with over 30 million customers worldwide across nine brands, including well-known 32Reds and Unibet.
The company is committed to responsible gambling and players' safety. That's why they aim to achieve the challenging goal of getting zero revenue from harmful gambling by 2023.
Becoming customer-obsessed through journey centricity
💡 Kindred was recently acknowledged in a Forrester report, along with E.ON and Bank of Montreal, for their transformation towards journey centricity.
Kindred's transformation story took root in 2017 when the company recognized the glaring absence of a connection between their business processes and customer journeys, which directly impacted their financial outcomes.
The journey towards embracing journey centricity was only possible with a shift in mindset and operations. However, many companies face challenges in achieving the essential balance between the different operational levels needed for a major transformation.
Despite the obstacles along the path, Kindred took this path, and it was a success.
The importance of becoming journey-centric
While many industries, gambling included, are still in the process of fully embracing customer centricity, Kindred stood apart as the trailblazer that aimed to journey centricity, taking a narrower focus by putting a spotlight on the actual journey their customers took.
Recognizing that being customer-obsessed is essential in today's business landscape and gives a strategic edge over competitors, Kindred decided to prioritize customers' journeys completely, making their operating model more customer-led, insights-driven, fast, and connected.
They started by creating a customer champion team, but the team faced some internal struggles:
The team was lacking the authority to really impact the prioritization, driving change the way they wanted;
They had to negotiate purely from a position of influence without formal authority;
There were challenges in corporate culture, structure, processes, and alignment, making it difficult to deliver a great overall customer experience;
The slow delivery of customer value (up to two years to launch a new offering):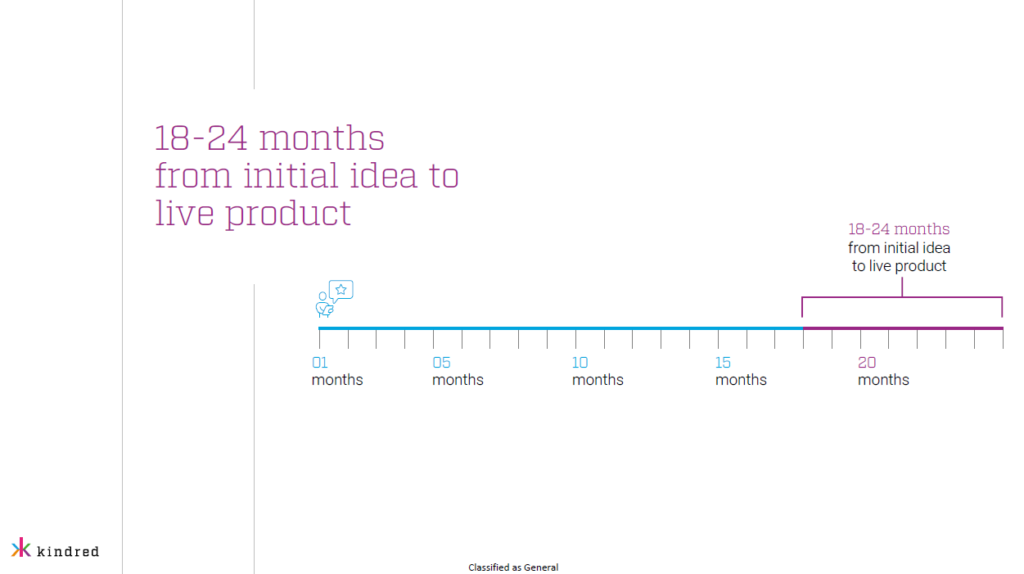 That negatively impacted CX metrics (CSAT and NPS), which were not improving strongly and fast enough.
On top of that, organizational silos were causing a myopic view of customers.
To tackle this issue, Kindred developed a set of guiding principles to govern and reimagine their customer-obsessed internal organizational structure.
Guiding principles for the new structure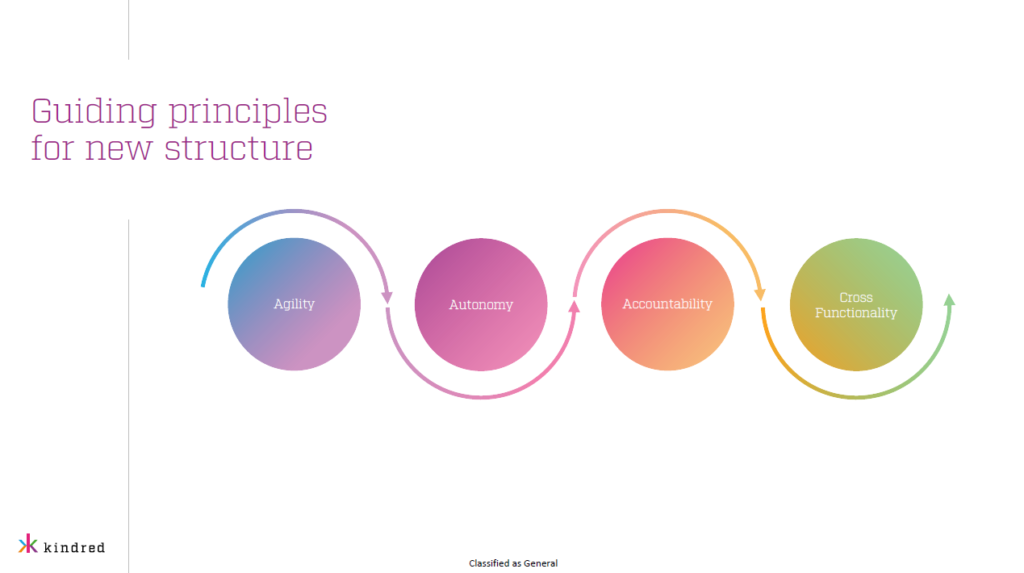 The principles to rebuild Kindred's internal structure stood on four key tenets:
Aiming to promote agility by forming teams that could work on journeys and require major improvements, plus acting in quick bursts to solve real-time problems;
Fostering autonomy by creating cross-functional teams with dedicated budgets and meaningful KPIs focused on solving a customer problem and capturing both business and customer value;
Emphasizing accountability by appointing experience owners responsible for achieving improvement outcomes tied to bonus plans;
Prioritizing cross-functionality by aligning all teams around things that support Kindred's overarching customer-driven purpose.
Then Kindred identified seven crucial customer experiences within their organizational design and development program.
Seven key customer experiences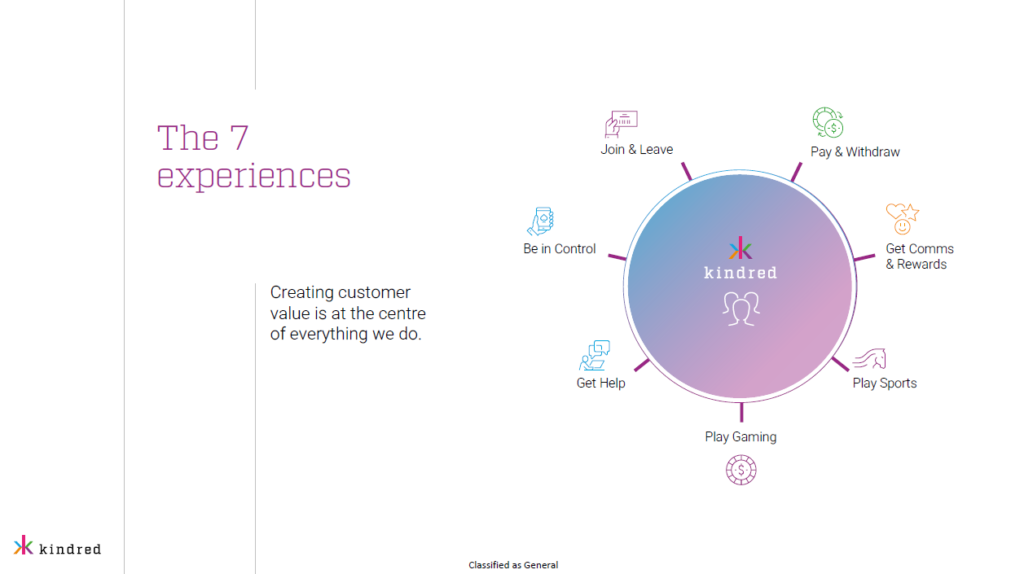 These experiences included:
Be in Control;
Join & Leave;
Pay & Withdraw;
Get Comms & Rewards;
Play Sports;
Play Gaming;
Get Help.
These experiences were developed as part of a nine-month-long organizational design and development program initiated by Kindred CEO and executive management team. The program involved around 80 senior leaders, including Christophe, who participated in several iterations underpinned by strong senior sponsorship.
As a result, Kindred's experience-led model came into existence. A new entity, the Experience Office, was established, and Christophe became a part of it. He had the authority to drive change and improve CX to execute Kindred's new journey-centric approach.
To enhance its journey centricity, Kindred introduced a new position called the Experience Owner. This job was dedicated to governing and being accountable for the success of each of Kindred seven experiences. This role, common to journey-centric organizations, had six high-level dimensions, all centered around delivering an exceptional customer experience.
Experience Owner's role
One of Christophe's tasks was to build the Experience team from scratch. In doing so, every candidate had to fill in all six dimensions: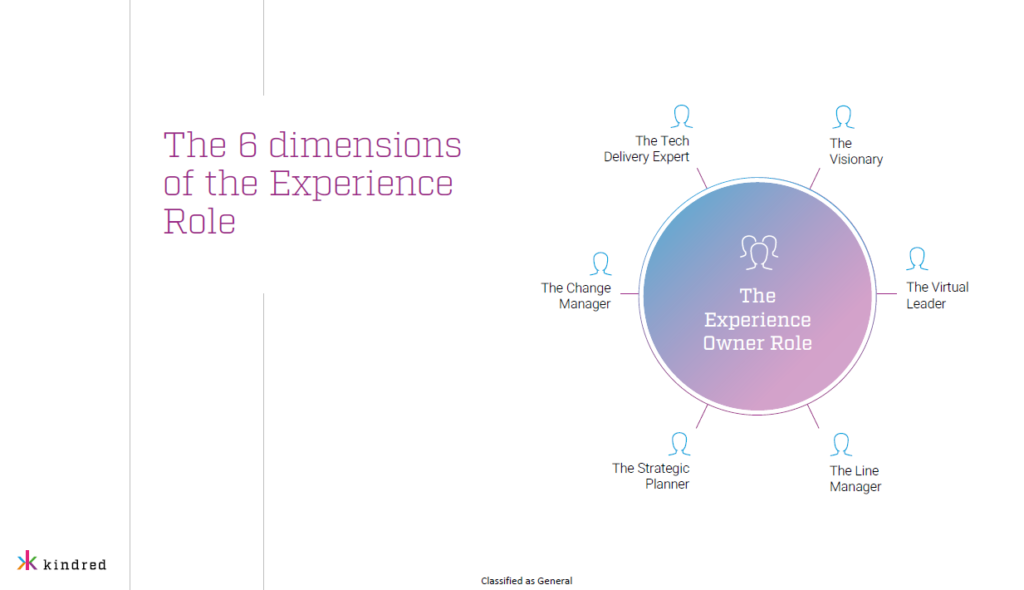 The Tech Delivery Expert;
The Visionary;
The Virtual Leader;
The Line Manager;
The Strategic Planner;
The Change Manager.
It was challenging to consolidate all roles into one person, let alone finding seven professionals to fulfill those dimensions. However, cultivating talent was a crucial element of Kindred's approach. So they developed growth plans and self-development programs for each of the seven Experience Owners chosen to ensure successful project execution.
Experience delivery model
To overcome internal silos, respond swiftly to changing needs, and embrace a startup-inspired culture, Kindred took a unique approach inspired by a hub-and-spoke model like Spotify's tribes and squads. 
They formed cross-functional, end-to-end virtual teams by combining spokes from various functions and assigned expert resources from the hubs. The resources included development, architecture, quality assurance, UX data, and AMO.
Each team member identified themselves as part of one or two experiences, ensuring the distribution of all functions across the seven experiences for valuable insights. 
The hub-and-spoke model's objective at Kindred was to rapidly adapt and respond to current and future determined needs while delivering quality at speed and transforming product and process development.
The company used human-centric design principles and agile ways of working with data orientation and customer validation at the core. They did it to define clear accountabilities to determine priorities and deliver the right things at the right time and for the right reasons to the customer.
Implementing the new structure 
Implementing the new structure was a significant change for Kindred, and they had to address six operational levels in concert, maintaining the right balance between them.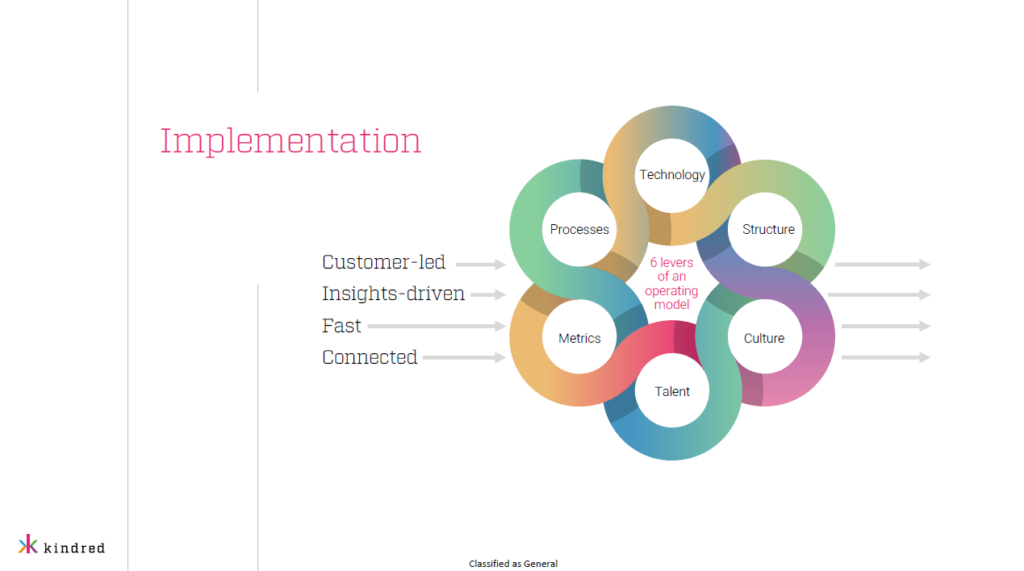 These levels included: 
The organization's structure;
Culture with shared values and beliefs;
Talent acquisition and retention practices;
Strategic metrics;
Decision-making processes;
Technology with enabling systems and tools.
Before implementing the transformation, Kindred ensured top-down and bottom-up cross-functional collaboration. They established a clear restructuring plan to shift from a sales or marketing-led company to a CX and product-driven one. They also believed that excelling in both CX and product was essential for success in the highly competitive and regulated online gambling industry.
To achieve their goals, Kindred gradually reallocated resources from marketing and bonusing to developing and mastering the fundamentals across the product, CX, and technology. They revamped their P&L and KPIs to ensure meaningful progress towards the transformation. This change was necessary to increase control over the product dimension and address supplier concentration challenges.
The executive team's support was crucial, and the senior leadership was involved in the process. The CEO and senior leadership buy-in were obtained at the very start to ensure the initiative's success.
Choosing relevant journeys
The experience team also developed a list of relevant journeys with clear and defined steps, such as discovering the brand, signing up, logging in and out, returning to the site or app, and resetting passwords.
Take a closer look at the journeys in the carousel:
Everyone involved had a clear understanding and definition of experiences, journeys, and journey steps for each of them. It was like a map guiding them through the different stages of the customer journey.
Ensuring responsible gambling is not only about keeping players safe but also about verifying their accounts. The verification process requires customers to submit documents for approval, which can sometimes take time. However, responsible gaming is equally important, and players can use tools, such as restrictions and account management, to identify and address problematic behaviors. The experience team managed each step of the verification process, maintaining a balance between the excitement of the game and responsible behavior. It's like walking on a tightrope — challenging but thrilling. With the right tools and guidance, players can stay on track.
Setting the visions
The team developed clear visions of the ultimate customer experience they wanted to deliver. Without a clear vision, customer obsession is just a dream.
Kindred's vision, though, was based on three principles: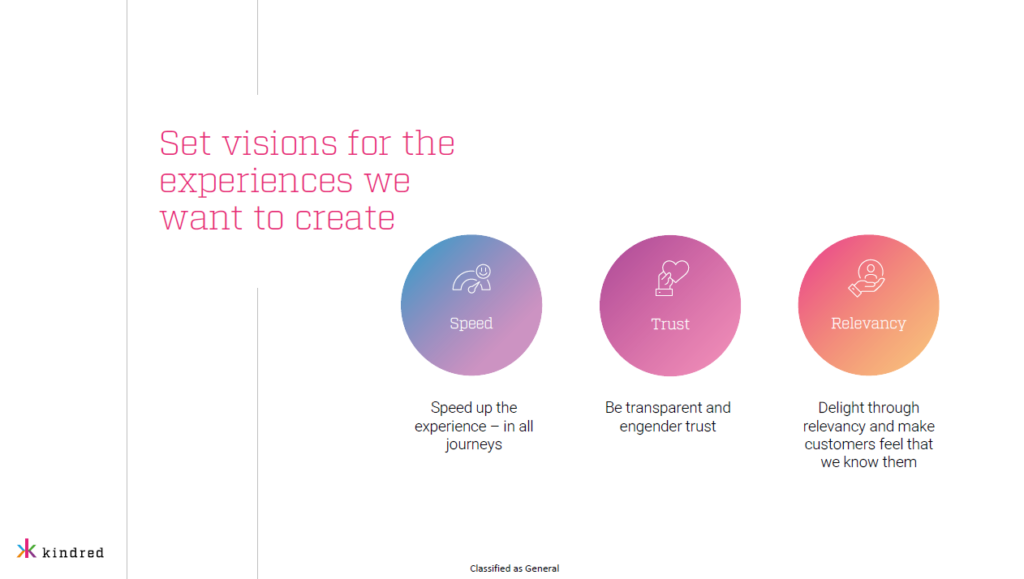 They aimed to incorporate these principles into every customer journey to offer exceptional experiences that would leave a lasting impression. And their visioning exercise went beyond merely creating a broad vision for customer experiences. 
The team identified specific customer needs and matched them with corresponding objectives to ensure they were on the right track. These visions were not just decorative posters but dynamic documents guiding the team's roadmaps and OKR settings. The company often referred to them, gaining a sense of purpose at every step.
For instance, when people were working on a piece of delivery, even at a very granular level, they could connect the dots between what people were doing and why they were doing it because it was part of the objectives set up in the vision.
The experience hub creation
The company was also able to adapt the model over time — they created a hub.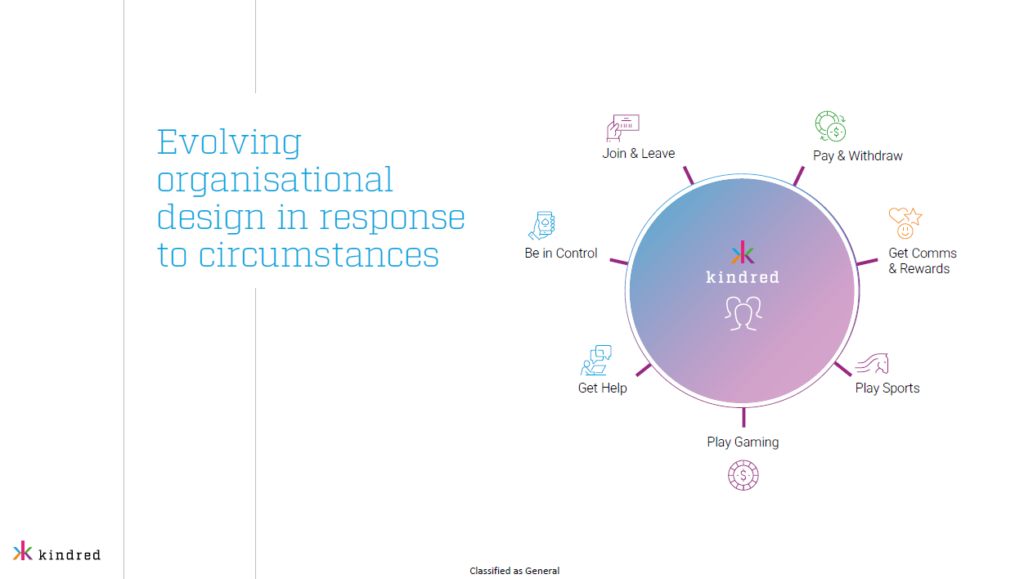 In 2021, a new entity, the Experience Hub, led by an Experience Hub Owner, was added to the seven experiences.
Kindred's Experience Hub was designed with the customer in mind; they knew that change was inevitable. That's why they created the innovative and evolving center led by an Experienced Hub Owner who managed parts of the experience and linked journeys together.
The team took care of core architectural and global components. They wanted to manage parts of the experience, at the same time tying the journeys together, such as the site structure, the navigation, the headers and the footers. They also wanted to support and accelerate the ongoing transformation from the current cross-experience front-end towards the future state, where all experience fully own their front-end components also referred to as mini apps. So they introduced a complex program of breaking down the front-end monolith to create mini-apps using microservices.
Throughout their path, Kindred noticed that some aspects of the customer journey did not fit into their seven key experiences. They realized that certain components like navigation, headers, and footers were essential in every journey. To address this, they evolved their model again.
To ensure everyone in the company was aligned with the vision, Kindred established a shared set of values and beliefs that guided their actions. They wanted to ensure everyone was on the same page and working towards the same goal.
 They dedicated considerable effort to building shared knowledge and determining the most crucial customer journeys. This was achieved by developing predictive analytical models that identified correlations between descriptive metrics, consumer perception metrics, and outcome metrics.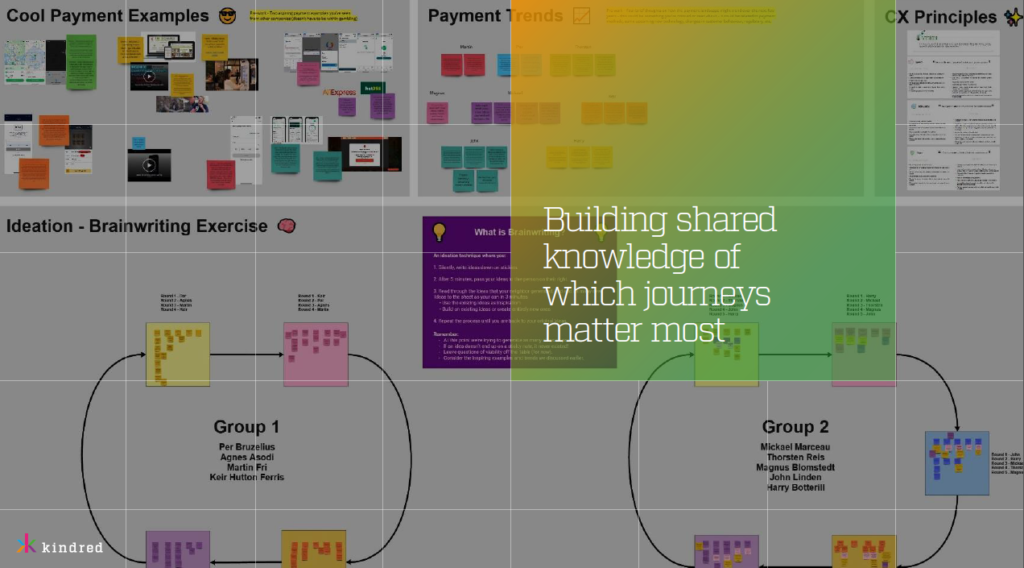 They also built a set of values that were meant to drive the right behavior: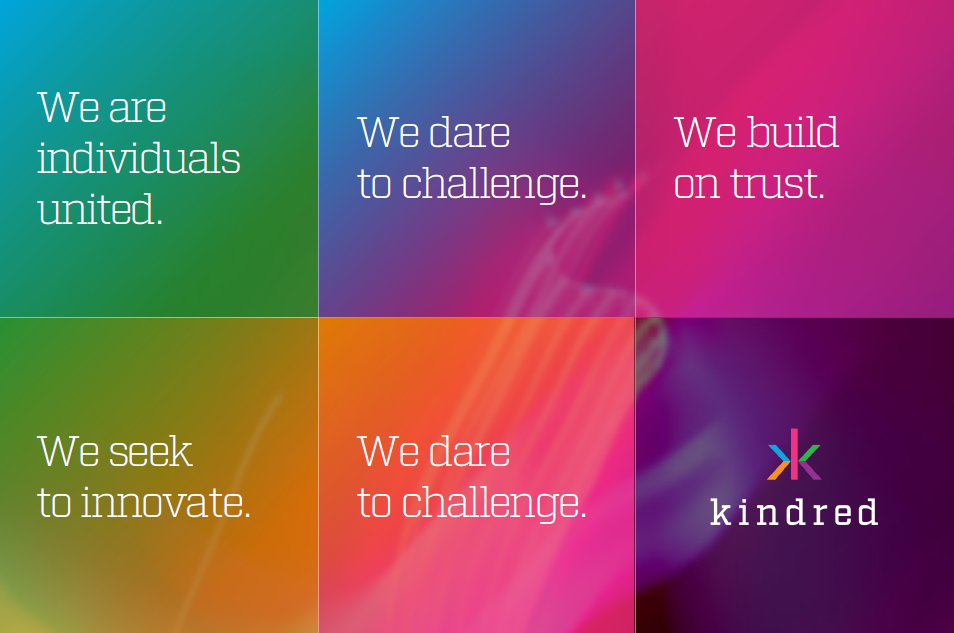 Talent development
Kindred's talent development practices also reflected these values by investing in hiring, development, and retention that aligned with the company's vision. And that was only part of what they did.
For example, to instill a journey mindset throughout the organization, Kindred made journey mapping a priority and conducted over 30 workshops. They also invested in journey mapping accreditation of their people — individuals across different functions within the organization.
The company built a system of end-to-end journey metrics and in-journey signals that balance customer and company goals to help measure and predict journey performance across 150 points.
Kindred went beyond surveying only existing customers. They collected feedback from both current and churned customers, which helped them understand the correlation between specific aspects of the experience and churn.
So Kindred gathered a lot of perception metrics — 150 drivers of customer experience across 15 journeys. As a result, they could understand the correlation between NPS, CSAT, ARPU, retention, lifetime value, and other metrics.
Being able to prioritize and understand what they had to do to ultimately improve the customer experience, improve customer satisfaction, drive scores such as NPS, and impact customer loyalty. 
Kindred even developed an in-house Voice of the Customer platform that played a vital role in the company's continuous improvement efforts.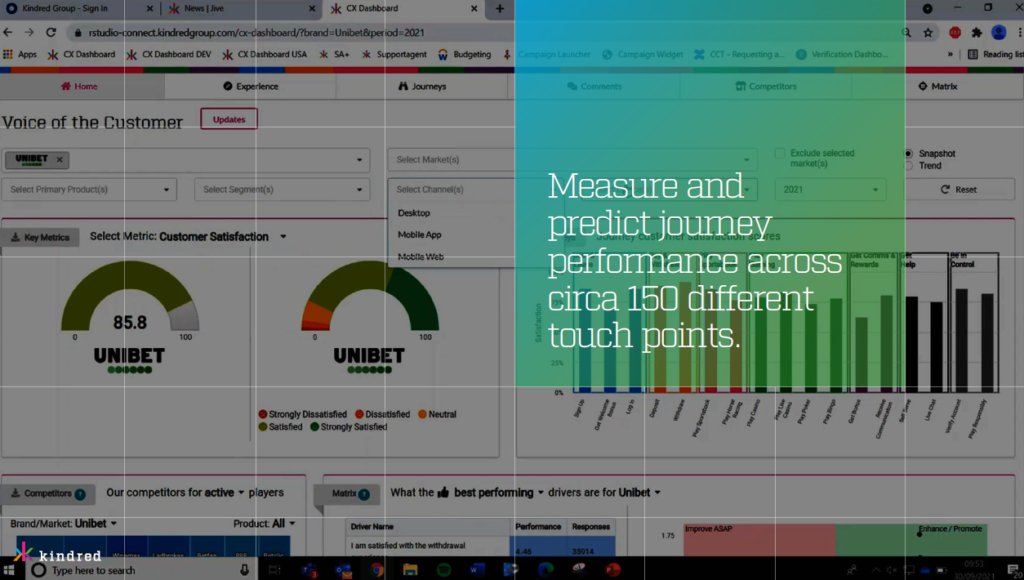 The team put much work into improving their processes and decision-making. They created the Triple Diamond framework, which built upon the successful Double Diamond process from the British Design Council.
The Triple Diamond delivery framework
Kindred combined design principles and a minimum viable product methodology to enhance its workflow and deliver projects more efficiently.
That allowed them to perfect the prioritization process. By breaking down larger projects into smaller deliverables called increments, they made earlier production releases possible and provided a better utilization of resources. The company could adopt a more data-driven approach to planning and prioritization.
Kindred developed much intelligence as increments were prioritized based on value. That matched their aim to prioritize the right things at the right time at any point in time and for the right reason.
So that is what looked like a delivery model that comprised three diamonds, each with specific output types: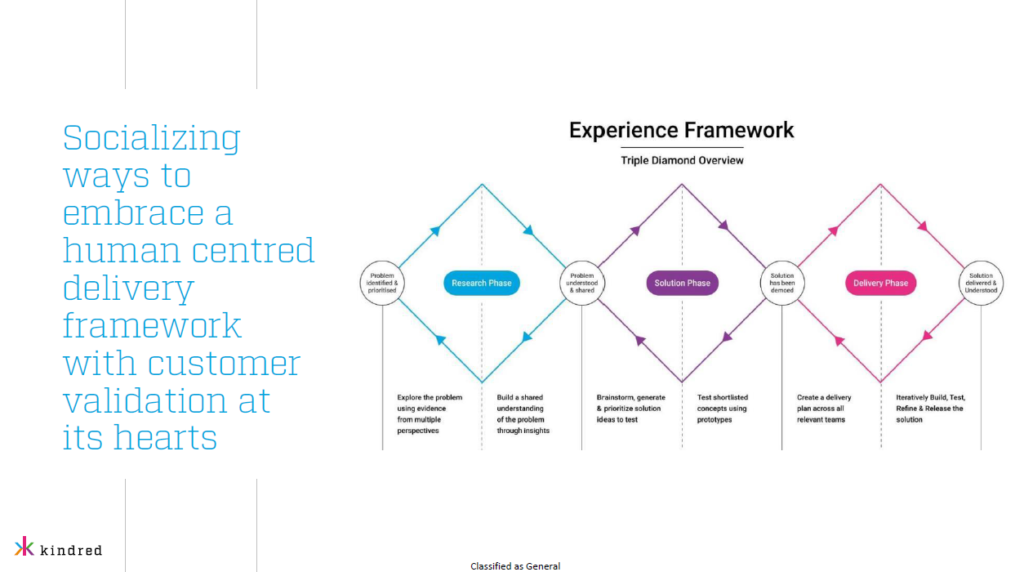 The first diamond concentrated on collecting different types of user research to form insights about customer pain points and opportunities for improvement.
Getting people to adopt the experience framework was challenging as they focused on fast delivery, and changing this mindset required a lot of work.
The second diamond was about testing various solutions until a concept could be validated.
The third diamond focused on planning the delivery, building, designing, testing, and releasing the solution.
So if everything went well, a new product feature would be born and the continuous development would continue. The research and design would happen throughout most of the cycle, and Kindred would embrace change throughout the process. 
The framework in action
In a nutshell, this model helped the company place customer needs at the center of the delivery process, allowing for the continuous creation and release of new features. They created more opportunities to determine not only customer user services but also customers' intentions. They turned these insights into features and released them continuously via the delivery pipeline, which they constantly measured and improved.
One of the constraints the team was dealing with was old code legacies and non-autonomous experiences. There were multiple interdependencies between multiple teams to push releases and bring solutions.
To overcome this challenge, Kindred implemented the above-mentioned major technical architecture transformation, which involved the introduction of the microservices architecture and breaking down front-end modalities. It was a massive program enabling the differentiation of experiences across different Kindred brands. This pivotal architectural transformation was almost as crucial as the company's path towards journey centricity.
The outcome
By embracing a customer-led approach, Kindred saw a remarkable change in fortunes, experiencing significant growth and metrics improvement.
Here are Kindred's transformation results over the course of two and a half years (from Q4 2018 — Q1 2021):
As you see, Kindred improved all its metrics, providing customers with a better gambling experience than competitors. That inspired strong customer behaviors that drove business success. They quantified the financial impact of these improvements through the models they developed. Another result was employee engagement and satisfaction growth.
Wrapping up
The journey towards journey centricity is challenging, but its benefits cannot be overstated:
It helps you focus on what your customers really want;
It results in increased revenue, reduced costs, and better CX;
It disrupts your business and operating model;
But it's a multiyear transformation, not a one-and-done project;
And it requires a shift in mindset at all levels of an organization.
The recording
Would you like to get the inside scoop directly from Christophe? Then check out the event recording for all the nitty-gritty and the Q&A part:
About Christophe Dhaisne, CX Strategic Consultant
Christophe spent most of his professional career working in the online gambling space for Kindred Group, one of the world's largest online gambling operators, where he held various senior commercial roles before spearheading a large-scale strategic CX transformation.
Since 2022, Christophe has been acting as an independent CX consultant, advising companies on Customer Experience strategy, measurement, improvement, and employee advocacy techniques and solutions.
Related posts