People sometimes perceive journey mapping as, above all, a tool for improving customer service and support. That's true, of course, since the technique sheds light on the negative moments in customer experiences. However, there are other, just as powerful applications to explore. And quite soon, you'll discover how visualizing personas' journeys can aid your marketing efforts.
For our next online event, we invite you on a digital voyage with Hallgeir Gustavsen, a marketing strategy specialist at Vecora, as our guide. You're in for a walkthrough of a real travel company case.
We'll see how a journey map became a bridge between clients and their actual journeys. From outlining the problem and creating personas to building the map and gleaning insights from it, down the road and back again.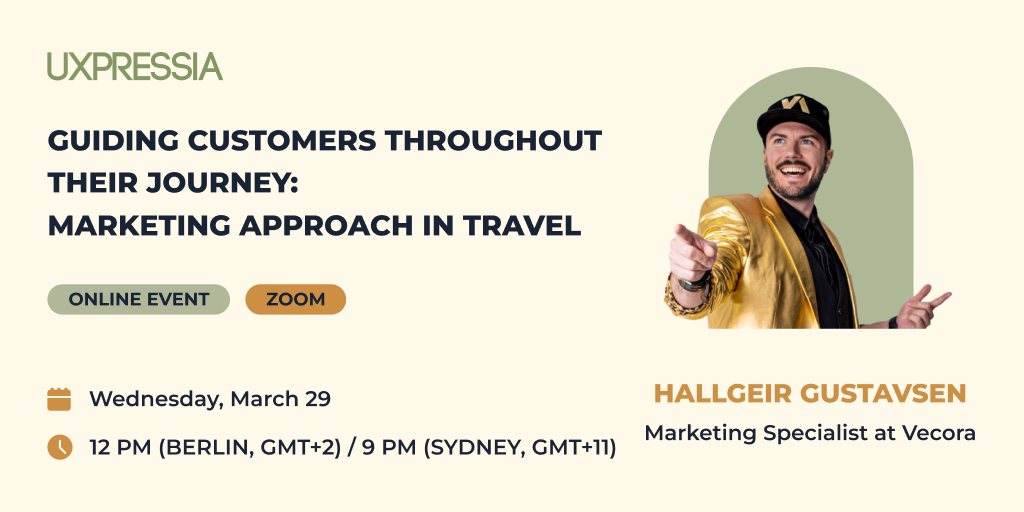 Join us on Wednesday, March 29, for a first-hand story about:
🔸 Making travel destinations visible and appealing to a broader audience;
🔸 Choosing key personas to focus on from the bunch your research yields;
🔸 Enhancing advertising and communication through journey mapping;
🔸 Interpreting mapping results to create more effective marketing campaigns.
💬 The talk will be followed by a Q&A session, where you can ask Hallgeir any questions on digital marketing, travel industry specifics, or journey mapping in general.
📹 We'll share a recording of the event with all registrants, so sign up even if you can't join us live.
Related posts