Customer journey layers are horizontal rows with data that together with stages make up a full-fledged framework that we call a customer journey map.
If you look at examples of customer journey maps on the internet, you'll find that there is no such thing as a standardized map — all of them have a unique set of layers. But which of them tend to be most indispensable and frequently used in journey maps?
This is the key question of today's article. To back up our answers with hard data, we have gathered statistics on the most popular layers in journey maps that have been created in UXPressia since its launch in 2015. Let's dive right in and see what it says.
Must-have customer journey layers
Now, there's a number of layers that make a journey map different from a process map or service blueprint. Having these layers on your map will ensure that you look at your customer's experience through the right lenses.
We have analyzed the statistics on tens of thousands of customer journey maps created in UXPressia and used it to rank the customer journey layers according to their popularity. Here is the graph we ended up with.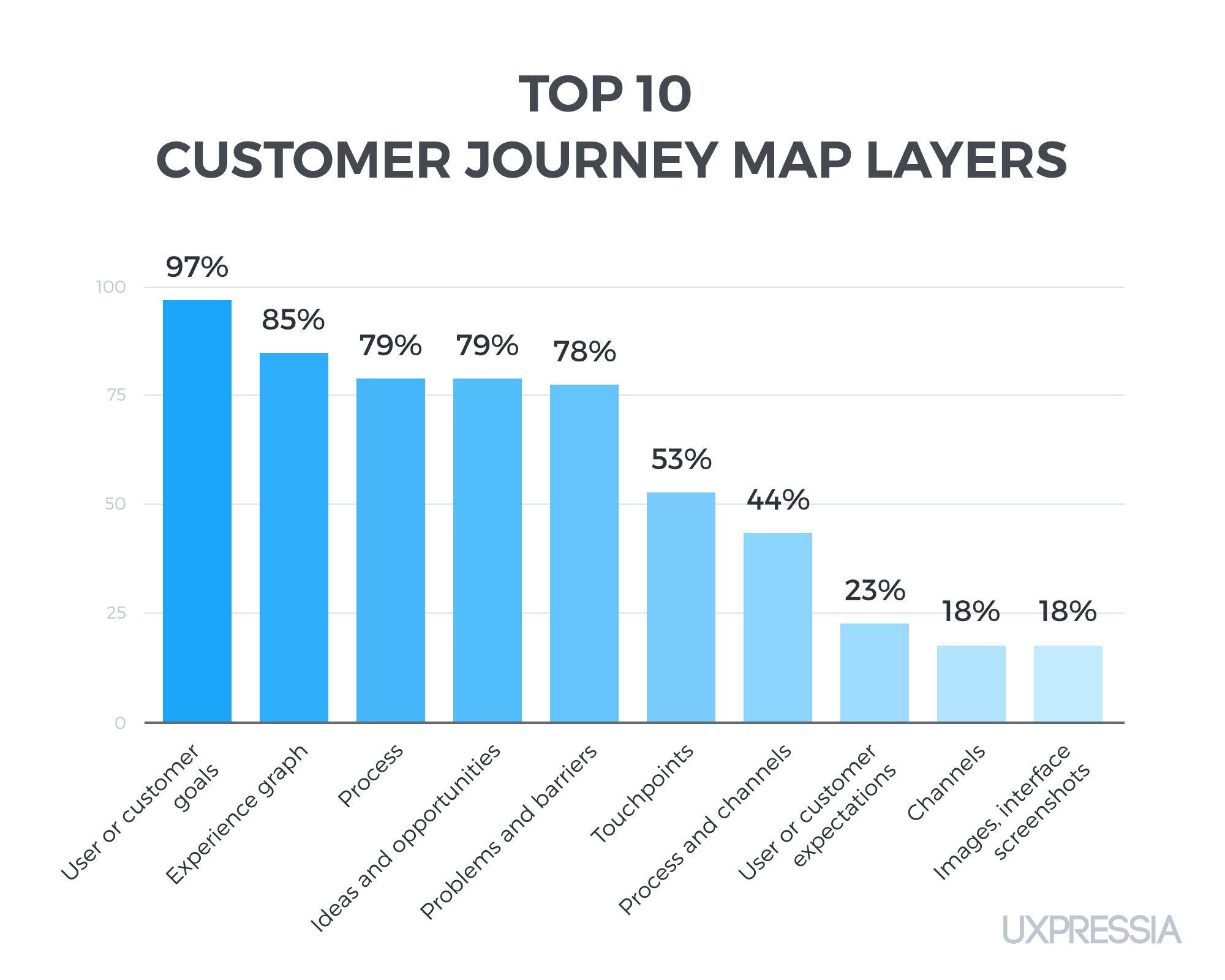 And here is what all of those layers look like when put together on a customer journey map: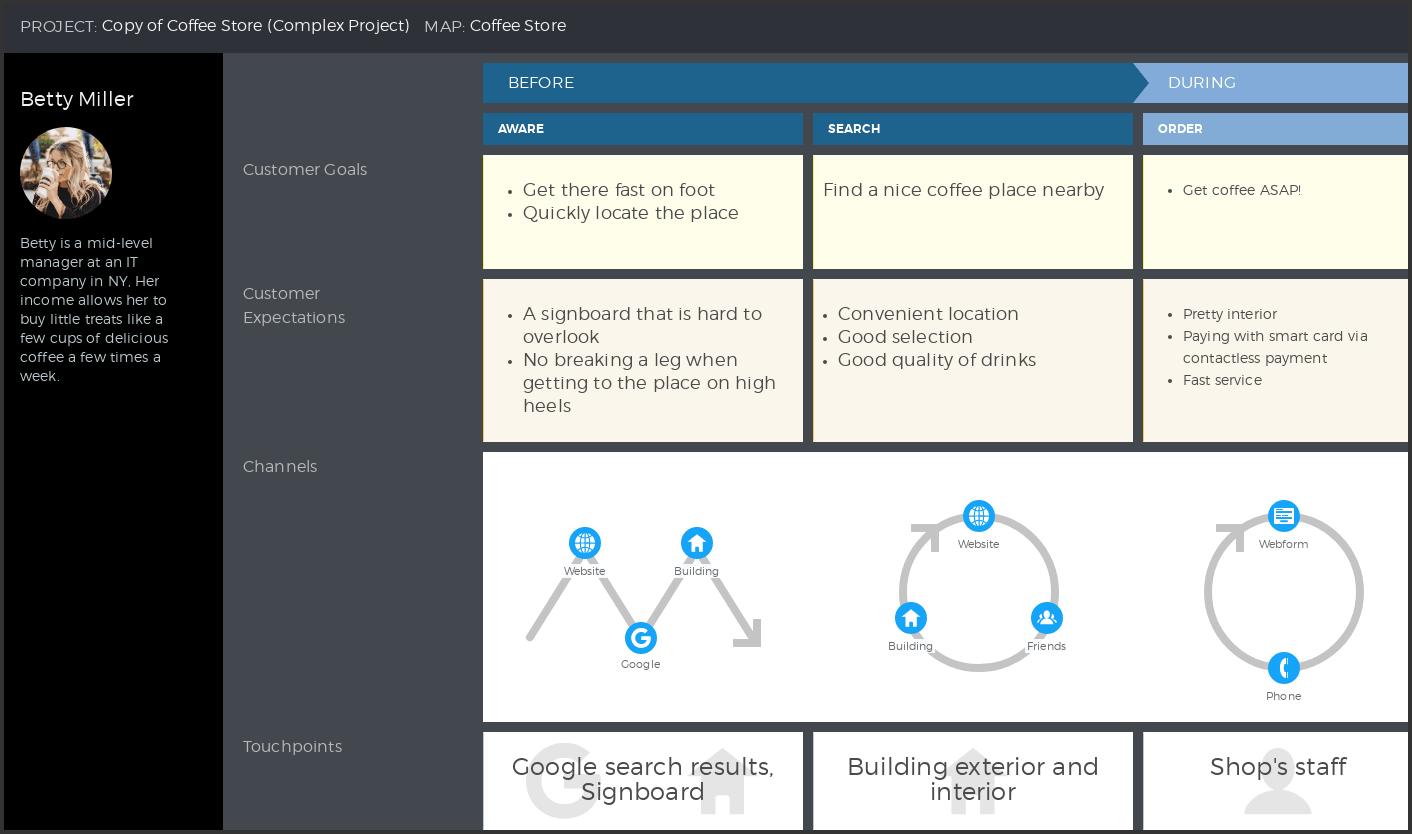 Click to see the image in full size
Let's now reverse-engineer it to find out which role each of the layers plays in the context of an entire journey map.
Customer Goals, Needs, and Expectations
Having these layers is one of the things that defines a customer journey map. Looking through this lens helps you align your business goals with the ones of your customer and ensure that you have met them at each step of their journey. This can also be an employee's goals — depends on whose journey you are mapping in the first place.
According to our statistics, "Customer goals" is the most popular layer. It is present in 97% of all the journey maps created in UXPressia.

Processes, Channels, and Touchpoints
Describing the processes at each stage of your customer journey is a good starting point when building a journey map. This introduces some context and also might help you spot some pain points and inconsistencies right away.
The Process layer is present in 79% of UXPressia journey maps.
Now, touchpoint is a moment in time when an interaction happens between a customer and your product, service, or business in general. As a single bad interaction might define the overall level of customer satisfaction, having all of touchpoints on your journey map is the key to getting a holistic view of your customer's experience.
The Touchpoint layer is used in 53% of UXPressia journey maps.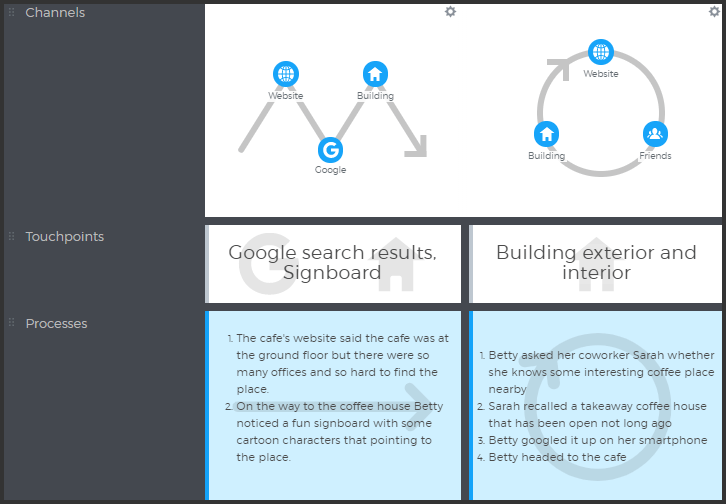 Experience, Think & Feel
Capturing experience is what customer journey maps are all about. Capturing the emotional state of your customer at every stage helps you give a high-level overview of the entire journey so you (or the ones you present the map to) don't have to read into the details and can see the overall trend at a glance.
It's equally important to see what your customers think and how they feel at each step. In that light, capturing interview quotes or tweets, feedback on stores and review sites is also a way to go.
The Experience section is the 2nd most frequently used layer after Customer Goals. It's present in 85% of UXPressia journeys maps.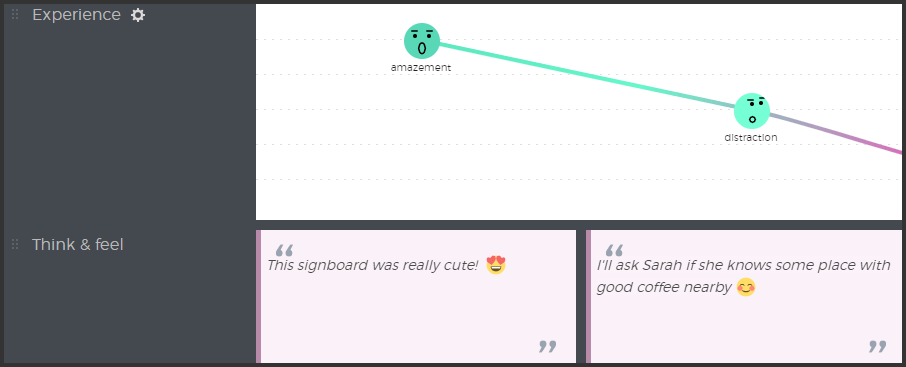 Pain Points, Ideas & Opportunities
It's important to see the areas of opportunity in the context of a whole customer journey so as to be well aware of the challenges customers face. Adding a layer describing the roadblocks in your customer's way is another must-have of any robust customer journey map.
And just like pain points, the ideas you come up with are must-haves and are an awesome contextual backlog for the team. Having them on your map gives your team a solid understanding of why this or that improvement has to be made.
The Problems and Ideas & Opportunities sections are almost equally distributed among journey maps with 78 and 79 percent respectively.

Bonus Layers
But wait, there's more! You can add even more value to your journey maps with the following layers.
Video / Image
Adding videos and images is a great way to leverage the visualization power of customer journey mapping. It could be a recording of a customer interview or images of what customers see along their journey including interface screenshots and product shots.
If you use UXPressia, you can add live visuals via the Embed code section. This could be your webpages from prototyping tools like Figma or InVision or add audio and video recordings.
Data Layer
Backing up your map with analytics will balance the empathy and strengthen your pitch. For instance, you can add web analytics layer onto your map to see how many people visit your webpages, monitor marketing campaigns result within the context of the journey and a lot more.
So these are the most useful and widely-spread customer journey layers. And the best part is you can add all these layers to your maps using a number of sections within our customer journey mapping tool.
Sign up for a free account today and start creating customer journey maps with any layers that work for you!