In the sea of entertainment options, museums are usually well below a movie marathon and takeout pizza. Leisure time is limited and competition is fierce. When people do settle to visit a museum, they want more than just to admire a famous painting or an ancient artifact. They are looking for a well-organized venue with a casual atmosphere, pleasant staff, and a broad selection of events. Even the little things, like booking a ticket or finding the entrance, add up to shape the overall museum visitor experience.
To level the playing field and surpass the competition, the museum should take a visitor's experience as the main agenda and focus on improving it. In this article, we will find out how to visualize and evaluate the path from first contact to post-engagement — all with the help of journey mapping.
Create a museum visitor persona
No one knows your visitors better than you do. If you already collect data on what excites and upsets them, why and how often they go to museums, and what activities they prefer, then coming up with the segmentation for personas should be quite easy. However, don't be discouraged if you only track the essentials like the number of tickets sold or gift shop revenue. There are plenty of opportunities to get a better picture of your audience with the current resources.
To start, you can re-read your reviews: handwritten comments, if you collect them, and online entries on platforms like TripAdvisor, Yelp, Twitter, and Facebook. Look for the mentions of visit highlights and disappointments, previous experience and expectations, and the challenges people face.
Another simple way to learn more about your visitors is actually talking to them. You can ask your café staff to assist. When giving out orders, managers can get some context on customer goals and patterns with a simple "What brings you to our museum today?". For more detailed guidance on personas, check out our persona creation article.
Based on your findings, define three to five segments that make up most of your audience and create a persona to represent each of them. After you have the first draft of visitor profiles, approach your exhibition curators. These people literally spend their working hours observing customer behavior and should be able to back up or dispute your findings.
Here's what your personas might look like:
Experience seeker, Amy. Amy is a tourist. She comes to admire the collection's most prized and famous pieces.
Explorer, Steve. Steve is hungry for knowledge and skills and would be particularly excited by workshops and events that the museum offers.
Facilitator, Rashid. Their goal is to arrange a visit for someone else: their family, friends, or coworkers. They also care about amenities more than artifacts.
Professional, Marion. She looks for specific exhibits to aid her personal or work-related research.
Recharger, Noah. Noah likes a delightful blend of education and leisure, taking his time at the gift shop and the café.
Meet a persona we created for the sake of this article: it's Amy, a tourist from the US currently in Italy for her vacation.
If your museum also offers city tours or group excursions for tourists, you might want to check out our new reality travel journey map.
Amy is a solo traveler interested in checking famous art pieces off her bucket list. Amy has already been to several renowned museums around the world. She also likes to plan her activities in advance.
Let's look closer at Amy's museum experience.
Build a museum visitor journey map
For a comprehensive journey map, you need an excessive breakdown of digital and physical interactions a customer has with your museum. You can, of course, consider a smaller scope or even focus on a single stage of your visitor's journey. However, it won't give you the insights an end-to-end journey can bring. For example, the exhibition may be perfectly organized, but most visitors actually drop off at ticket purchase because of a glitch in the booking system.
On your map, visualize and describe processes and actions, channels involved (especially where communication happens), and roadblocks of the selected persona, along with other relevant information. It's also helpful to add an experience graph to highlight the entire emotional journey as well as moments of truth. They will come in handy when you'll be determining what works and what doesn't.
For our Amy, we've built a map to illustrate an end-to-end journey. Her venue of choice turns out to be an art gallery. Even though it revolves around paintings and traditional exhibition halls, visitor journeys for other types of museums, like science, natural history, or maritime-themed, will have similar stages, albeit with different names.
Since Amy is an experience seeker, we've skipped the awareness part of the journey as she already intends to go to a museum rather than considering it among other leisure activities. For your personas, you might want to include it, along with a retention stage.
Let's dive right in.
Stage 1. Research
Early on in the journey, it's all about your digital presence. Customers might be museum-hunting on official websites, social media, third-party platforms, business listings, and search engines. Being mentioned on a lot of mediums is good for visibility, but the added challenge is keeping the information consistent. You need to regularly update the event calendar and working hours, respond to negative reviews, and provide support for different booking channels. The website should offer even more value like details on group visits, amenities, and accessibility.
Amy's next trip is coming up, and she is putting together a day-by-day schedule to make the most out of her Italian vacation. She searches the web for must-see places and sites of cultural significance. A popular art gallery catches her eye. However, it seems some recent visitors were disappointed with their experience. Amy hesitates, but her Facebook friends reassure her that it's worth going for the Da Vinci painting alone.
Once Amy is sure of her choice, she wants to make it official by buying a ticket and settling on a specific time. She takes a guess that the gallery will be less crowded during the day and decides to fit the visit in a three-hour window she will have between a cathedral tour and gelato tasting. The booking process annoys her: an error message keeps popping up, and there are not too many spots left. She gives it one last try from her laptop, and finally, the service pulls through.
Stage 2. Coming to the museum
Arguably, how visitors get to the museum is not your responsibility. But if you can make a step in the journey easier with a low-effort fix, then consider implementing it. For example, add a detailed description of the route from the closest bus stop and subway station to your website. You can also pin photos or a video clip to Instagram Stories. As a bonus, you'll have fewer people being late for group tours or not making their assigned time slot. If there are several entrances or different queues, clearly state which one to use with the booking confirmation. And if your visitors can park at a reduced rate, mention that as well.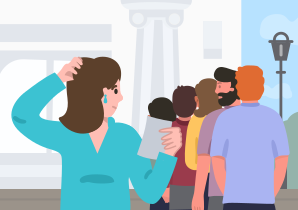 Amy leaves her hotel on schedule. She takes the right bus but is confused by street announcements in Italian and gets off a stop early. She tries to find the gallery in her map app, but it is not listed there, and she has no mobile internet to look it up. Luckily, she took a screenshot of the confirmation email with the address back at the hotel and manages to find the building. The area is quite crowded, and Amy isn't sure where the main entrance is. Finally, she spots two lines: for visitors with and without tickets. A line even though she pre-booked? Amy definitely wasn't expecting that.
Stage 3. In the museum
A customer journey is not only about getting the visitor from point A to point B. It's also about finding the fastest route between the two to make their experience seamless. In the case of a museum, pre-entry procedures can include the ticket desk, wardrobe, audio guide pickup point, and WC. In Amy's journey, we'll see how she has to visit the locker room twice, which is an unnecessary step that could be eliminated by a better setup.
If a stage implies a sequence of steps the persona has to take, don't make them go back and forth between them. The same applies to the exhibition itself. Some people do like to just wander around, but most expect a guide on navigating the overwhelming variety of artifacts. Notice boards are quite common for museums, so look into extending them to include a key exhibits checklist, a floor map with "you-are-here" pins, your photo policy, and Wi-Fi credentials. Better yet, offer a digital alternative through a mobile app or a downloadable brochure.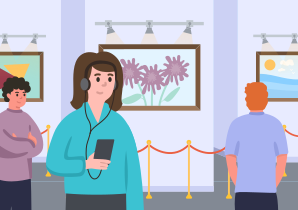 Amy has to wait in line for about half an hour before entering the museum. The lady at the ticket desk explains that all online reservations have to be confirmed by staff. Amy is outraged: there was no word of this on the website, she wasn't planning for the delay, and really, have they never heard of QR codes? Still, she shrugs it off and gets an audio guide and a paper map. The lockers turn out to be coin-operated, and Amy doesn't have any change, so she has to go back to the ticket desk to ask for a euro.
Finally, Amy gets to enter the exhibition. She follows the path of the audio guide, which turns out to be quite interesting. At some point, she comes across a tiny room: it has the Da Vinci painting she was looking forward to most. So were a lot of other people, apparently, as the space is very crowded. It's also too dark to read the label with the correct track number. Amy uses her phone to light up the poster and takes a picture of the painting. She would add it to her Stories and tag the museum, but there's no information on the Wi-Fi password. And no restroom in sight as well. Still, with the help of staff members, she figures it all out and enjoys the rest of the collection.
Stage 4. Museum café and gift shop
Apart from public funding and donations, museums earn money through sales at the gift shop and café. That means you have to balance between what's good for business and what the visitor wants. Their major frustration is usually the price. To get around that, you can install vending machines with drinks and snacks sold a bit cheaper than at the café, but still make a profit. Alternatively, offer discount coupons for the gift shop with every meal: they can work as marketing flyers, encouraging people to stop by for souvenirs.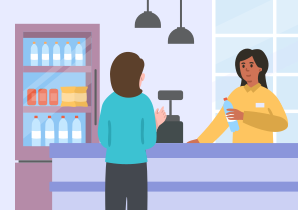 To top off her visit, Amy wants to get a bottle of water and check out the gift shop. She's prepared to see pricey meals, but the cost of plain water disappoints her: twice the regular store rate. At the gift shop, she takes her time picking out a magnet. Amy wonders whether there are VAT discounts for tourists but sees no mention of it. She feels reluctant to ask the cashier as there are people already lining up behind her. She pays for the magnet and throws away the check along with her ticket.
Stage 5. Leaving the museum
When museum visitors are getting ready to leave, all they want is to quickly deal with the formalities, which are:
Return the audio guide;
Get their coats and bags from the locker room;
Maybe swing by the restroom;
And leave the building.
Like before, your goal is to eliminate any unnecessary actions and repetitions.
We'll see two examples of avoidable journey obstacles in Amy's story. To better pinpoint them for your museum, talk to the staff, turn to reviews again, or ask for specific feedback on leaving the premises in the post-engagement survey.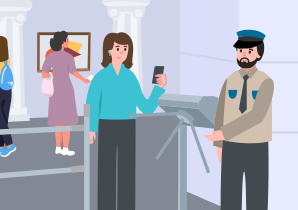 Amy's thoughts are already on the gelato tasting she will attend next, so she just wants to wrap up the visit. However, to return the audio guide, she has to go all the way back to the beginning of the exhibition. Frustrating — couldn't they have assigned someone to collect them? Another unpleasant episode awaits at the exit: there is a turnstile with a scanner that requires an entry ticket barcode. Luckily, Amy has the confirmation screenshot on her phone, and security lets her out. She should still make her next appointment in time.
Stage 6. Post-visit engagement
Emails are probably the easiest and most effective way to stay in touch with your visitors once they've completed their tour. Retention-oriented email chains would only make sense for locals, but a feedback survey is pretty much universal. Use it to learn more about the highs and lows of your current museum experience. Come up with initiatives to enhance it with these ideas on how to make customer journey maps actionable.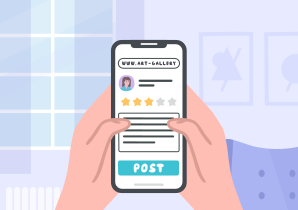 Back home, Amy hangs her new magnet on the fridge and shares the photos with her friends. A few days later, she gets an email from the gallery asking for feedback. Amy sees an opportunity to share her frustrations and suggestions. However, the survey only has ratings and no text fields for additional thoughts. Amy then leaves a review on a third-party platform. While she rates the overall experience with four stars, her justified critique won't do good for the museum's image.
Final thoughts on visitor experience in museums
The smallest things often influence our opinion of a place, and museums are no exception. No matter how grand and rare your collection may be, if people have trouble with seemingly unrelated actions before and after the visit, their overall impression might be negative. You can visualize and evaluate the current visitor experience by leveraging journey mapping and decide on a better image to work towards.
Building a map from scratch can be challenging since there are quite a few stages and sections to cover. We've prepared a ready-to-use template with Amy's journey. It has a lot of details on the visitation process, a list of problems and barriers, and more suggestions for solutions than we covered above. Feel free to change and tweak it to your museum journey, add more personas, or simply use it as a reference during workshops and staff meetings. It's free and downloadable.
Related posts