The inner workings of a manufacturing business are nearly as complex as its equipment. Marketing, sales, accounting, logistics, quality control: it's all a big mechanism. And if it doesn't work like a well-oiled machine, customers suffer. Their orders may get damaged, their invoices — lost, and their expectations — unmatched.
To top it off, the manufacturing industry faces an external problem: the general trend for custom solutions. 76% of consumers say they're more likely to purchase from brands that personalize. And it's not just about running targeted marketing campaigns anymore. Companies want unique designs, lower volumes, and faster delivery. With that versatility comes an added workload: service issues to address, strict standards to follow, and advanced production technologies to support.
The pressure is high, yet, so are the rewards. Suppliers can turn the newfound challenges into opportunities for happier clients, increased loyalty, retention, and revenue. This article will let you in on how to achieve that by focusing on customer experience in manufacturing. As an example, we'll take a bespoke healthcare vendor and see where the journey takes us.
Setting the scene
To give you more context on the field we've chosen, let's quickly go over how custom manufacturing in healthcare works. For one, it's a heavily regulated field: by ISO and FDA in the US, EMA in the EU, and other local and national organizations in different countries. Vendors use modern technologies like CNC machining and 3D printing to create products for patient care, day-to-day use, research, and training.
By law, one cannot directly advertise bespoke products for commercial distribution — only hospitals and clinics can sell them to the end customers or patients. So for a manufacturer, it's always a B2B arena. 'Custom' here usually means that the technology and layout are the same, but the final product is made to fit specific measurements and medical needs.

Our case is about a medical branch called orthokeratology. It's a method of nonsurgical, temporary vision improvement. A person with myopia wears rigid contact lenses at night to gently correct the curvature of the cornea. Night lenses are custom-manufactured, and a patient must replace them at least once a year.
Who is the 'customer'?
Even a single manufacturing deal or contract can require you to work with different audiences. In healthcare, for instance, that could be practitioners, procurement managers, resellers, research groups, quality control specialists, and legal and financial teams. But each group has varying needs, expectations, and previous experiences. From our hypothetical list:
Doctors would want to be sure that the lenses are comfortable and efficient in treating their patients' conditions. They wouldn't really care about the price as long as the quality is top-notch.
Procurement managers look for cost-effectiveness and seek favorable, long-term partnerships. They would be particularly frustrated if the manufacturer could not deliver the lenses on time or in the required quantity.
Resellers are interested in the marketability of night lenses. Rather than the product itself, they'll need your help preparing promotional and educational materials to aid their sales.
Researchers have a purely scientific interest, as they want to facilitate studies or clinical trials to assess the method's effectiveness.
Quality control specialists need to conduct audits with the medical standards and regulations in mind. When choosing between manufacturers, they'll look for reliability and consistent internal checks.
Legal and financial representatives may be involved in negotiating the procurement contract. They'll appreciate open and transparent communication where all agreements and requirements are met.
As you can see, all these people have different roles and view your company activities from their own angles. As a result, their customer experiences will differ. Let's imagine you make a great connection with the hospital's doctor: the lenses are super-comfortable, and they get them right on schedule. So that's a positive on product usage. But the procurement manager won't budge on the prices, and you can't afford to go any lower. Contract negotiations drag out for weeks, and ultimately, the deal falls through. So their impression of your company ends up being negative.
To provide a great customer experience for everyone involved in a manufacturing deal, you will first need to identify the key decision-makers. Is it just one, or are there several of them? What are their key pain points, demands, and desires? Research your audience with surveys, interviews, and fact-checking to back up your assumptions. Once you have that information on hand, use it to create personas: one for each role.
Personas are a great CX tool for a) understanding your audience to craft better offers and deals for them, b) creating empathy towards clients, and c) sharing that common vision across your organization.
In our case, we want to make specific business impacts for the healthcare manufacturer: get more long-term contracts and pinpoint the reasons for customer churn. So we've created a target customer persona, Paul. He works at a private eye clinic and is responsible for managing the supply process. He's not the sole decision-maker at his company, but his call carries a lot of weight.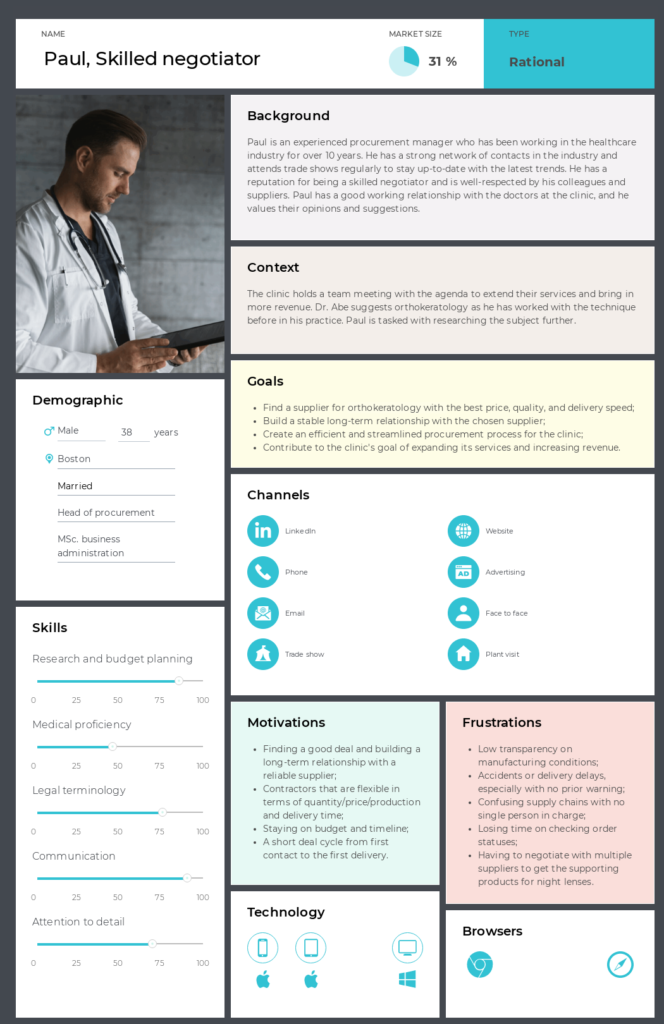 When building your personas, It's also important to consider the context. Paul regularly attends trade shows to stay up-to-date with the latest manufacturing industry trends, so that's where he is most likely going to look for a night lens provider. Given his workload, he is easily frustrated by having to keep up with multiple suppliers, and a one-stop shop for lenses and supporting products would be his number-one choice.
The road to positive customer experience
Once you have finished the personas, move on to the next step: visualizing their experiences. To go beyond working on the value chain and product quality, you need to clearly see the moments when customers get upset or lost. You can't improve what you don't know, right? Journey mapping helps manufacturers uncover experience issues that happen across numerous customer interactions.
Depending on your specific use case and product line, journey stages and their exact details will certainly differ. However, we're sure that by following Paul's story, you'll draw some relevant insights and leave with ideas on how to improve your customer experience in manufacturing as well.
Ready? Then let's dive right in.
Stage 1. Awareness
Some journey mappers are known to skip the 'Awareness' stage entirely since the customer may not even be in contact with the company just yet. For instance, Paul is not talking to any manufacturers at this point: he just becomes aware that he has a job to be done. However, having this stage in your map can do you a good turn. By understanding the persona's motives and figuring out where they plan to look for solutions, you can create targeted marketing campaigns and relevant content.
Challenge: At Paul's clinic, most of the doctors haven't worked with night lenses before in their practice. So they're hesitant to support the new method even though it has the potential for profit. For your business, it may be a complex technology or a very niche product that doesn't have enough recognition to get approval from all decision-makers.
Opportunity: Raise awareness of the methods and products you offer for more word-of-mouth marketing and easier buy-in. Promote the topic using the channels your persona frequents. In healthcare, that could mean publishing case studies, articles, or client testimonials in medical journals. Doctors will be more open to a method they've heard about before.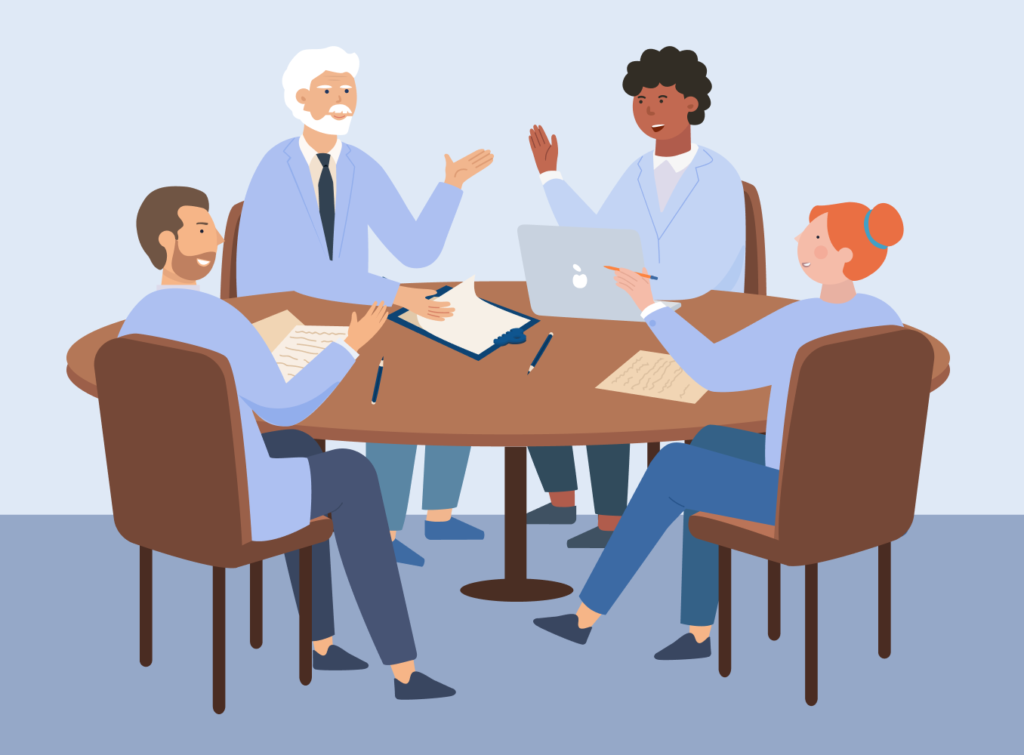 In Paul's journey, orthokeratology enters the discussion through a doctor's suggestion. The clinic's CMO is familiar with the technique and is willing to teach the staff if the method gets approved by the board.
Stage 2. Research
At the 'Research' stage, customers are actively seeking information about the product they're interested in. They browse online to read reviews, research the providers' reputation, and compare prices. They might also communicate with agents or company representatives face-to-face, via email or a live chat, or over the phone.
For manufacturers, that's often when the first direct contact with their persona happens. So making a good impression is critical: with a website that has a great UX, accessible contact details, and accurate pricing. You can even create a dedicated website user journey map to zoom in on any experience issues that happen online.
Challenge: Before making a commitment to large order batches, doctors and quality control specialists want to make sure the product quality is on par with their standards of care. But minimum order quantities are often too high for a sample test.
Opportunity: Consider matching clients with orders below MOQ so their requests get manufactured and filled out together. For you, this can act as a competitive advantage and bring in more first-time customers. In the future, there is potential for revenue growth if they like the product and start ordering wholesale, reaching MOQ by themselves.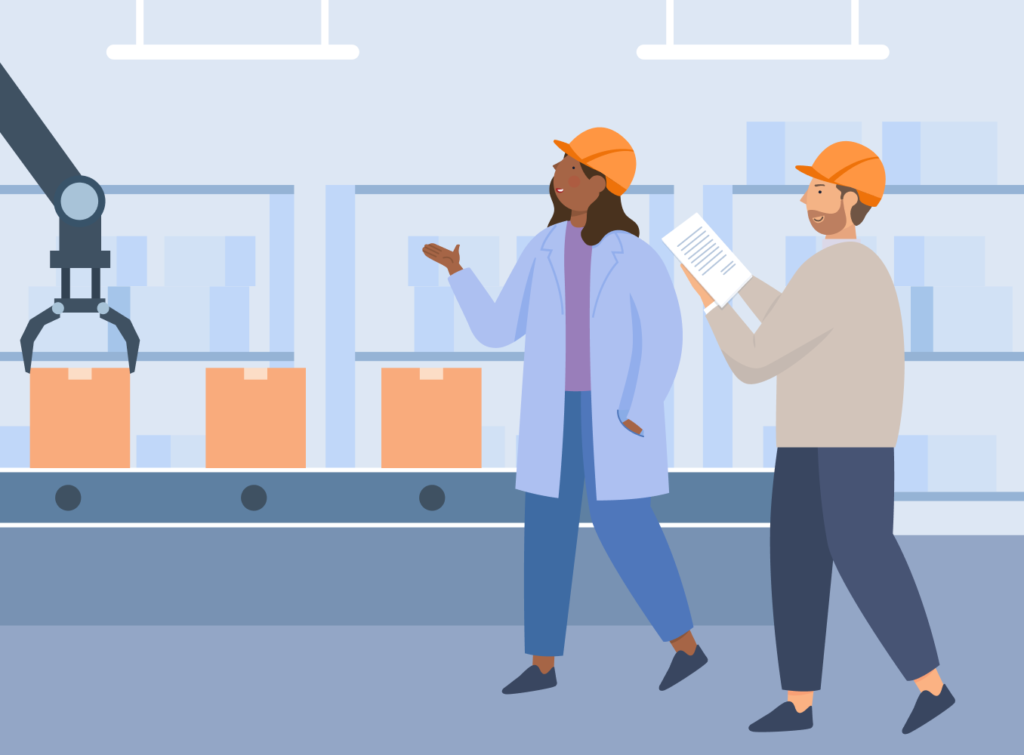 At this stage, Paul talks to different vendors and shortlists three suppliers to choose from. He requests their rates, specifications, and terms and conditions. Then he schedules a plant visit to settle on a manufacturer for future sample testing.
Stage 3. Sample testing
Different companies will have their own names for the stage we dubbed 'Sample testing', or might not even distinguish it from contract fulfillment. But this stage carries a lot of importance, especially for healthcare customer experience in manufacturing. Poor quality of the sample batch can spoil everything, and the potential client won't stay with you in the long run. On the other hand, if you listen to feedback and quickly address any issues, it can smooth out the negatives and win the customer over.
If the testing phase is a success, negotiating the contract will be a fitting finale. For our case, that's also where the other personas we talked about — finance, legal, and higher management — come in.
Challenge: Sample testing of bespoke medical devices or personal products might take quite a lot of time. The clinics need to round up volunteers and have them fitted, plus an extra month or two (depending on the use case) for accurate findings. Manufacturers in other fields might find themselves facing a similar delay problem.
Opportunity: Create a database with testimonials from past customers that are willing to share their success stories. Future clients may choose to rely on that data if it's proven to be authentic. This will give you more credibility as a vendor and allow for a shorter time-to-contract. In healthcare, that could mean clinical study results from accredited medical centers.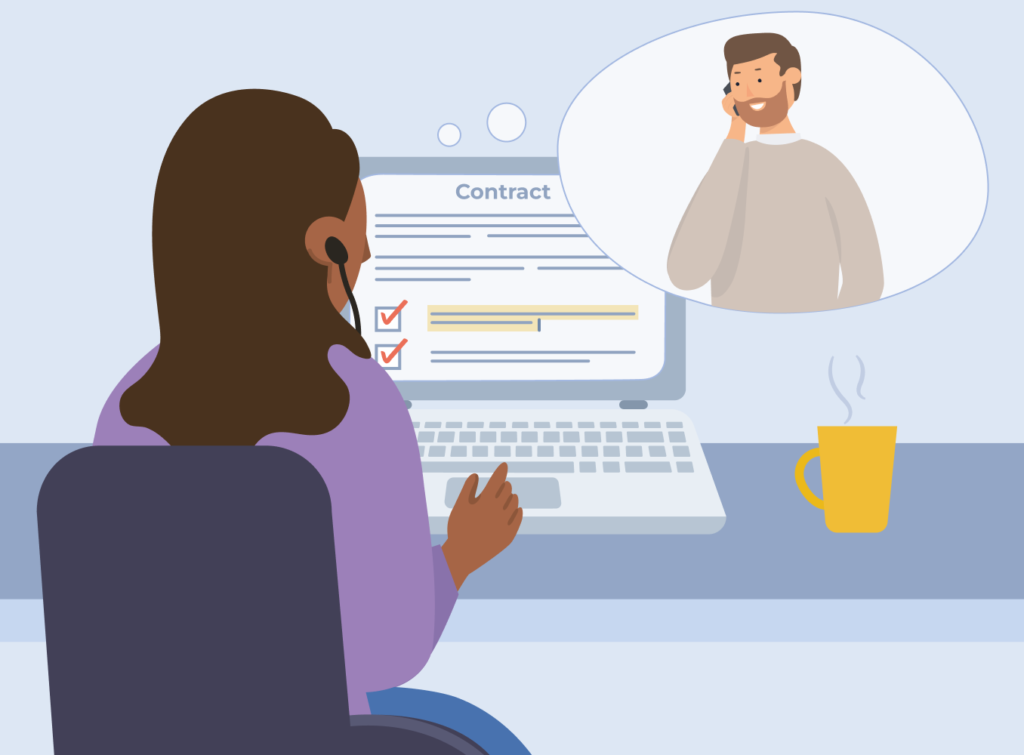 During sample testing, Paul gets back to the manufacturer asking to make the right and left lenses different in color. They're willing to make the change for the convenience of patients. Other than that, the product is a good match for the clinic, so Paul signs a year-long contract with the vendor's agent.
Stage 4. Order fulfillment
All the events before led up to this moment of truth: you've got a new regular customer, and the orders start coming in. Client expectations are quite straightforward: on-schedule delivery of their orders with no accidents or delays. To achieve that, manufacturers need to provide a reliable shipping and delivery system, robust packaging and logistics, a clear returns policy, and timely updates.
Challenge: Customers often don't have enough transparency as to what's happening to their order: the shipment status, expected delivery date and time, performed quality control checks over the batch, etc.
Opportunity: You could try to solve this problem manually: by assigning a dedicated account manager to each client, sending out emails with updates, and all that. It would definitely give the customer experience a boost. But as far as transparency goes, nothing beats technology.
Look into creating a self-service portal where clients can check their order status, manage delivery dates and times, get instant notifications about incidents, and select their preferred channel for receiving updates (e.g., email, calls, or push notifications). In the long run, you'll have happier customers and save a lot of employee resources for higher-priority tasks.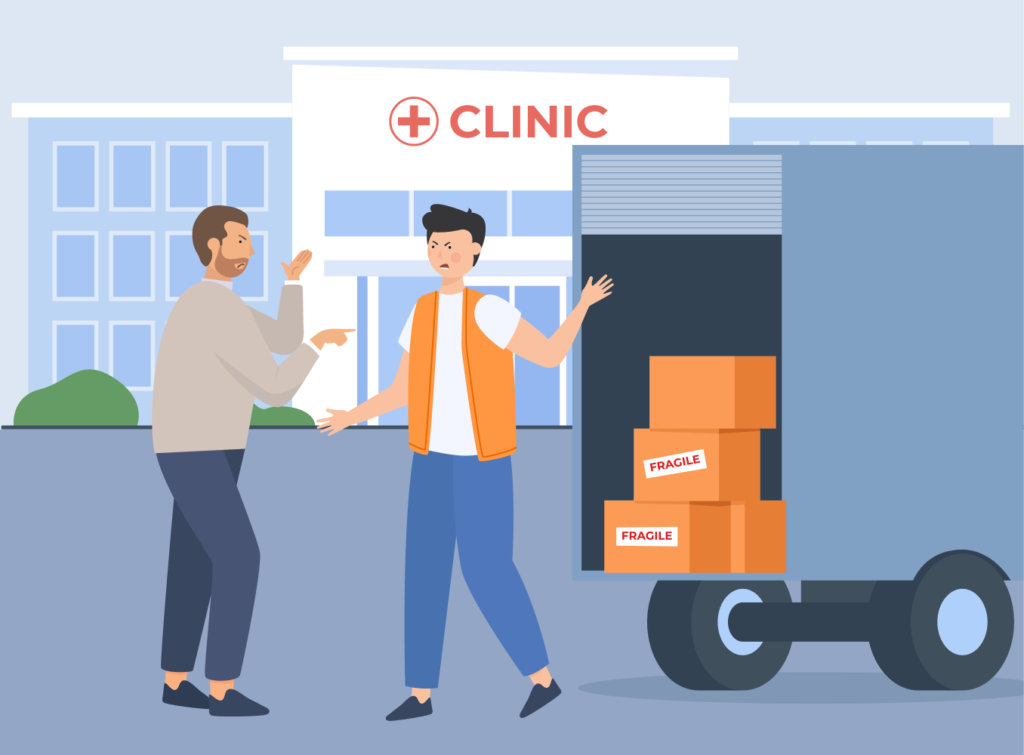 With one of the orders, Paul runs into a problem: the crew leaves a batch out in the cold for too long, which damages the lenses. Most custom-made products, medical too, need extra care when in delivery. So it makes sense to develop an easy-to-understand checklist on storage and transportation requirements and share it with those responsible.
Stage 5. Retention
Once the customer's first contract is up, they'll decide whether they want to continue working with the same supplier, cease the medical branch altogether, or look at competitors. During the retention stage, manufacturers should focus on maintaining a positive relationship with clients and encourage repeat business. The easiest way to do this is with loyalty programs, discounts, or promotions.
Challenge: Customers churn — as simple as that.
Opportunity: Some churn is natural, but still, it doesn't mean you can't do your best to lower that rate. One option would be to partner up with companies that provide accessories for the products you sell. For example, in the case of contact lenses, that could be mirrors, containers, cleaning and storing solutions, etc. Customers will be able to buy everything they need turn-key. If they like what they get, you'll be sure to enjoy more revenue and less attrition.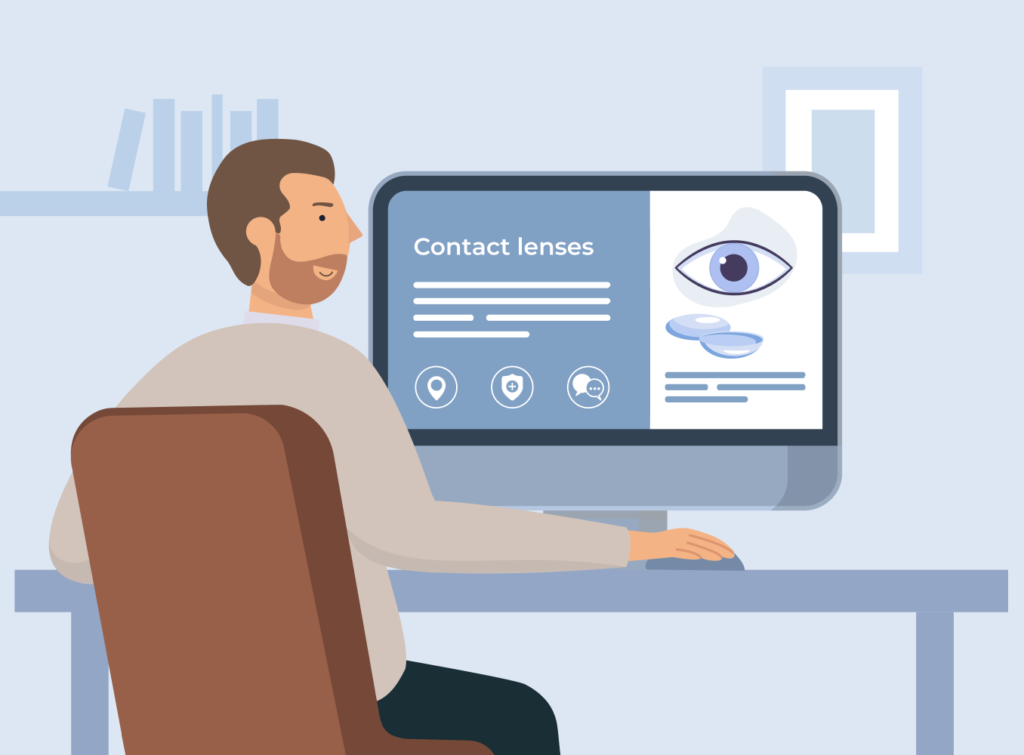 During the final stage of his journey, Paul is looking for new services from the same manufacturer that would work for the clinic. That's his own initiative, but you could conduct regular check-ins with your customers and proactively suggest relevant products from your line.
Now you know how Paul's journey in the sea of manufacturing companies began and ended. And if we map his actions and experiences, stage-by-stage, here's what it may look like: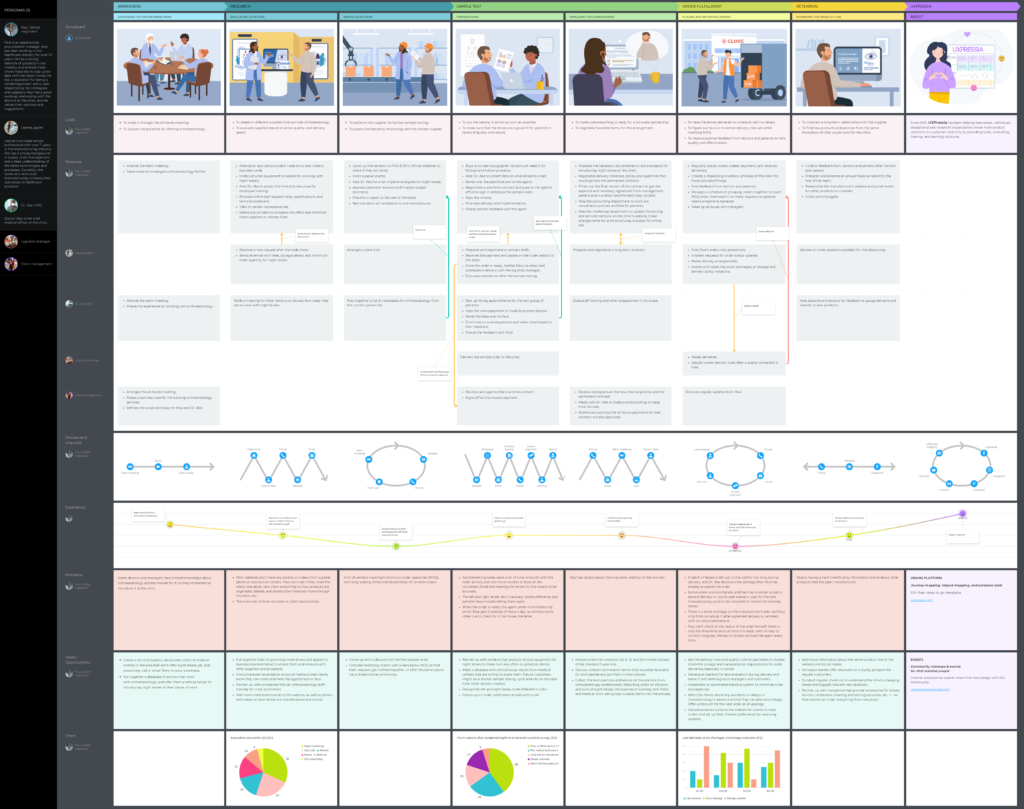 Besides a detailed overview of Paul's actions, we've added his interactions with the manufacturer agent and personas from his own company. You can also see the process and channels of the journey, an experience graph with Paul's thoughts and emotions, a few charts, and several roadblocks he runs into. Look at the 'Ideas and opportunities' section of the map for more insights on improving customer experience: click on the image to open it in a new tab and zoom in.
The key to excellent customer experience in manufacturing
Manufacturing is a complex industry with many nuances and regulations, challenging both for providers and their clients. However, by viewing every obstacle as an opportunity, suppliers can improve customer satisfaction and grow their business at the same time. Raising awareness, always being open to feedback, and fostering a professional community are just some of the steps towards increased revenue and a better brand image.
Put the customer experience first, and use Paul's journey as an inspiration. The map template you see above can be a great starting point. Give it a closer look, and then make it your own.
FAQ
Is customer experience a new priority for manufacturers?
Great CX has become a competitive advantage for manufacturers as it helps them stand out in the market and gain customer loyalty. According to a study by PwC, 73% of customers say that customer experience is an important factor in their purchasing decisions. Concentrating on it can result in repeat business and positive word-of-mouth recommendations.
Why do manufacturers need to personalize the customer experience?
By understanding the specific needs of each audience segment, manufacturers can craft better offers for their customers. Personalized CX in manufacturing helps companies build stronger relationships with their clients, which can lead to repeat business.
What trends can the future of manufacturing expect to see?
The manufacturing sector will see a focus on custom solutions, the increasing use of automation and robotics. There is also the growing importance of sustainability, and the shift towards more flexible and agile supply chains. Improving the customer experience can also become the new best practice.
Related posts