There's no simple answer to the question, "Who should own customer experience at an organisation?" And when it comes to the ownership of customer journey mapping practices, there's no simple answer either. Last year MyCustomer did some research into customer journey mapping to find out who is responsible for journey mapping practices in businesses across the globe.
Over a third of those surveyed said a project leader role belonged to their head of customer experience or similar titles such as a chief customer officer (CCO).
In the absence of such a position, chief marketing officers (10%), chief executive officers (8%), customer insight leaders (6%), and chief operating officers (3%) take the role. See Graph 1 for details.
The case when the role is dispersed among multiple players is also quite common — nearly a fifth of respondents (18%) said that multiple stakeholders owned customer experience within their organisations.
Graph 1. Who has ownership of customer journey mapping within your organisation?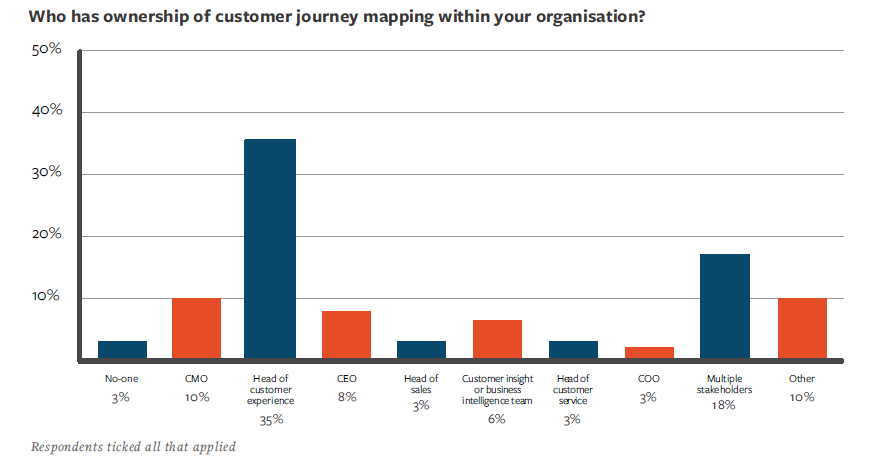 Who currently has ownership?
The survey findings raise an interesting question: do these results reveal the best approach or simply the most conventional or practical one?
This is where the debate comes in. In the given research, a correlation was made between the ownership and the level of perceived success of a CJM program. Heads of customer experience, CMOs, and even CEOs — they all report high success rates.
If you have a CCO in your organisation, this person is highly likely to take journey mapping ownership. But the majority of organisations don't have one. So, CEOs, COOs, or CMOs take the driver's seat instead.
One thing is certain: any CX initiative will fail without support from the top of the organisation, the c-suite. Effective CX strategies require organisational changes which are impossible without management support.
Multiple ownership
The research also revealed that the success of customer journey mapping projects largely depends on how many stakeholders take ownership. 46% of respondents described the impact of the multiple stakeholder ownership model on journey mapping as "extremely positive" (see Graph 3).
The reason for success is simple — everyone in an organisation is responsible for customer experience at different stages. Involving multiple stakeholders ensures that everyone's on the same page. But the question is, who should lead the process and when?
Customer journey maps lie within the end to end customer lifecycle framework. And understanding the whole lifecycle is the key to gaining a proper perspective on who should lead which journeys (or their parts) and who else should participate. It means that organisations will be able to determine which areas of business are involved at each specific stage. This will help ensure that customer experience is positive and frictionless every step of the way.
Graph 2. The end to end customer lifecycle.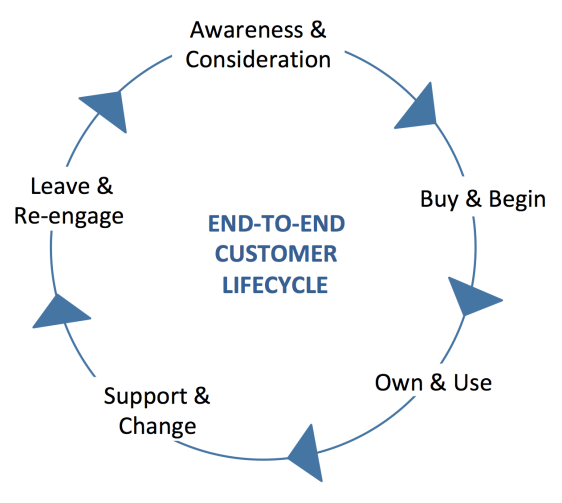 Table 1. Customer lifecycle stages and areas of business responsible for delivering CX at each stage.
| | |
| --- | --- |
| Lifecycle Stage | Business Area |
| Awareness & Consideration | Marketing & Sales |
| Buy & Begin | Sales & Operations |
| Own & Use | Operations |
| Support & Change | Operations |
| Leave & Re-engage | Operations, Sales & Marketing |
At the awareness and consideration stage, marketing activities play a pivotal role by creating demand for products and services that a business offers. Marketing departments spend far more time and money on customer acquisition than retention. That's why their role is smaller in loyalty programs.

And the role is even much smaller in the purchase and post-purchase stages — mostly in e-commerce — where it's all about helping customers use the product or service they bought by providing useful digital and printed materials and keep them engaged with the brand through a loyalty program.
Sales have enormous importance at the buy and begin stage, especially in a retail or B2B setting. But they are less prominent when it comes to awareness and consideration. Sales play a role in customer retention as well, but their involvement depends on the KPIs chosen to measure and whether it's a B2B or B2C environment. In a B2B environment, their participation will be much active, and it will peak when serving revenue-intensive customers who value their relationship with their account manager.
Operations are prominent and active at the most lifecycle stages, with the awareness and consideration stage being an exception. They can often take the lead as they are usually responsible for managing inventory, logistics, customer service and support, and field engineers.
But in many organisations, marketing is often a key player. It owns customer experience and therefore holds a sizeable chunk of customer journey mapping (10%) as seen in Graph 1, while operations that play a crucial role at purchase and post-purchase stages seem to have the CJM ownership of only 3%.
The research findings also suggest that some organisations may need to rethink their CX strategies as the chances of success are higher when CEO (69%), COO (50%), or multiple stakeholders (46%) acquire the leadership.
Graph 3. Who has ownership vs. success.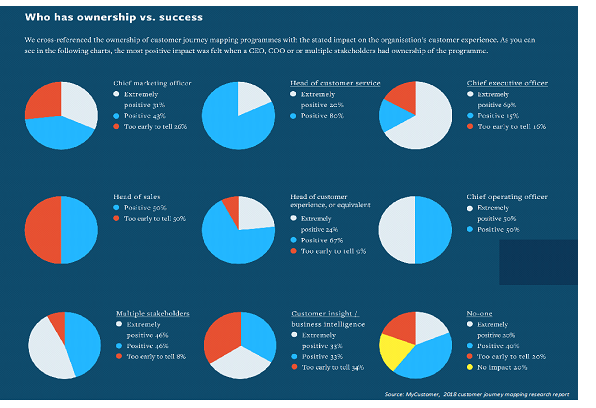 What is the best option?
Organisations should consider having a CCO who will be entirely responsible for the way marketing, sales, and operations collectively interact with customers. And CCO is for sure the best person to own customer journey mapping practices.
In the absence of a CCO, you need to organize cross-functional teams from the three key business areas we discussed previously. While choosing the team, consider the type of journey being created. Your team, for instance, may include the following job roles:
Marketing: customer insights managers, CX managers, product managers, digital teams, and marketing communications specialists.
Sales: retail workers, telesales representatives, pre-sales consultants, and key account managers.
Operations: customer support and contact centre managers, field staff, logistics operators, and inventory control specialists.
Depending on the lifecycle stage related to the journey, you may also want to include people from other areas of business: procurement, finance, HR, QA, etc.
The type of journey you're working on is what determines the choice of a leader. For a purchasing journey, it can be sales; for a support journey, it can be operations; and it's marketing that will lead an awareness journey.
Some organisations have introduced the concept of "customer journey managers" that replaces product managers.
Optus, an Australian telecom operator, has a journey manager for customer onboarding who has responsibility across all product areas — prepaid, contract, consumer, and business.
It's about keeping your promises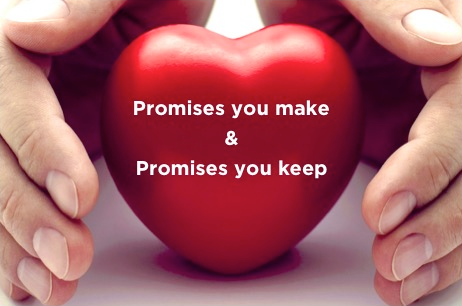 Branding, marketing, and sales are all about making promises, while customer experience and customer support are all about keeping these promises continuously.
You already know that operations are the business area that is ultimately responsible for customer experience and keeping implicit and explicit promises given to customers throughout the end to end lifecycle.
So, if you don't have a CCO or any other cross-functional executive and the CEO is not going to take the lead in customer experience management, you still have to appoint someone to this role. If this role has to "owned" by a specific area of business, I believe that it should be operations, not marketing.
However, that's where the big disconnect happens.
Organisations are not ready for such a structure. In most of them, operations mainly focus on reducing costs and improving efficiency and productivity. They are neither building and owning their customer relationships nor have the budget for that.
Marketing always has a larger budget to spend on customer-related activities. But their prime focus is customer acquisition, not retention. That's why many domains like utilities, insurance, and telecom have such high customer churn rates.
Salesforce's State of Marketing report also states marketers' determination to seize ownership of customer experience in their organisations. Nearly half of marketers (45%) who took part in the survey said they led CX initiatives across their businesses, while there were 24% of those a year earlier.
The danger of getting it wrong
Organisations that are truly committed to having a customer-first strategy adopt an outside-in perspective to build their culture, processes, and systems around their customers' wants and needs.
Organisations that operate in deeply entrenched silos, each holding their own view of the customer and jockeying for power, are a much harder case. There's no sense in deciding who will own customer journey experience because it won't work. Leaders should break down these silos first to enable the free exchange of information and insights and foster a cross-functional approach.
Instead, you need to ensure that stakeholders who own one or multiple customer journey maps have the support from top-level management across the entire organisation as their success determines the success of the business.
About the author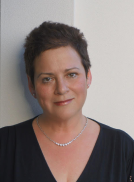 Amy Scott is the Director @ Sedulous, a customer insight-driven consultancy specialising in customer experience initiatives and service design.
She has worked for a variety of organisations, such as Optus, Toyota, Institute of Accountants, Thomas Cook, Western Union, Nuffield Health, Midcounties Cooperative, UBM, Cabot Financial, and Hyde Housing.