Mapping a buying journey is not that easy. We already found it out at our recent event with Martyn Lewis, Founder and CEO of Market-Partners Inc. But what if you finished the map and are not sure what to do next?  
Next week, on July 20, Martyn will be back to outline optimal business activities that will guide customers from initial interest to further satisfied use, leveraging each stage of the end-to-end buying journey. He will also explain how to translate your map into Market Engagement Strategy and Customer Buying Journey Navigator.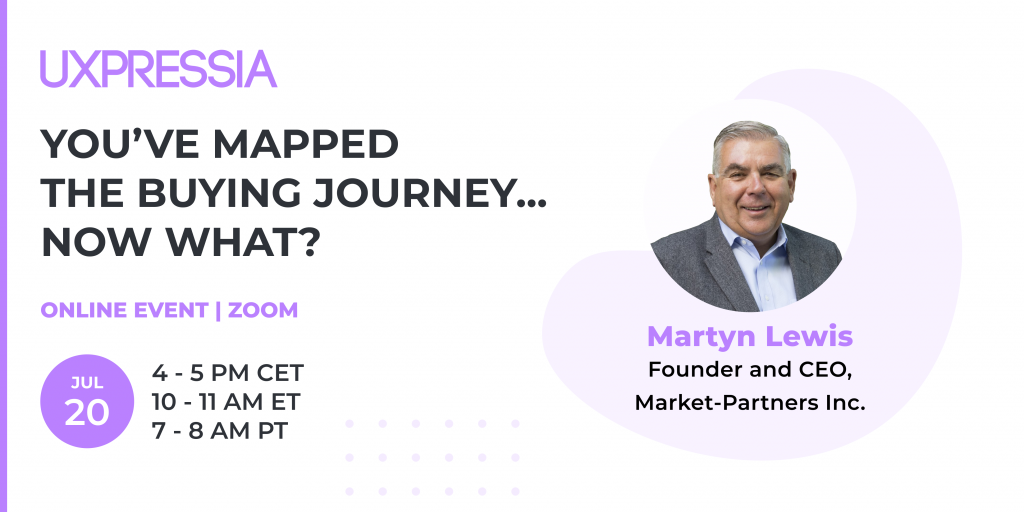 At our online event, Martin will cover:
🟣 What to do once you mapped a buying journey;
🟣 How to develop and integrate the market engagement strategy;
🟣 How to transform a strategy into a CX initiative and make it sell;
🟣 How to distribute responsibilities across your organization;
🟣 and more.
❓ A Q&A session will follow the talk. So if you want to ask Martyn a question, this is your opportunity.
📹 Want to join us, but can't make it live? Register to get the event recording. We'll send it to your email after the session.
Related posts