The success of any email marketing campaign depends on how well you know your customers. You might create a great compelling copy, but if it's targeted at the wrong people it won't be very effective. To make sure that your marketing campaign won't fly blind, make use of your customer personas. And here are 5 ways to do that.
Before you start: do the research
The first thing you need to do is make sure you have enough quality information to come up with an effective persona. When it comes to marketing campaigns or content in general, there are certain things to look for when analyzing your target audience. Surely, you want to know what goals your customers have, what motivates and frustrates them.
Promoting a Christmas sale to someone who either does not celebrate Christmas, is not a holiday shopper or is even away for holidays will be irrelevant and annoying to the customer. Another example is black Friday offers to non-active shoppers and those who only buy stuff when they really need it.
Next, identify the specific content-related info such as tone of voice, lingo, specific jargon preferences and types of content that your target customers prefer. Make sure to mention this information in your personas.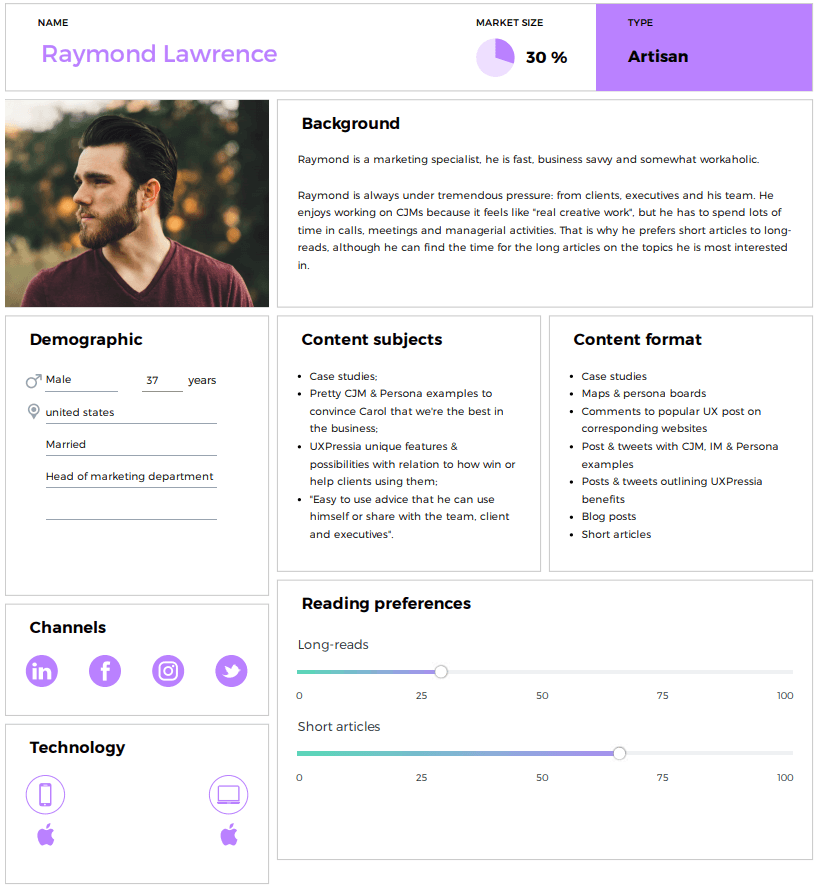 And it is always a good idea to pass this to the right researcher with the right perspective, for the persona you're trying to create. Find an experienced researcher that holds a neutral position and has a variety of perspectives. "If you hire an inexperienced or biased person to do your research, the work will lose its authenticity and value. Find someone who will be capable of doing a deep dive into your field so you can get a thorough analysis," recommends Pete Reid, email marketer at EliteAssignmentHelp.
Have a unique angle
People receive a ton of email, so the best way to stand out is by aligning with the goals and preferences of your persona.
Try to approach your email marketing as sequences and not individual messages. Pretend you're writing a TV series. Ask your reader open-ended questions to get them thinking in the right direction. You can really create a sense of anticipation and curiosity in the reader by doing this. They'll want to keep opening your emails to see what the answer is. Maybe they get it, or maybe they need to wait for the next email to find out. Keep in mind that these messages and questions aren't meant for just anybody. This kind of marketing is all about sending the right message to the right person at the right time.
HotJar, for instance, has a 9-step tutorial on how to make the most out of all their tools. So they launched a newsletter campaign where they share one step at a time for their users to get to know the product better. This creates an overall feeling of anticipation and curiosity in addition to the care and attention provided by the HotJar team.
Tailor your copy to your persona
At the end of the day, all the marketing tricks in the world will fall flat if you can't write good, compelling copy. Besides quality writing, it also means matching your writing style and the tone of voice to the persona you're targeting.
Marketing is mostly about telling your customers about the benefits that your business will mean to them. Study your target persona to find out their number one difficulty, and then write a copy that presents your brand as the perfect solution.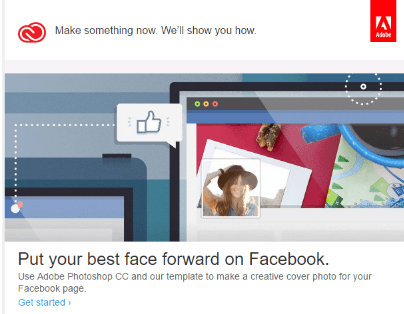 Here is a good example of how Adobe appeals to their buyer persona — a designer who doesn't want to go through complex tutorials and just wants to create. The first article also appeals to this audience. However, it would be a mistake to talk about all of their complex features without making them look good and easy to use.
Pick right offers and CTA's for your persona
The more complete a buyer persona you have created, the better set-up you are to create effective CTA's. What does your buyer want? What is the most effective offer to get them hooked? Do they want the first month free? Do they just want to save money? Or maybe their time is most important to them? When you're writing offers and CTA's you need to think how they want to communicate. Are you targeting millennials? Well then 'Call now' probably isn't the best way to phrase an offer. But if you're targeting more senior people that could work just fine.
Use online writing tools
Creating marketing emails that align with your buyer persona requires excellent writing skills. These writing resources can help bring you up to the speed:
#1. ViaWriting, WritingPopulist, and Grammarly — A lot of people don't even realize how much they struggle with grammar, but it's an important part of writing. These grammar resources will help make grammar seem simple and approachable.
#2. Academized and UKWritings — Check out these online proofreading tools. They have been suggested in UKWritings review and are perfect for writing typo-free emails.
#3. StateofWriting and SimpleGrad — These blogs have plenty of helpful suggestions about how to improve your writing. Read through them and learn some new writing and editing techniques.
#4. EssayRoo and BoomEssays — Use these editing tools, reviewed positively at Revieweal, so you can turn out flawless marketing emails. A single typo can undermine your message, so make sure it gets done right.
#5. MyWritingWay and LetsGoandLearn — These writing guides make the process much more simple and approachable. They will provide you a blueprint for writing flawless and effective emails.
Visualize your personas with UXPressia
Now, you can create a customer persona in our Personas Online tool
But on top of that, you can track the success of your marketing campaign by connecting journey maps to web analytics.

The Mixpanel integration will allow you to see the real-world data showing conversion percentage next to each step of your marketing campaign.
Plus, you can select various date ranges to compare different periods and analyze how your campaign performed over the last couple of months or even years. And it all works automatically once you set up the integration on your workspace page.
In addition to that, UXPressia offers a template that was specially designed for visualizing email marketing campaigns. This will help you to quickly get started with your journey mapping.
For a step-by-step guide on building an advertising funnel that corresponds to a digital marketing journey map, check out our dedicated article.
Conclusion
Creating effective, targeted marketing email campaigns can be challenging, but also very rewarding. Knowing your customer well gives you the information you need to persuade them you have the solution to their problem. Follow these five tips to align email marketing to your persona.
Grace Carter is a content manager at Assignment Writing Service and OXEssays websites. She writes about latest marketing trends, creates new strategies on email communication and reviews gadgets. Also, Grace teaches business writing at PaperFellows website.