The conference attendee experience starts long before everyone is sitting on chairs and listening to keynotes. If your goal is to create an awe-inspiring event and deliver an outstanding experience, you should focus on every single step of the event attendee journey: from receiving information about the thing to participating in a post-event survey.
Mapping out a customer journey for events helps to uncover problematic areas and highlight obstacles your attendees may encounter. Having such a map will not only help you understand how attendees interact with the event at different stages of the journey, but also help see the opportunities for improving their experience.
Let's focus on some significant points event mappers should consider:
Defining your attendee personas first
It is reasonable to start your event attendee journey map with creating customer profiles.
Analyzing your target audience, you can identify some groups of attendees based on some sort of criteria (e.g., demographics or behavior). Displaying all these peculiarities in event attendee persona profiles enables you to imagine yourself more vividly in these people's shoes and empathize with them.
You may end up having 3-5 different personas that cover your target audience.
Having a bunch of personas who are supposed to look pretty much like real people, you can think your event through to the last detail.
Understanding the needs of your attendees determines what your event will be like. As a caring and person-centered event host, you can:
Explain clearly to participants how to get to the venue and arrange a transfer to the place;
Invite speakers that people would be interested in listening to;
Prepare gift packs with helpful items;
Choose the best time for the lunch break and set up a dining room.
It also influences your activities at the stage of announcing your event. For instance, you will need an intensive LinkedIn pre-campaign to lure C-level suits, while more informal socials will work better for solopreneurs.
Identifying the stages your customers take
When it comes to mapping, it is better to firstly highlight your event attendee journey stage by stage. It means you need to consider all the phases your attendees go through.
Like any other journey, a customer journey for events is based on some sequence of actions. Here is how it might look like for an offline conference:
Finding out about it;
Signing up for an event;
Getting to a venue;
Registering;
Talking and networking;
Having a spot of lunch;
Receiving post-event materials;
Giving feedback.
Having outlined the journey in general touches, you can go into detail and describe the actions the attendee personas take at each stage.
Mapping out your personas' interactions
If you are working on a map for a future event, there are some key points to consider. For instance, you might want to create a landing page with details about your event. It is also nice to make sure that the registration process is smooth enough and eliminate possible difficulties with the ticket purchase.
Building a conference customer journey map around each of your attendee personas can reveal other crucial things to take into account.
Despite all your attendees may do the same actions, such as signing up for your event and arriving at the venue, they may have different goals. While some participants are attracted by recognizable speakers, the others go to your event for productive networking.
Say a hypothetical Steve, a sales manager, is going to meet some potential clients among other attendees. Another one, Nicolas, who got recently promoted to a head of marketing, wants to see this job title on his participant badge and make new business contacts. In the end, both of them are expecting to get significant insights from the speakers.
Drawing your attendee's experience graph
When it comes to as-is journey, pinpointing the participant's emotional experience can be extremely handy.
The experience graph enables you to take an emotional journey of your customers and maybe tweak a few (or more) things to make their emotional experience with you as smooth as possible. For instance, a friendly receptionist at the registration counter who is ready to assist attendees with different issues is a great way to evoke their trust.
Besides, such a graph can help you reveal the most sensitive or unpleasant stages for your demanding attendees. For example, people who follow a specific diet will be disappointed to find no food options during the lunch break.
Tracking the emotional state of your personas helps you alleviate your participants' discomfort with excellent service, detailed descriptions, and attention to detail, whether it is a personalized welcome gift or a clear venue map.
Packing your ideas into an event attendee journey
Our new template, Conference Customer Journey Map, is a great starting point both for those who are trying their hand at customer journey mapping and those who would like to iron out the wrinkles in their existing map.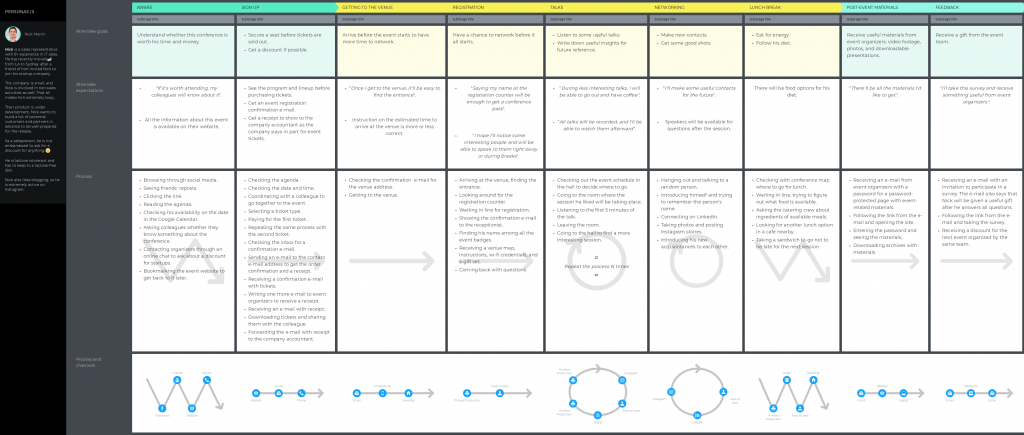 The template describes the customer journey of a sales representative who has recently moved from one country to another to join a startup company. He's going to attend his first conference in the new country to network and tell industry peers about the upcoming product.
Related posts