We're continuing a series of our free online events dedicated to journey mapping in healthcare and invite you to participate in our third meetup this Thursday, July 23.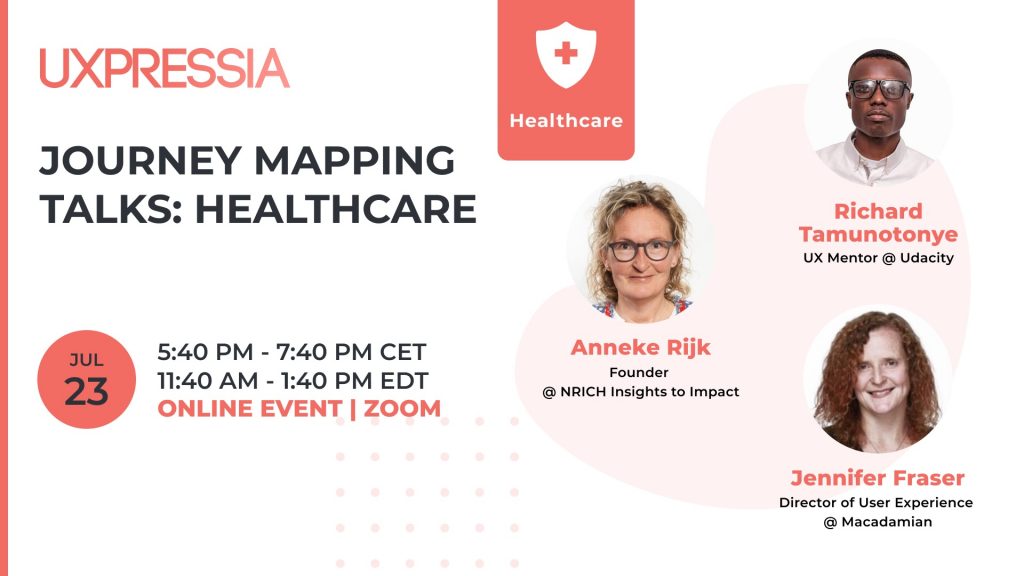 Event Overview
Three healthcare journey mapping experts will share their experiences, provide valuable insights, and answer questions during Q&A sessions. There'll also be roundtable discussions where you'll be able to participate.
Meet Our Speakers
Anneke Rijk, Founder of NRICH Insights to Impact, will outline a hands-on step-wise approach to patient journey mapping, from how to prepare this journey to how to travel throughout the journey and how to make it one to remember. She will share the do's and don'ts about patient journey mapping and some examples that show how patients and their families' lives can be positively impacted.
Richard Tamunotonye, Independent Сonsultant (UX Mentor) in Udacity, will share his experience in applying design thinking in healthcare. He will talk about how he was able to use design thinking in coming up with a digital wellness application and how the design thinking process can be applied in the healthcare space to create user-centered and innovative solutions.
Jennifer Fraser, Director of User Experience at Macadamian, will walk you through the process Macadamian went through to create a journey map to help improve tools for a specialized type of doctor in a clinical setting. Jennifer will step through how Macadamian worked closely with the client on the research, analysis, and resulting co-creation of the product personas and journey maps.
Already have plans? Register anyway, and we'll send you the recording.