Existing to help those in need, charities and nonprofits themselves cannot exist without help and support from the outside. Donors are the backbone of almost every successful charity or nonprofit initiative.
Sometimes such organizations forget about the importance of donor experience. But effective fundraising is not about seeking and gathering voluntary financial contributions, it's about building long-term and valuable relationships with supporters.
Donor journey mapping can help nonprofits and charities get more insight into the process of interactions with their contributors and even more.
There are 5 key reasons to map this journey out.
Shining a spotlight on your donors
Since charities and nonprofits are inherently focused on those in need and therefore are person-centered, focusing on their active supporters seems reasonable. Committed people are the most valuable resource of any social initiative. At the end of the day, any good idea fades without enthusiastic support.
By mapping your donor experience, you put yourself in the shoes of your contributors and see what guides, encourages, and engages them. You will inevitably find out the challenges and problems your donors face. You will also see what can ruin your relationship with them to revise and fix it later.
Pro tip: Before diving into mapping the donor journey, create personas describing your major donor groups. Usually, 3-4 personas are enough to cover your donor base. Then, you can choose one or several personas to focus on first.
Identifying touchpoints and improving their performance
Donor journey mapping helps you reveal touchpoints — physical and non-physical interactions between your nonprofit or charity and your supporters. By understanding your personas' experience at each of the touchpoints, you will be able to see what needs to be improved and make these changes, ultimately enhancing the whole experience. For example, you can extend a range of donation options, establish a straightforward membership procedure, simplify billing, and divide the responsibilities among your team members.
When you get the idea of touchpoints, it is easy to plan the routine activities at your organization based on the improvement ideas.
Getting more supporters
Having a detailed donor journey map in front of your and your colleagues' eyes, you will see the journey stages where your supporters are actively converting and dropping off and the reasons behind their actions.
For instance, after making the first donation, your supporters may never donate again because of the negative experience during the money donation stage or because they never heard back from you and don't know about your new initiatives.
To improve their experience, you may think of introducing additional communication channels and making your offerings more relevant to your contributors. For instance, change your content strategy by using annual reports along with testimonials from other supporters and infographics to attract new admirers.
Additionally, customizing the way your personas interact with your project can help you win their trust and inspire their loyalty.
Plus, having information about target personas and their journeys will be beneficial for non-profit digital marketing agencies that help you promote your campaigns.
Revising your fundraising strategy
Donor journey mapping also highlights some of your efforts and activities as an organization. Going through the stages your supporters take step by step, you can detect problematic points referring to your fundraising strategy gaps.
For example, trying to draw people's attention to your project, you launch a pretty expensive Google Ads campaign. The number of your daily visitors is increasing, but the number of donations is the same. Where is the problem?
Maybe before donating, your potential donors want to understand what is behind your project. They may be interested in the background of your organization, the people involved in your activities, and your goals and values. But as your website is outdated and it contains too little information about your organization and its mission, they may not go further and look for an alternative initiative to donate to.
Keeping your hand in life and developing empathy
The best thing about donor journey mapping is the ability to co-create a map together with your team. The team members, who join this process, will better empathize with your customers as they will know every step your donors take throughout their journey. It helps your nonprofit or charity stay intentional and strategic in making decisions.
Besides, you can use the map during onboarding new teammates. It will be easier for them to get into your ideas and develop a sense of belonging to the organization.
The ready-to-go template
Our new donor journey map template is for charities and nonprofits who want to become more donor-focused and improve their donor experience by identifying existing flaws and gaps and fixing them. Healthcare-related organizations will find it helpful, too.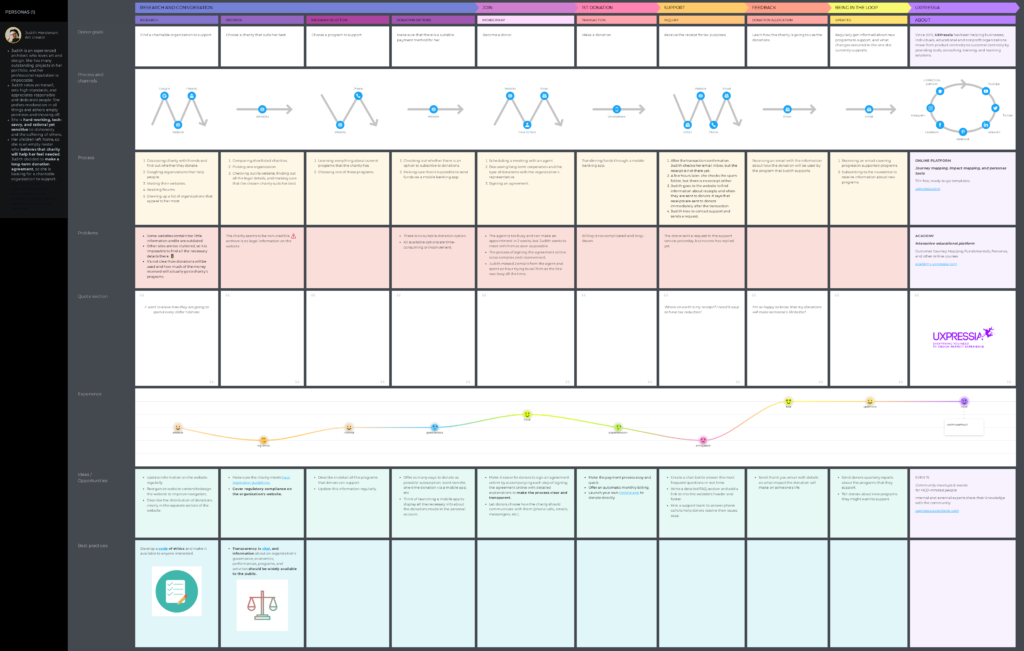 We built our Donor Journey Map around a 58-year-old architect Judith who is looking for a charitable organization to support.
It covers all the actions that she takes, like choosing a charity and a program to support, signing a donation agreement, making her first donation, and so on.
We also added some tips on delivering the best experience to your potential donors in this donor journey map template, so be sure to check out the "Best Practices" section😉
Ready to see what's inside?
Related posts