What does it take to create a successful, actionable customer journey map? Lots of teamwork and countless hours of brainstorming and discussions.
Providing consulting services, UXPressia's CX team noticed that both novice and experienced journey mappers need some nudge in the right direction when generating ideas for CX improvement.
With this problem in mind, our Lead Experience Consultant Yana Sanko and Nick Efimov, Chief Product Officer at UXPressia Academy, came up with a new free deck of customer journey mapping cards.
CJM Idea Generation cards
We created this card deck for everyone who needs some help with generating ideas for their journey maps. Use these cards to boost your inspiration and get ideas flowing like never before.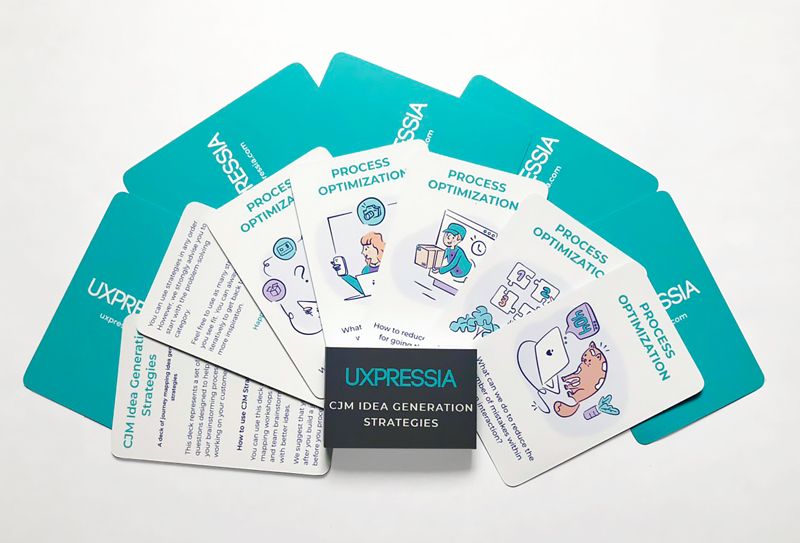 How To Use The Deck?
In the idea generation strategies deck, you'll find thirty print-ready cards with framing questions (and beautiful illustrations) that will help you enrich your brainstorming process when working on your customers' journeys.
You can use them either at journey mapping workshops and for individual and team brainstorming.
We grouped the cards into nine categories, some of which include problem-solving, process optimization, and brand alignment.
The perfect time to use these cheat cards is between you've built a journey and haven't yet proceeded to action planning. But it's totally okay to use them at any other time when you're stuck and need assistance.
You can use as many strategies as you need and in any order you like, but we strongly advise you to start with problem-solving cards.
Ready to start thinking more strategically about your customer experience?
ENTER YOUR DETAILS TO DOWNLOAD CUSTOMER JOURNEY STAGES CHEAT CARDS:
Related posts