Investing in employee experience, you invest in the present and future of your business. Employees make the business work, and a positive employee experience means more engagement and better business results.
To improve the current employee experience, you should understand what your employees go through first. Paul Lopushinsky, the Founder of Playficient, is sure that the best way to achieve this is by starting to view things from their perspective with the help of journey mapping.
To plunge into mapping employee journeys, join our live interview with Paul next Tuesday, October 20.
Event overview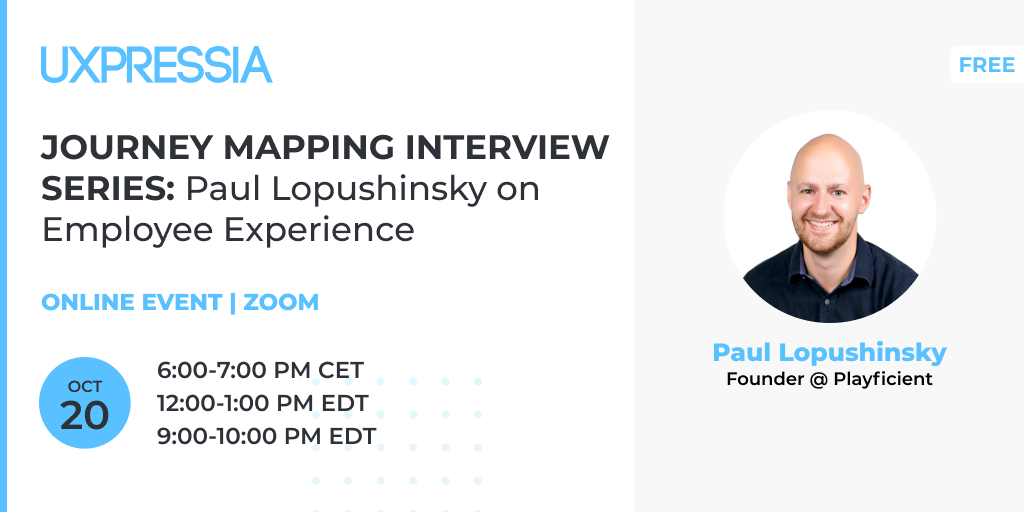 At the interview, Paul will talk about his experience with mapping employee journeys and their role in business success. You'll learn how to get buy-in from stakeholders for an employee experience project, where to start, and who should take part.
Plus, you'll have a chance to ask questions during the Q&A session at the end of the event.
About the speaker
Paul Lopushinsky spent years working on UX for customers and user onboarding experience. However, he found that most organizations pay little to no attention to their employee experience.
To address this gap, Paul founded Playficient, a consultancy that helps organizations see the value in putting employees first and making long-term investments into their employees and EX.
Want to learn to use journey mapping to improve employee experience?