In the modern world, we can't live without mobile phones and the Internet. Many of us stopped watching TV channels as they switched to streaming services. So troubles with the Internet connection create panic and drive us mad. No connection at all metaphorically sends us to a desert island.
Our new template will show you a telecom customer journey. We tried to capture their pains, goals, channels, and questions. We also figured out some ways to overcome possible problems.
A telecom customer journey map
Here's a customer journey of a person who needs to be connected wherever they are. We started with the Aware stage and finished with the Feedback stage. Thus framed the full cycle of a customer's interactions with a provider. Yet, it contains all the moments that matter within any timeframe.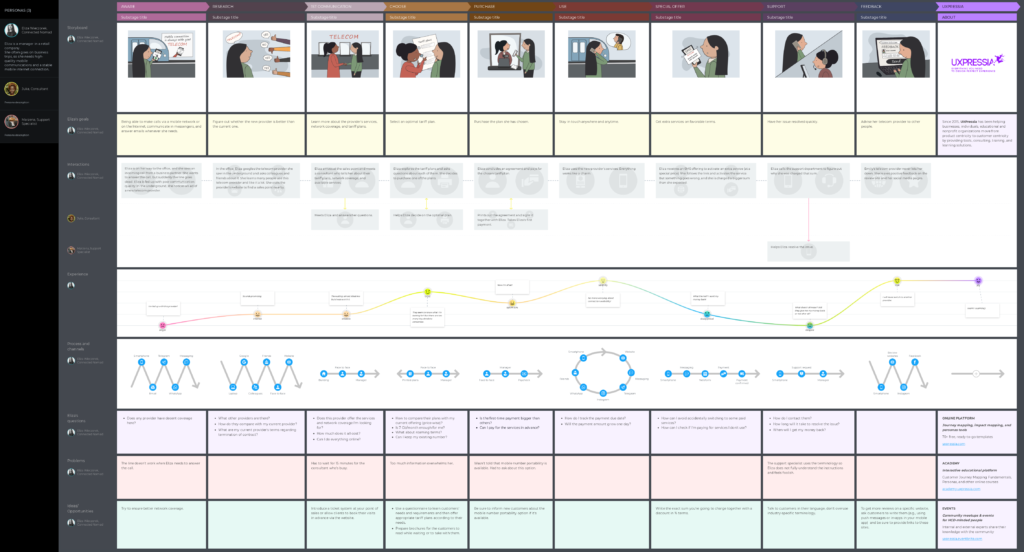 We developed a taste for uniting the narration, channels, and interactions in a single section. It's illustrative and saves your time and effort. Be sure to try it yourself. And don't forget to check out what opportunities we listed for you to improve the customer experience.
Persona(s)
Eliza is a manager in a retail company. She isn't happy with the current provider and is searching for a better one. 
Look at the Personas section on the map. As you see, Eliza interacts with a support specialist Marzena and a consultant Julia. These personas are secondary but essential to map the real situation. Maybe you have more personas involved in your customer's journey, feel free to create and add them here too.
Impact map
Following a telecom customer journey can give you useful insights into improving the customer experience. But how to map a measurable goal to come up with actionable initiatives? Try to build an impact map.
Say, you want to increase the number of new customers by 30% by Q4 2021. You consider potential customers too. Here's what you can get:

It's compact and simple, the best format to build your particular case upon it.
Today's a good day to design a telecom journey, don't you think so?
Related posts