Ho ho ho! The New Year 2017 just knocked at our door and that holiday whoop-de-do is just starting to cool off. Throughout the whole year, elves from UXPressia have been busy as a one-legged striker during the Super Cup. We've been making something really special. And we do have something to show for it. So how about you go and check out what we left under your Christmas tree?
The gift boxes are full of new awesome features. Just like we love it. And so do you. We can't wait to share them with you and your team! No more beating around the bush – let's open those boxes!
Dashboard 2.0
A brand new dashboard is at your disposal now! It's gotten better by a lot. The improvements are few, but they make a great difference.
Maps and personas are now organized by projects. No more mess with separate maps and personas scattered all over the place. A project once created can contain any number of maps and personas.

Create, name, copy and share projects with your team. Work on projects alone or collaborate with your gang.
Having all your stuff ordered by projects is vital. No matter how many personas and maps you got in development. You keep it nice and clean – it pays off with efficiency. Remember that creative chaos is a myth.
Personas Tool
Now that's where it's getting really hot! You've been waiting for this feature for so long and, finally, we are excited to present to you His Majesty The Personas Tool. We've built a whole new section where you can make the best personas with the least effort. I kid you not. Persona canvas features over 20 custom fields for you to get the most thorough image of your customer. Add and delete sections, drag them around the page and stretch to fit up to 3 columns – everything to make the output match your objectives the best way possible. Among standard stuff like demographic data, background, and goals, Persona Online offers other fields like:
Quote - a phrase that shortly describes personas' opinions and objectives. Great for a quick size up.
Skills - an important part when designing personas. A particular set of skills your customers have defines the way they interact with your service.
Technology – in some situations devices and OS they'
re running can tell a lot about a person. So we decided to include that too.
Personality – we also didn't want to leave out personality types so we hope they'll come in handy when you start designing personas. We'll cover more about personalities later in the article.
Social - what social networks your customers use can be of a great too. Feel free to choose between eight social network platforms!
Brands and influence – brands influence us in a much bigger way than we can imagine. Keeping in mind what brands influence your customers takes you one step closer to understanding them.

The list goes on. With so many fields you won't miss a thing and will have a complete picture of your customers. We really thought it through, didn't we? Go ahead and explore it yourself to see all the goodies we carefully prepared for you!
Generate authentic names for your personas
What was that site where you can generate a name for a persona? Let me google it now. Oh, wait! No need for that nonsense anymore - now you can generate a suitable name right away without leaving the page! Forget annoying copying and pasting with a neat name generator that we embedded into Persona Online. All the benefits of uinames.com service are now one click away from you.

Compare up to 4 personas on one sheet!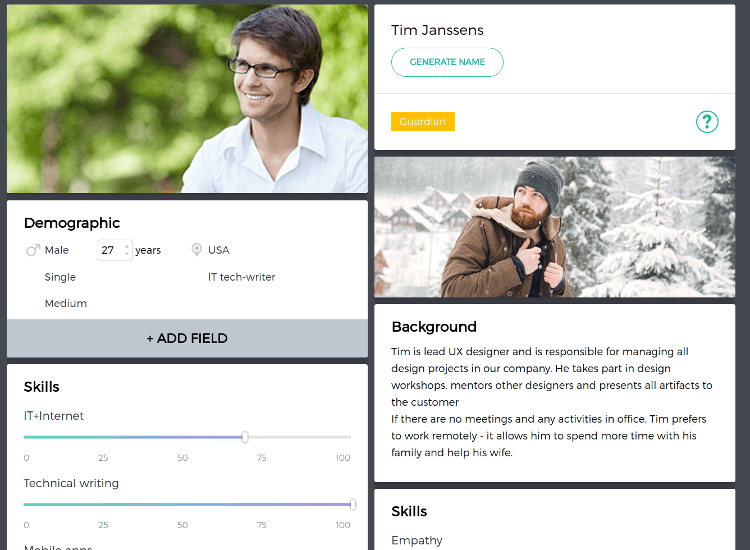 At some point, after you've made a few personas, you'll probably think "I wish there was a way to see all of them at once without jumping back and forth". You may want to choose a particular persona or to have a look at all of them. Maybe you'll want to work at a few personas simultaneously. Either way, we want you to have this option. This is why Personas Online is designed in such a way that you can do all of it on one and the same page. With up to 4 profiles per sheet, Personas Online becomes the ultimate tool for developing customer images. Now, how cool is that?
Personality-based design tips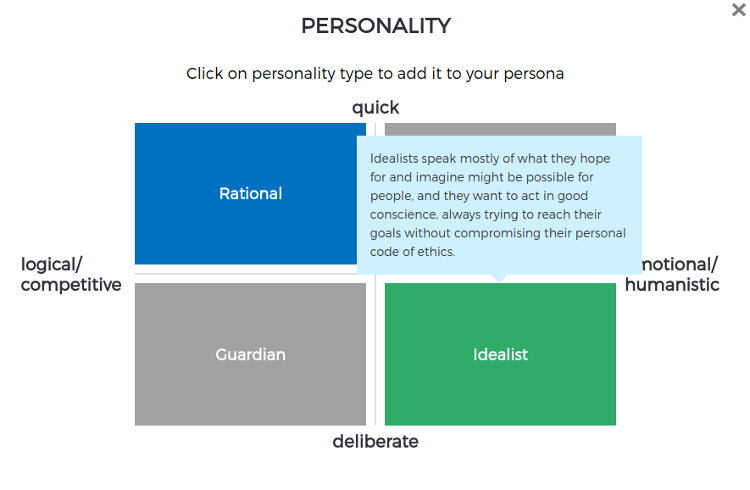 Sometimes knowing what personality type your customer is can be much more informative than everything else wrapped together. Okay, you guessed it – Personas Online got that too. Choose between 4 types – rational, artisan, guardian or idealist. Place your mouse cursor over one and you'll get a hint as for what this personality type means. Better yet – click a question mark button next to personality types to get the ultimate tip on how to apply it to persona design.
The truth is this is a beta launch (surprise if you didn't bother reading the title), so we'll keep working on the new features for a while. We encourage you to give us feedback in case you find some pesky bugs.
At UXPressia we do our best to make your user experience flawless so that you do the same for your users in return. With our brand new persona canvas and the updated dashboard, you'll spend more time designing great maps and personas instead of getting all the tools together. We've set up the perfect environment and you're very welcome to use it. You are even more welcome to share your thoughts and ideas regarding updates with us. We all know there's always a room for improvements when it comes to UX. So let's design it together!