One way customer-centric companies keep up with their customers' needs and goals is through customer journey mapping. With journey maps, you're able to visualize your customers' experiences to uncover various opportunities for improvement for your company or team.
Presenting maps is an integral part of any CJM project. There are a variety of factors to consider for your presentation. Whether you've been presenting customer journey maps often or this is your first time, this post will give you specific tips on how to make the most out of your next CJM presentation.
Set the goals for your presentation
To present customer journey maps well, you must come prepared. The first thing you should consider is the purpose of the presentation. What do you want the audience to take away? What do you want your audience to act upon as a result of your customer journey map presentation? Set a specific goal for the presentation.
For example, your goal might be to:
Understand your audience's needs
First, try to get to know your audience. You'll specifically want to identify how much they already know about journey mapping, the current state of your company's customer experience, and the desired state. Knowing who your audience is beforehand will help you prepare and present your customer journey map.
Next, start weighing what you know about your audience against the purpose of the meeting. You don't need to go into an in-depth analysis if your audience only needs to focus on a selected part of the CJM. The opposite is also true; for example, the support team doesn't need to see the stages where the sales team is involved.
Additionally, to ensure everyone can relate to the talking points, make as many practical connections as possible. Provide real-world examples during your customer journey map presentation.
Preparation tips
In UXPressia's CJM tool, you can create custom views of your journey map and choose which of its stages and swim lanes will be visible and which of them will be hidden in each view.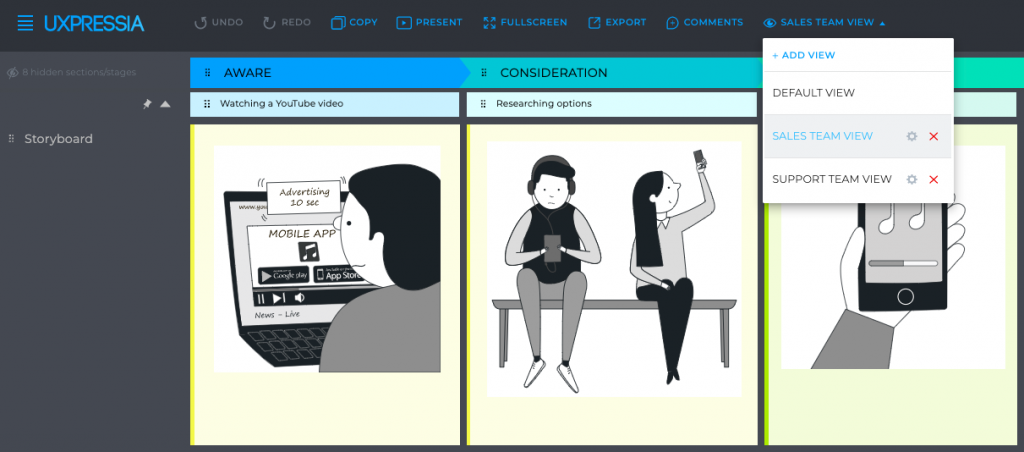 At the start of your meeting, you can show the whole map to your audience to give them an idea of how long the journey is. Next, use UXPressia's View Mode to focus on the specific parts of the CJM relevant to your presentation.
Different types of presentation
There are a handful of different ways to conduct a CJM presentation.
Presentation type 1: when presenting a research-based map, moments of truth can act as hooks to engage the audience. Uncover those things that were previously invisible to the team to attract their attention to the data. Leverage the insights uncovered with the help of the CJM.
Presentation type 2: when pitching a new feature to stakeholders, highlight users' pain points, and explain how the new feature can help eliminate them.
Presentation type 3: when describing past achievements, share the results. Highlight the difference between the past and current metrics, past and current experiences, fixed pain points, new opportunities, and so on. This way, everyone can clearly see the changes to the experience and their effects.
Use powerful storytelling
Visuals help support what you're presenting and help make you a great storyteller. The visual can be videos, screenshots, emails, audio recordings, diagrams, graphs, etc. Consider adding storyboards to your presentation, similar to comic books. Visuals can be exceptionally powerful as they allow your audience to immerse themselves in your presentation's story.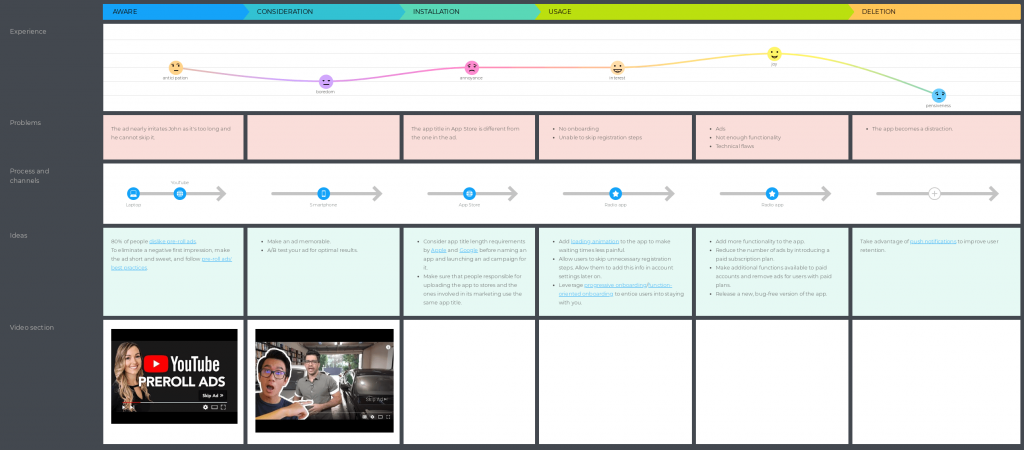 Another thing to be mindful of is that some people love numbers instead of visuals. If you're going to present your map to a numbers-driven CEO, there's no need to draw storyboards. That's why knowing your audience beforehand is so important in creating the right CJM presentation.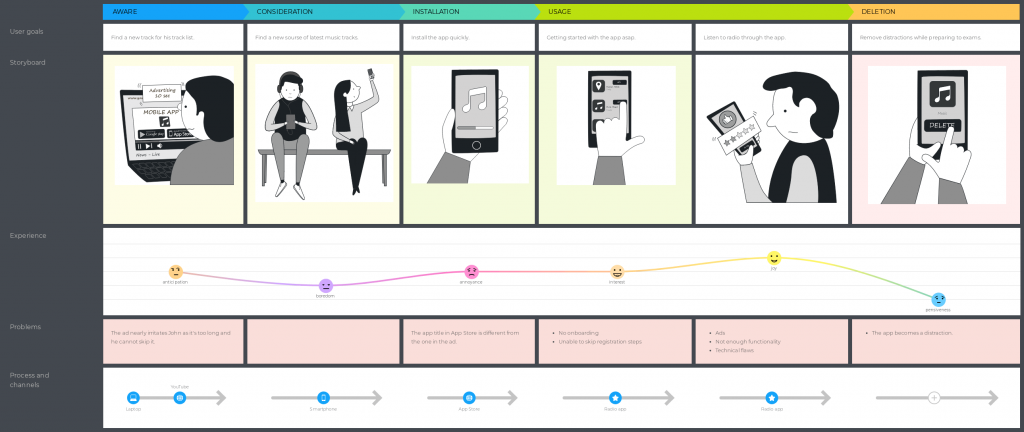 Storytelling tips
Use physical props if possible. Apple's QA employees are required to open Apple product packages hundreds of times to ensure it's easy for customers to unpackage the products. In this case, it would make sense to bring along some samples of poorly packaged products to highlight the importance of easy & straight-forward package design.
Another example would be to bring a piece of broken tile from the leaky hotel roof, which has resulted in hotel visitors having bad experiences. The broken tile, paired with negative reviews from disgruntled customers, is bound to get your point across.
Tips on using presentation software
The best software for presentations will depend partly on your preference and partly on the needs of the presentation. You can use a variety of different tools all of which have their own pros and cons. Some of these tools include:
Prezi or Visme presentations
PowerPoint or Keynote decks
Google Slides
Use videos, animations, and images that will best help you tell the story to your audience. Don't forget to include snapshots of the CJM too! Keep a link handy to an active CJM, which you can reference and explore as needed.

Lastly, don't forget that UXPressia has Presentation Mode too — you can find it in the top left navigation next to the undo/redo buttons.
Collaborate with participants
Our last piece of advice for you is to make sure your presentation is interactive. Don't just talk. Engage with your audience. Most presentations are made to educate others. Although people learn in different ways, asking them questions is a great way to gauge if your audience understands you. Consider allowing time for brainstorming, discussions, feedback, or any other type of collaboration to strengthen the takeaways from your presentation.
Roleplay the customer experiences
No matter your company or team size, it's essential for everyone to feel inspired and excited to deliver new and improved customer experiences. A great CJM presentation rallies for that excitement. Using visuals, graphs, maps, numbers, or physical props is a good starting point.
"When we work with large teams in a call center of 1200 people, it is not possible for all of them to co-design the experience. But it is really important for them to get excited and feel inspired to deliver the new, improved experience," says Chantel Botha, BrandLove CEO & Founder.
It's one thing for your teammates to understand the customer journey. It's another for them to experience it. Incorporating roleplaying and improv into your presentation is a fantastic way to get your audience to further experience the joys and pain points of your customers' journeys. There is no better way to build empathy than to actually go through what your customers are going through.
Conclusion
As you can see, there are a few different things you can do to prepare for a successful CJM presentation. It doesn't have to be complicated nor intimidating to present customer journey maps. All you have to do is plan out the session ahead of time to create a memorable and effective CJM presentation.
Related posts