How many people have their own cinema customer journey nowadays? Hundreds, thousands, millions? Even many small towns have at least one movie theater, let alone megalopolises where the choice of cinemas is wider than ever. The choice that's strongly influenced by customer experience, which can easily take visitors away from the cinema closest to their home to the other side of the city.
To understand what lures or scares away your guests, gather and turn the data about them into actionable ideas, and win the battle for movie goers' hearts, you need a visual weapon — journey mapping. Or rather a cinema customer journey.
And first…
Define your cinema customer journey persona
Do you know who goes to your cinema? Some of them you remember well. Like Peter, who ran away from the last classes but shouldn't be home until eight pm? Or Mary, who invites all her dates to the same theater? Or Jonathan, who never misses a DC premiere? But to have a comprehensive picture of your entire audience and their journey and experience with you, these three aren't enough.
Not sure where to begin? Try to answer these questions:
What kinds of people visit you?
What unites them?
How to collect more information about them? Should we do some research?
What research methods are better to use in my case?
Research is a whale on which you put any CX initiative. Therefore, only real and reliable data will give birth to personas that speak the truth.
In the end, you'll be able to single out from one to three to five segments with similar attributes, and they will be your personas. Here's an example of what a persona may look like: 
It's Margarita, a movie geek and her profile. And if you did your research properly (conducted polls and customer interviews, gathered and analyzed feedback, read reviews, etc.), you have enough data to include in the personas' profiles: from demographics to technology your customers use to their favorite brands to pain points.
Indeed, you may always include or cut out some information. The most essential part is to make your persona feel real. All for the sake of empathy.
Once you've done with the persona profile(s), it's time to decide whose cinema customer journey you're gonna map first. Then…
Build a cinema customer journey map
To begin with, let's dwell on the cinema customer journey's structure. The stages of such a journey may be a little different for online cinemas, outdoor cinemas, cinema complexes, cinemas in shopping centers, etc. But here are some of the common stages:
Awareness — here the persona recognizes their need and somehow learns about you.
Research — the persona has to be sure you are the best option on the market. So they collect information, talk with people, read reviews, form their opinion, and make a choice.
Visiting the website or downloading the app — your persona becomes your lead and checks your web resources out.
Buying tickets — it may be an offline purchase in the movie theater or an online buying via the website or mobile app. The way your customer pays may differ as well.
Entering — this stage may happen earlier, before the buying process. Here your persona finds your location and enters.
Getting snacks — a few people watch movies without snacks, so your persona will probably buy a drink with popcorn or nachos.
Waiting — your customer needs to wait before the movie starts.
Watching the movie — only here the persona gets what they pay for.
Using the restroom — some customers won't need to use your restroom, but most of them will. So think of considering this stage as well.
Leaving — here your persona leaves the cinema. They need to throw the garbage while standing in line in the wardrobe, looking for a car in the parking lot, calling a taxi, discussing a movie, and so on.
Retention — at this stage, your persona either buys tickets for the next movie or thinks about whether to return to your place again.
Remember Margarita? Let's dive into her case and see how it will play out stage by stage.
So Margarita hears about a new cinema opening in the mall near her house. Why not go there and watch a movie she's been waiting for a couple of years to be released? Thus she decides to google this option. Her cinema customer journey starts with the Research stage.
Stage 1. Visiting the website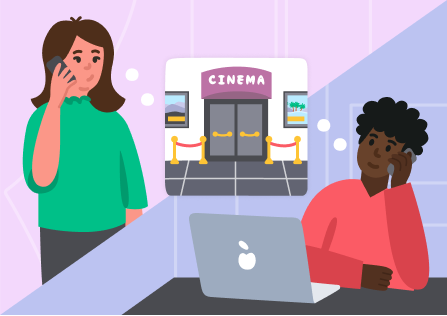 Customers don't like to buy a pig in a poke. Even standing at a metaphorical shelf and holding an item in their hand, they google reviews before going to the checkout. Yes, some may go to the cinema with a friend and thus become your client, but most people will collect information before choosing the place.
Margarita purposefully goes to the movie theater's website recommended to her. Yet the site is overloaded with the information she doesn't really need. Her goal is to find the fitting session, not to read interviews with actors. Unfortunately, the page's usability with the selection of sessions leaves much to be desired.
Questions to ask yourself at this stage:
How structured is the information on your digital resources?
Is it easy for customers to navigate the site?
Did you run usability tests?
Stage 2. Buying tickets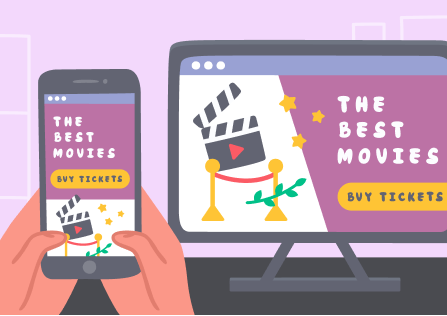 It would seem that it's a very common stage where customers pay for something they need. What can go wrong?
Margarita chooses the time and day to watch the movie, goes to the checkout page, and almost pays. But then she sees a message about a discount she can get after installing a mobile app.
As Margarita wants to buy tickets for a premiere session that is always more expensive than regular ones, she likes the idea of ​​saving money. But isn't it annoying that she gets such essential information only after filling out all the data?
Margarita installs the app, yet it doesn't allow her to use the discount code without registering as a customer. Margarita is nervous because to get the best tickets she has to be fast like Flash (see, Margarita loves comic books). She also expects to pay via PayPal, but there's no such option yet.
Some other problems this step may include:
A customer pays for the tickets but never gets an email with their electronic copies and has no account on the site to prove the purchase.
Two tickets are sold for the same seat because of the system error.
The mobile app is not compatible with the OS, so the client can't have the same perks as the other clients do.
To prevent such problems or identify others, answer the following questions:
How many steps does it take a customer to buy tickets online?
How many options does a customer have to pay for tickets?
Does the cinema have offline contactless ticket terminals?
In what form does the client receive a ticket and do they know how to use it at the entrance?
Is promotional information and discounts available on the main pages of your digital sources?
Do you have a bonus system that will encourage purchase with registration in the system?
If the online system crashes and the customer doesn't receive a ticket, how do you treat this situation?
All in all, the film industry is a curious thing. The moment of purchase occurs almost at the very beginning of the cinema customer journey but doesn't guarantee the buyer's joy. So it's not the time to relax. Let's move on to the next stage.
Stage 3. Entering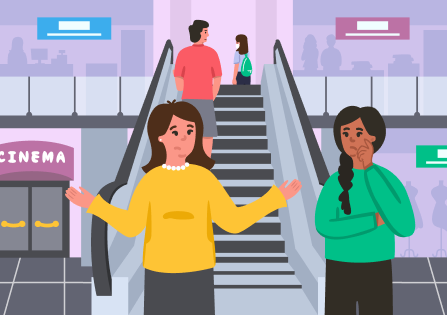 Cinema visitors come to you in many ways: by private car or public transport, on foot or by taxi.
Margarita, for instance, arrives by car and has to find a parking space. She's not yet a very experienced driver and wouldn't like to go to the upper floors of the parking lot. But there are lots of cars, as many as people in the mall — and it also influences her experience.
At this stage, customers directly interact with your brand through physical channels. And what channels matter depends on a persona. Some of them crave stylish surroundings, some will have an asthma attack because of the curtain dust. Some expect to see neon and bright posters, while some can't imagine a movie theater without a hot caramel smell.
Possible questions to ask at this stage:
Is it easy to find your cinema? Is there a guide on your web resources?
What does your cinema look like inside? Is it clean? Is it stylish?
Does anyone welcome guests?
Are there atmospheric posters?
Some say people come to the cinema for movies only, the rest doesn't matter. But the devil's in the details. Smells, neon signs, soft sofas, shiny floors — all anchor your visitors' memory to your brand.
Stage 4. Buying food & drinks
Few people deny themselves the pleasure of crunching something during a movie session. A delicious popcorn can sweeten up even the most boring movie, enhancing the visitor's experience. And a rude movie bar employee can spoil the mood for the rest of the evening.
Margarita checked the menu on the cinema's website in advance and expects to buy her favorite popcorn, which turns out to be not available. Moreover, the cinema has recently opened and they have interruptions with the Internet, and therefore contactless payment. Fortunately, there are ATMs in the shopping center to get cash. But, let's admit, it would be better if the menu on the cinema's website and the menu were up-to-date, and possible problems with payment would be stated on the main pages.
Other important thing for visitors at this stage:
The absence of long queues;
The presence of favorite positions in the cinema bar;
The opportunity to get a cold drink;
Convenient packaging (it would be a shame to spill popcorn before the start of the session or pour Coca-Cola over yourself);
Having various payment options.
Other questions to consider:
How varied is the bar menu?
Are there combo sets in the menu?
Does the cinema bar have a discount system for regular customers?
Is it possible to pre-order at your bar and get the snacks in the viewing room instead of carrying them around before the movie starts?
It happens that people come to a particular cinema because it has the most delicious popcorn in the world. If your cinema bar has at least a one-star position, there's a chance to form loyal customers through it.
Stage 5. Waiting and looking around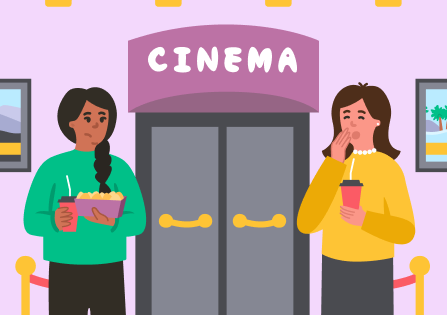 It rarely happens so that between arrival at the cinema and the session is literally a couple of minutes. Usually, visitors need to somehow keep themselves busy while waiting for the movie.
The cinema's area doesn't always allow you to install large-sized attractions and slot machines, but you can always come up with more compact entertainment. Or you can warn visitors about their session 10 minutes in advance by SMS or push notifications, letting them go shopping or do something else outside the cinema.
As for Margarita, she can't entertain herself and find a place to sit. The movie theater is too crowded and small. When she goes to the movie viewing room, she can't enter either, since the cleaning crew isn't done yet. In other words, Margarita is tired and annoyed before the movie even starts. Ouch.
Things to think about at this stage:
What is the average number of visitors waiting for a session?
Is there enough space for everyone?
Is it possible to pass the time by reading a magazine, watching a short film, or posing near a photo zone?
Is the cleaning schedule well organized?
In big cities, it's difficult to calculate the time for a ride, so people tend to arrive long before the start of the movie session. The more pleasant they spend time before it, the stronger will be their desire to return.
Stage 6. Watching the movie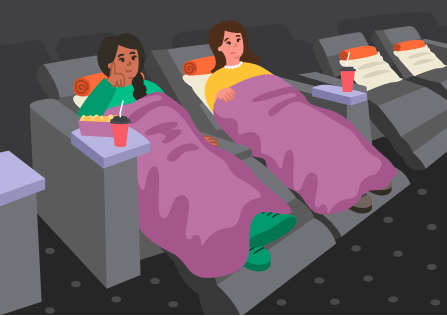 Finally, the moment of truth. Entourage, snacks, and bright posters are good, but people come to the cinema primarily to watch movies. They should be comfortable for several hours, they should be pleased with the picture, sound, and story. And if the latter hardly depends on you, the viewing room equipment is something that you can influence.
Our persona lets the ticket taker scan her e-ticket and enters the room. And the room makes a powerful impression on Margarita. She likes the distance between the rows, transforming chairs, and the availability of tables. She even forgets how dissatisfied she has just been with the long wait and aching legs.
Thus, this stage in her cinema customer journey brought a wow effect and smoothed out the likely negative from the previous stages. So pay attention to such bursts of pleasure on the experience graph of your personas and make sure that the experience at this stage is top-notch.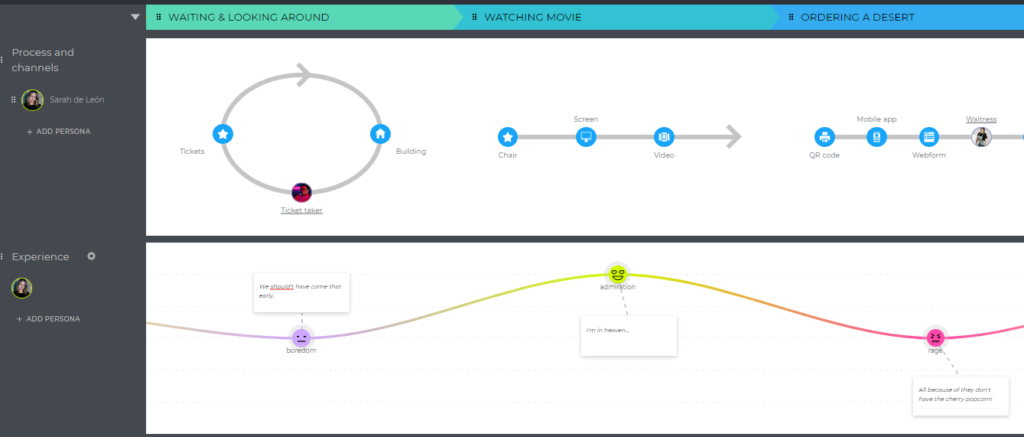 Questions that will help you approach this stage from the right angle:
Are visitors comfortable in your chairs?
If suddenly they are a little late and the lights are already out, will they be able to find their seats without falling along the way?
Do tall people get stiff necks after sitting in your chairs?
Do the amplifiers deafen those who sit on the edge?
Are there additional services available?
Is the view equally good from all places?
Is everything good in terms of room temperature?
Even the most boring movie can become cooler thanks to a comfortable environment and, say, high-quality sound. So don't skimp on the equipment of the viewing hall and it will pay off.
Stage 7. Additional services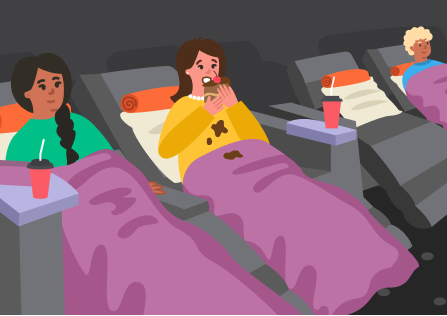 Additional services may concern not only watching a movie and the viewing room itself. Customers love playing air hockey, buying film souvenirs, giving discounts from partners, enjoying 4D attractions, or using massage chairs, too. The presence of such things makes your service more diverse and creates additional reasons to improve the customers' mood.
Margarita, who is sitting in the viewing room, notices a QR code on the table to use for ordering desserts from a nearby coffee shop. Having no luck with popcorn, she decides to treat herself with a chocolate cake. The hall is dark; the server is dropping disposable cutlery somewhere, and Margarita has no way to contact the coffee shop except to place another order. She eats with her hands but gets her favorite blouse dirty.
Points to think about here:
What additional services do you offer at your cinema?
Do you help third-party companies to serve your customers?
Do you collect feedback about additional services to make them better?
Cinema theaters are that rare ‌service that are more than their primary purpose. In sum, the more pleasant experiences a customer can have within your walls, the more they will like you. But if a third-party service makes a mistake, the negative will also affect your business.
Stage 8. Using the restroom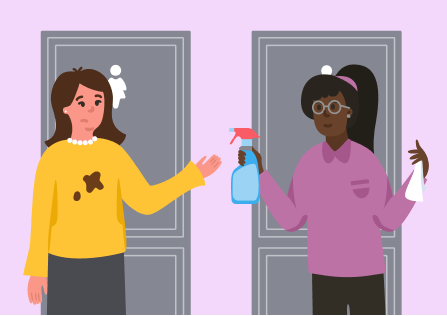 There's a good chance that your guests will want to use the restroom. And not always for its intended purpose.
Margarita hurries to the restroom in the middle of the session to wash the stain, but there's only colored liquid soap in the spray bottle — she's afraid to make things worse. Fortunately, the cinema administrator comes to the rescue and finds a stain remover for her. The blouse is saved, as is Margarita's mood.
Things to think about at this stage:
Is your restroom clean?
Will visitors be able to get help if they need anything missing in it?
Do the cabins have hooks for bags?
Stage 9. Leaving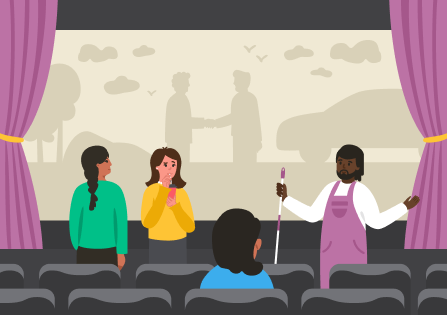 The movie ends, and the audience leaves the viewing room and the cinema. Someone shares their impressions on the go, someone hurries to the parking lot, and someone wants to watch the scene after the credits.
This is what happens with Margarita. The cleaning crew comes into the hall and asks everyone to leave. Margarita gets upset — she wanted to wait for the scene after the credits — but fulfills the request.
What else you may want to consider:
Is there enough light in the hall during the credits to find a way out without injury?
Is there a place for guests to throw their trash?
Are queues formed after sessions for the toilet or cloakroom?
Does anyone say goodbye to the guests at the exit?
Should you give out any promotional materials with upcoming films?
Stage 10. Retention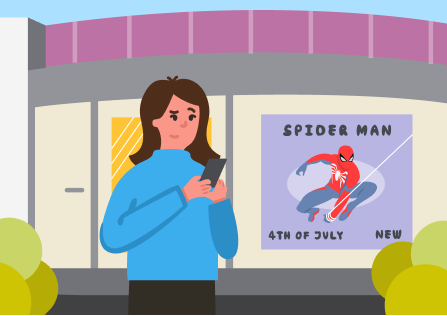 At this stage, your visitors face a choice: should they watch the next movie in your theater or go to another one? And here, the experience gained previously will play a starring role.
There are the things that can help you influence their decision:
Send a promo code for a discount,
Promise a nice movie souvenir as a gift for their next visit,
Describe the advantages and invite people to join your loyalty program,
Send a push notification to the customer notifying them of the loyalty program.
Some questions you should ask yourself here:
Do we enable customers to share their feedback in the most convenient way?
Do we study what people say about us on the Internet?
How do we work with negative reviews?
How do we maintain the loyalty of regular customers?
Having done this huge layer of work and converted the data into a cinema customer journey map, you will get something like this: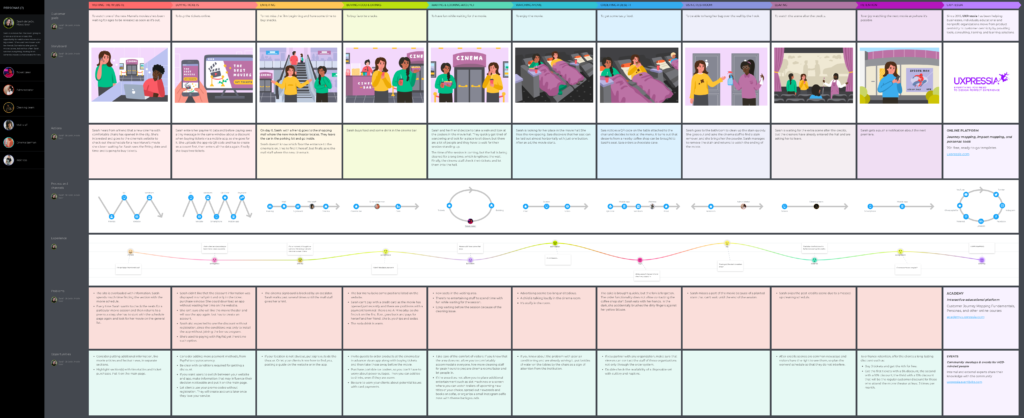 The cinema customer journey map is an excellent presentation material for a collective or individual brainstorm. In our example, we have already offered ready-made solutions to the identified problems, so it will be a great help in your initiative.
Summing up
There are many cinemas, there's a lot of competition, but the comfort and pleasant experience make us return to the same places again and again. The places where the business cares about us, looking for ways to solve our problems, and enhance what we already like.
To become such a business, you need to communicate more with your customers. You have to research the industry and audience, then turn the data you get into visual maps. Such maps can be referred to at any time to understand the experience of your customers at any stage and what else you can do to improve their experience.
To make it easier for you, we share templates of Margarita and her cinema customer journey. Both filled in with data and actionable ideas. Both are downloadable for free. You may also use those within our platform by adding to your project and reshaping to your case.
Related posts