Starting something new can be both exciting and intimidating: whether it's a job, a hobby, or a service you try for the first time. Be it an unknown interface to work around, a location to memorize, a device to master, or a list of features to set up: becoming a confident product user often takes a learning curve.
Onboarding is kind of like putting training wheels on a bicycle: it eases you into the skill until you're ready to ride on your own. The steps and milestones that get you from point A to point B add up to form the customer onboarding experience.
In this guide to onboarding, you'll see how it applies to both online and offline businesses and, through examples and best practices, recognize the added value and benefits it can bring.
What is customer onboarding?
Onboarding is a process each customer goes through to get familiar with a new (or well-forgotten) product. They self-educate using guides, tutorials, or instructions from business representatives. Onboarding can take the forms of discovery, orientation, training, and mentorship; happen individually or in a group.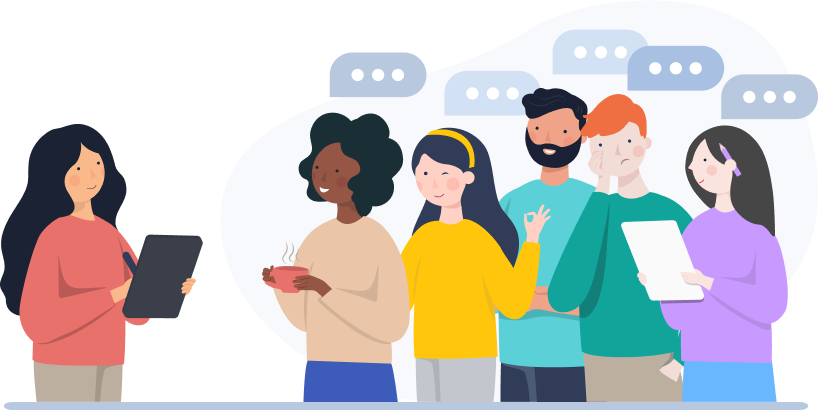 Here are some onboarding examples you may have encountered as a customer:
Adding your payment information to a mobile app for the first time;
Reading a manual on giving voice commands to a smart speaker;
Adjusting a new fitness tracker to your sleep cycle and workout routine;
Choosing your preferred language and currency on a shopping website;
Following the signs and wall posters for a self-service laundromat;
Having the hostess explain how to order and pay in a conveyor belt restaurant;
Taking a virtual or physical hospital tour of a birthing center during pregnancy;
Importing client records from the old CRM system into a new one;
Finding your way around an exhibit during a first-time museum visitor experience.
In complex industries like machinery or banking software, onboarding can take weeks or even months. On the contrary, offline businesses, day-to-day devices, and e-commerce websites usually have a shorter adaptation process. For instance, learning to operate manufacturing equipment requires far more effort than figuring out how to set up an automatic cat feeder at home.
If we look at onboarding from a business perspective, it may or may not require assistance from frontline staff. Think of this: an appliance company distributes the same standard self-help manual, while an online CRM platform does individual one-on-one calls. Either way, onboarding isn't the sole responsibility of customer success, sales, or support departments. Other teams, like product and UX design, content, or IT also contribute to the customer onboarding experience.
Why is customer onboarding important?
People won't be eager to stick around when things seem confusing, inconvenient, or complicated right from the start. Onboarding can reinforce a positive experience, proactively address issues before they arise, and retain clients, turning them into happy brand ambassadors. It also plays a key role in defining the customer's first impression of a product or service.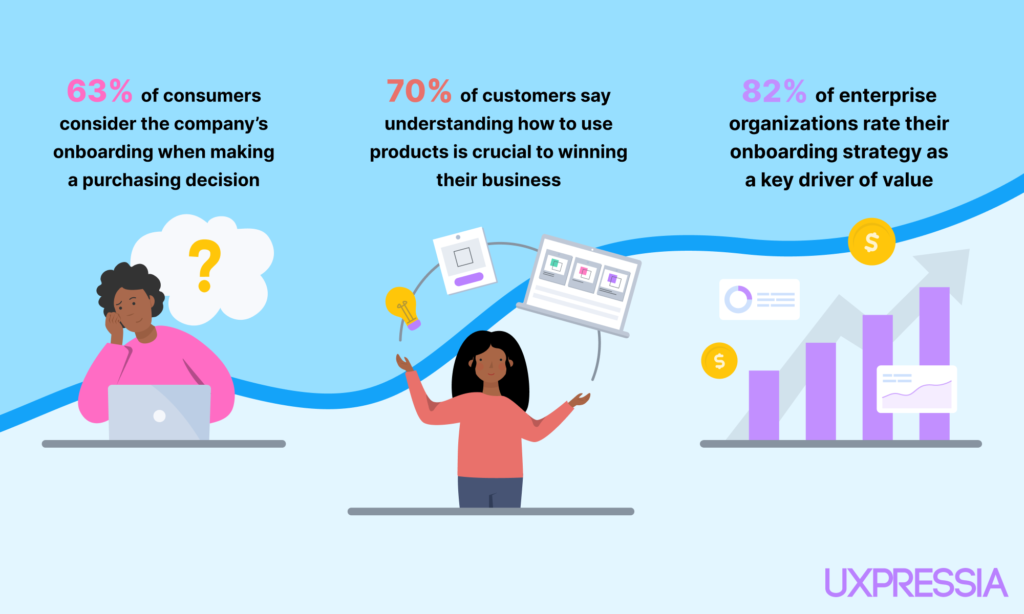 Still not convinced? Here are five business benefits that come from having an onboarding program:
1. Improved retention
If clients do not get clarity on how the product works, they are likely to switch to an alternative. Onboarding can help convince people they've made the right choice, get them engaged and excited about the experience that lies ahead, and, ultimately, make them stay with the company longer. That is especially critical for online services, where uninstalling an app or closing a browser tab is always just one click away.
2. Higher conversion rates and upsell
Services with samples, device testing, or visitation tours need a finishing touch that pushes people to purchase. The same goes for digital products with free trials or demo subscriptions. Onboarding can highlight the extended value that comes with paid features and show that continuing the full-access service is worth the money.
3. More word-of-mouth marketing
When people really like your product, they'll tell their friends, family, and colleagues about it. And referrals are an excellent channel for finding new clients: acquisition is free, and trust levels are high. Word-of-mouth marketing usually goes hand-in-hand with customer loyalty. It's about building long-term relationships with clients, and onboarding is where you lay the foundation for years to come.
There's even a way to combine this benefit with the previous one: by offering a freemium bonus (like a complimentary cup of coffee, a two-week service trial, a free-access online course, etc.) to people that come through a referral.
4. Fewer support inquiries
With clear step-by-step instructions, customers can troubleshoot most issues on their own, or even avoid running into them in the first place. Educational materials like guides, video tutorials, FAQs, or a knowledge base will lower the overall number of support tickets. This means your team will be able to focus on more advanced inquiries instead of repeatedly addressing basic ones.
5. A competitive advantage for B2B clients
Companies in the B2B sector usually seek out products and services with upcoming projects in mind. Time and money are of the essence to them: the faster employees master the new software or hardware, the better. A solid onboarding program can set you apart from competitors as it ultimately reduces time-to-market for your clients' projects.
The elements of the customer onboarding process
As we saw in the examples above, the customer onboarding flow depends on the business structure. If interactions mostly happen online, one can expect to see elements like registration, email confirmation, or setup tutorials. For services received in person, there would probably be meetings, tours, or live demonstrations instead.
However, if we compare the customer onboarding experience for an online and an offline company, we'll see that even when they take different forms, they match in purpose. Let's say you need to go to the health department to get a copy of your birth certificate:
First, you'll need to be identified, which is similar to logging in;
Then, you'll fill out a form referring to a print-out, the same as with a template;
When in doubt, you would ask the consultant, while online, you would use a live chat.
So it's just a matter of looking at the same things from different angles. According to Gartner, 91% of businesses engage in some form of digital initiative, and 87% of senior business leaders name digitalization as a priority. Even traditional brick-and-mortar companies maintain a web presence with social media pages to have those additional touchpoints with their customers. Online onboarding, therefore, will be relevant to most companies quite soon, if not already.
Let's go over a few online onboarding elements that you can introduce to your website or app:
Pre-filled placeholders and empty states of features before the first use so that customers don't have blank page anxiety;
A knowledge base with guides, tips, and self-help articles;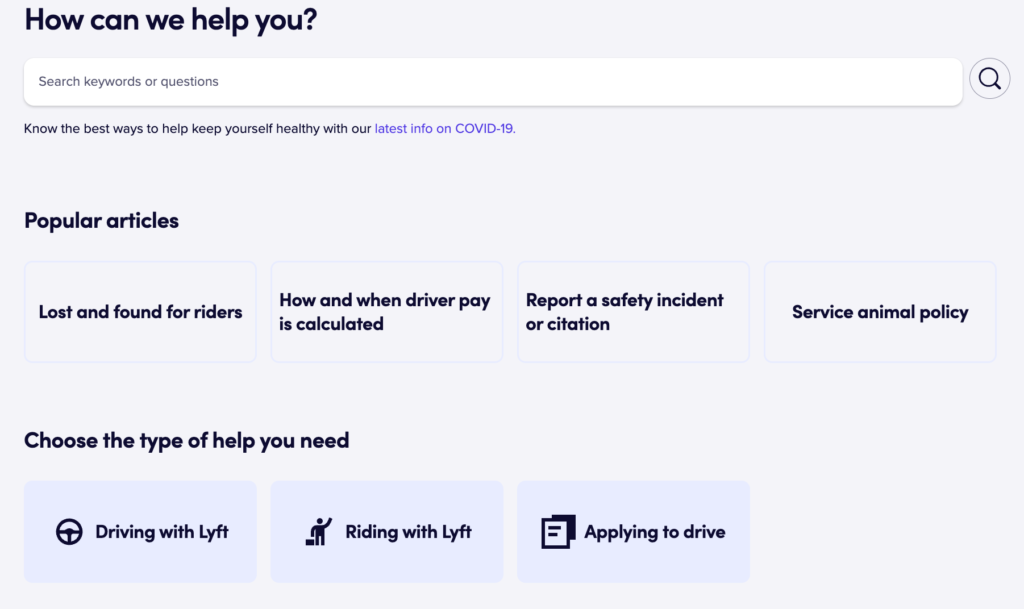 Feature tooltips that provide context and gently nudge the user to explore the product further;

A personal demo or a briefing from a company representative (very common for SaaS onboarding);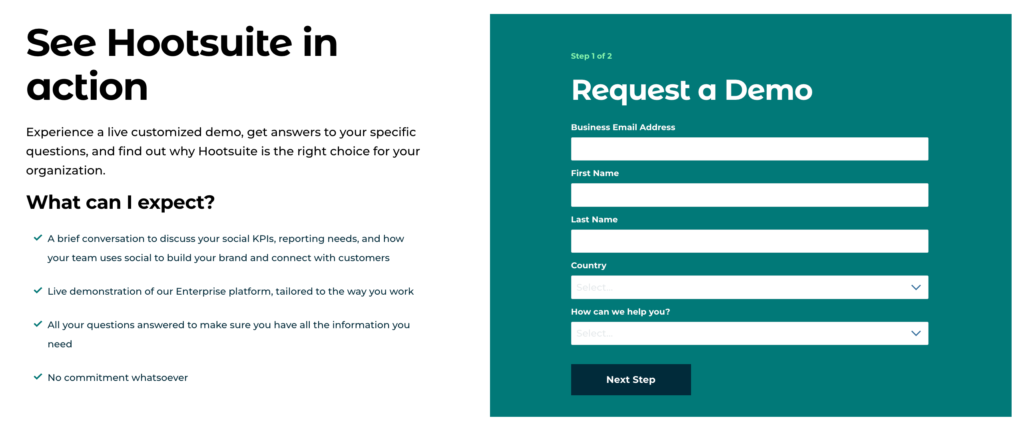 Templates or use cases for an easy start.
Ten best practices for customer onboarding
If you're wondering how to improve the customer onboarding experience all around, here are ten best practices to follow:
Know your customers
People come from different backgrounds: their goals, previous experiences, motivations, and frustrations are not the same. So it's important to tailor the onboarding process to correspond to the target segments of your audience. Defining personas and spreading them across the company can help develop empathy and learn how you can assist users along the onboarding journey.
A novice user who wants to start managing personal finances and an experienced trader with an investment portfolio will have completely different motivations and frustrations, feature expectations, and domain literacy. Their onboarding programs, therefore, should also focus on different aspects, and even use different terms, references, and examples. The customer persona profiles made with UXPressia's online persona creator.
Break down the process into smaller steps
As with any skill, it's best to start small and gradually build up the onboarding process. So ask yourself: what are the basics of your product or service that all user groups need to master? And introduce those features first. Say, for an email marketing platform, it would be creating an email draft, segmenting the audience, scheduling a newsletter, and being able to interpret campaign results.
Celebrate achievements
Quick and easy wins will encourage people to continue learning and prepare them for more complex things to do. Congratulating people for their achievements within the product or service adds a touch of fun and boosts loyalty.
If it's an online tool, you can use progress bars to let customers know where they're at right now and what activities and rewards will follow.

Stay available
New users or visitors are bound to have questions even with the best onboarding program. So be prepared to offer a helping hand: have a chat icon accessible from all website pages, appoint a staff member who can assist customers on premises, give out business cards with contact information, or whatever works for your use case.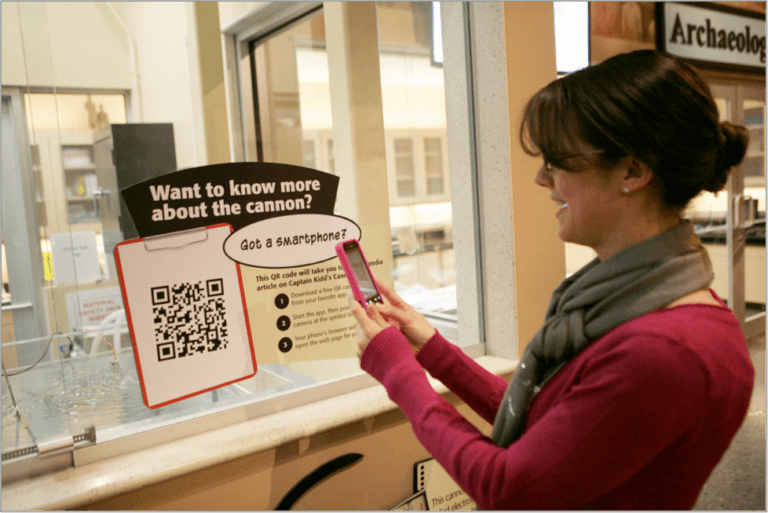 Personalize the experience
A personalized customer onboarding experience leads to higher user engagement as it can let people study the new product at their own pace. Some examples here are:
Asking for preferences and goals;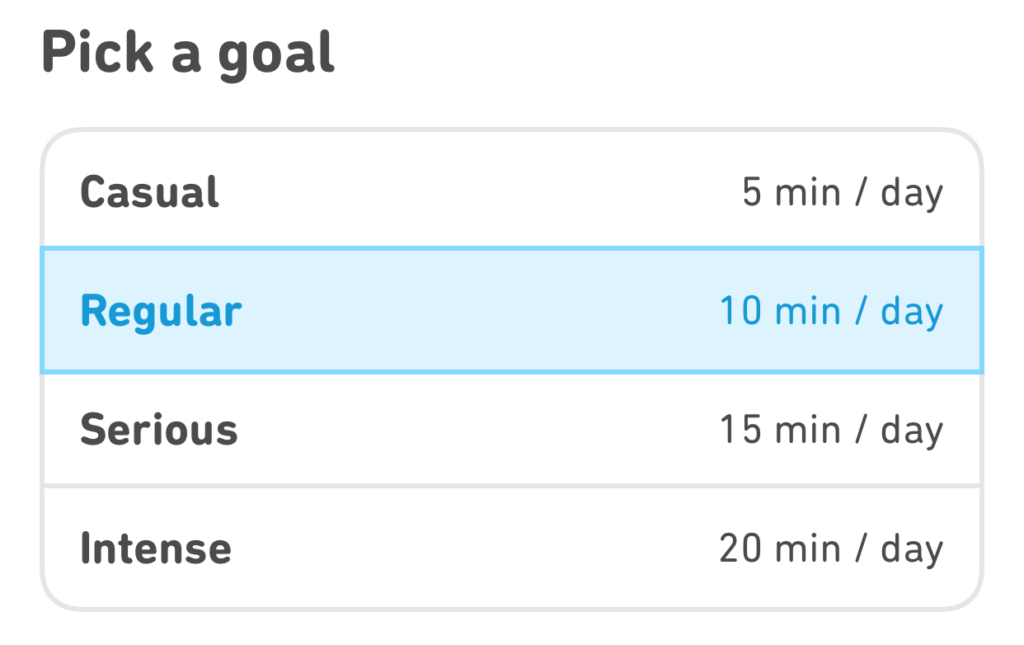 Adjusting the suggestions to the user's level of experience;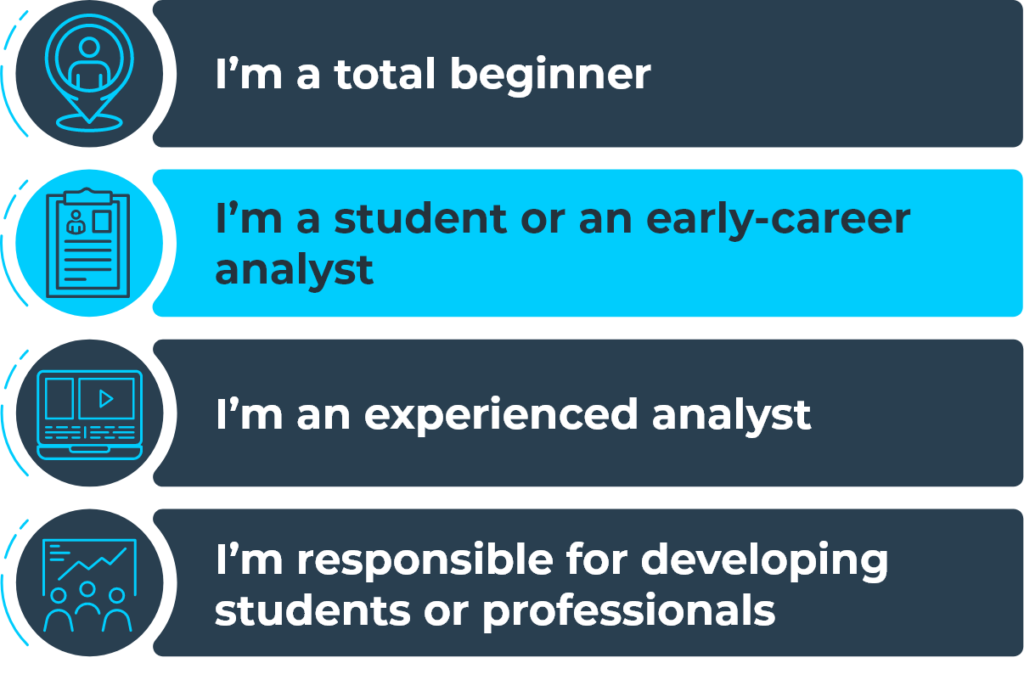 Allowing to skip lessons and tutorials that are too easy.
Duolingo has a placement test that takes learners with some experience to a level where they'll be challenged, and automatically unlocks all previous lessons.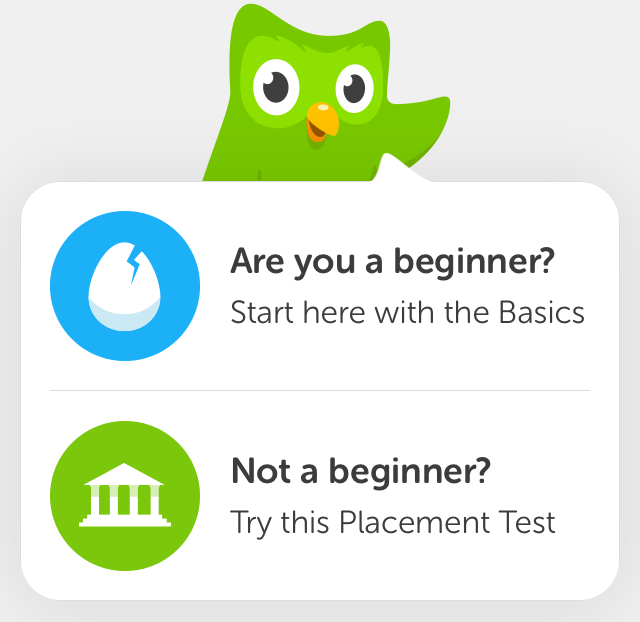 Maintain a balance between self-help and hand-holding
Since the ultimate goal is to get customers to a proficiency level where they can complete tasks by themselves, you can gently shift the focus from proactive support to self-educational materials. Create FAQs, manuals, help center articles, or community forums where users can share experiences and troubleshoot issues.
Have a clear picture of the process
It's important to look at onboarding not just from a user perspective but through the eyes of the business as well. To make the two worlds meet, turn to customer journey mapping. A visualization of every interaction that takes place will allow you to pinpoint the highs and lows of the current onboarding journey and discover opportunities for improvement.
Track progress
You should decide on several tangible customer onboarding goals and track whether your current setup allows you to reach them. Have a team meeting to discuss what actions or metrics, in your case, would indicate that the onboarding process was a success (time to value, churn, customer effort score, etc.). We'll go deeper into the exact parameters to track next time.
Make onboarding optional
There are several instances where a customer might not need a full-scale onboarding: they have previously used your service for work and now want a personal account, or they were once a client a long time ago and still remember the basics, and so on. In cases like these, making people go through the whole process again is unnecessary and might even be a turn-off unless there's an option to skip.
Ask for feedback
You can't craft the perfect customer onboarding experience without actually talking to your customers. The product, as well as the audience, keeps changing with time, so onboarding also shouldn't be static. Ask new users for feedback (say, in person or via email) and adjust the process accordingly.
Customer onboarding examples
Now that we've broadened the meaning of customer onboarding, let's look at three inspiring examples of different onboarding elements and see what we can learn from them.
Talkspace is an online platform that matches you with a licensed therapist and provides a medium for sessions. Here's an element from their onboarding sequence: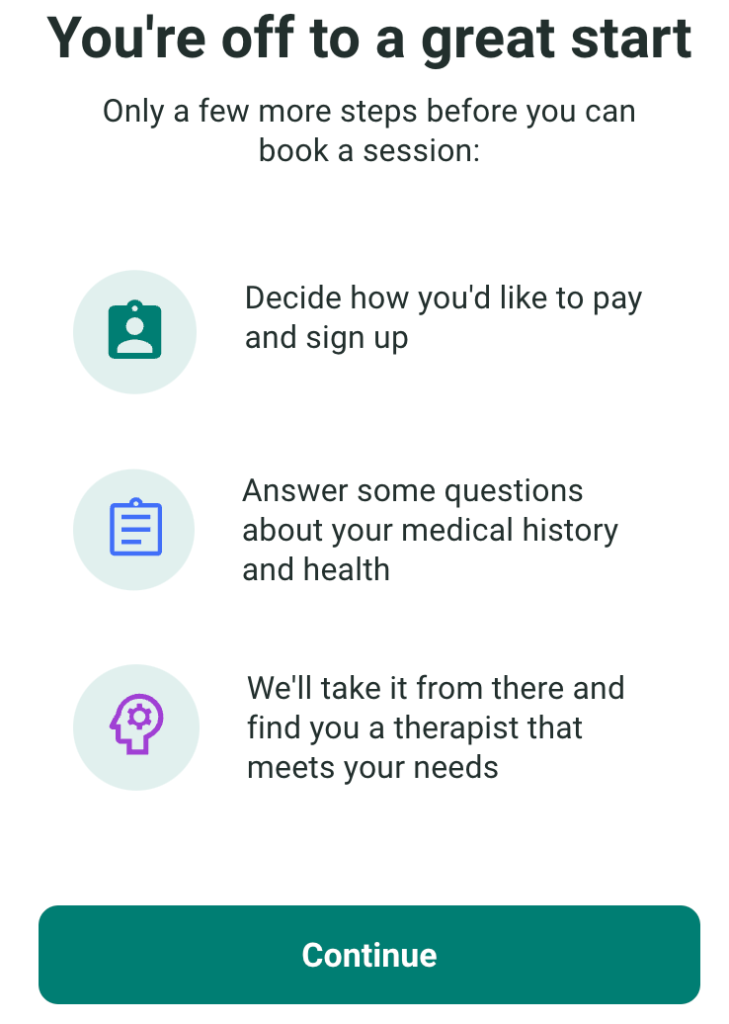 Tip: let the user know what else they can expect to happen during onboarding and encourage them to keep going.
Amazon has a learning platform called seller university with a huge variety of resources to support beginners and experienced sellers: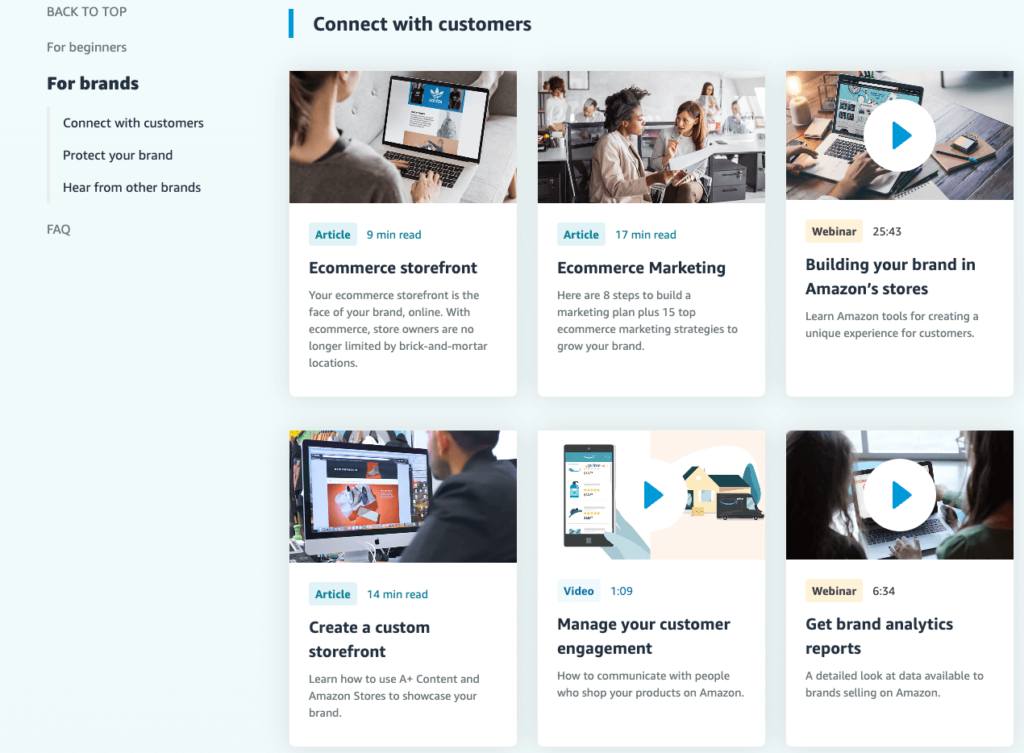 Tip: people have different learning styles, so it's great if you can offer options like articles, webinars, videos, and podcasts to satisfy both visual and auditory learners.
Here's a letter all new users of the UXPressia platform receive:
Tip: provide the customer with lots of useful self-help resources, but stress that you're always there for any questions or concerns.
Key takeaways for a great customer onboarding experience
Onboarding should always take a user-centric approach and guide the new customer through all the uncertainties, challenges, and nuances towards confidence and ease. It is an essential aspect of the overall customer experience that has the power to shape first impressions, establish trust, and convey product value.
Researching your audience, creating personas, and visualizing the onboarding journey for each of them is where the potential for improvement lies.